Lumbini replica fast becoming wild base
View(s):

A project launched during the time of the previous government to create a replica of the Sakya Kingdom of ancient India in Kahapola, Piliyandala has been left abandoned.

The project spread out over a 78-acre land has been left with a range of buildings which are now used for nefarious activities, claim residents of the area.

The project launched by former Buddha Sasana Minister Wijeyadasa Rajapakshe, intended to recreate a replica of the Lumbini Garden where Siddhartha Gautama was born, as well as the palace complex he lived in more than 2,600 years ago.

The project estimated to cost Rs500 million was due to be completed in four stages. Other ancient cities like Lumbini, Buddhagaya, Isipathanaramaya, Nalanda, and Kusinara, were to be recreated. The construction process was to be monitored by experts including Basanta Bidari, former Chief Archaeologist at Lumbini and Kapilavastu,

Sites related to Lord Buddha's life, e-library facilities, libraries, media stations, meditation centres, herbal gardens, and state-of-the art infrastructure facilities for devotees were to be built on the 78 acres provided by the Ministry of Buddha Sasana. Hologram technology was to be used to tell the story of Lord Buddha.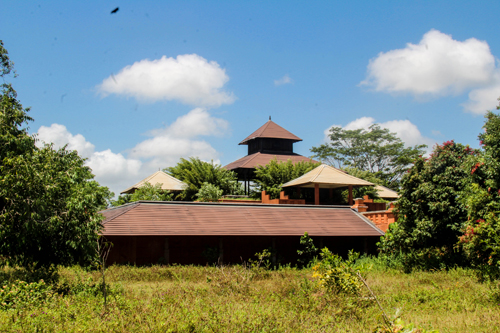 Constructions in the area are now badly neglected and in a dilapidated condition, providing a base for various underworld activities. The security service that was provided does not operate any longer.
The jungle is encroaching onto the premises and damaging the constructions.
Minister Gamini Lokuge said that the present proposal is to have an animal sanctuary at the spot, and added that the Urban Development Authority has been entrusted with the first phase of the project to preserve the forest concept of the original plan.