Grant our wishlist or we'll disrupt exams: Teachers
By Nadia Fazlulhaq
View(s):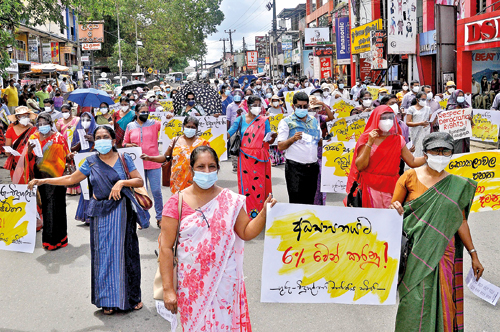 Last year's Ordinary Level examination practicals and this year's Advanced Level exam duties and marking will be disrupted if the government fails to meet education demands on pay, provide online teaching resources and ditch the controversial Kotelawala Defence University Bill.
Government school teachers and principals, who stayed away from online teaching for the 19th consecutive day on Friday, vowed to carry on with their protest by not participating in online teaching next week as well.
Ceylon Teacher Services' Union General Secretary Mahinda Jayasinghe told the Sunday Times that teachers and principals will not accept the government's plea about not having sufficient funds to solve salary equity demands.
"These anomalies have been there for over two decades and the government last year submitted a cabinet paper that we were assured would resolve them. Teacher salaries continue to be among the lowest despite many teachers being well qualified and with many years of experience. Until the issue is finalised, we will continue with our trade union action," he said.
He said if teachers stay away from exam duties, national exams, which have already been delayed due to COVID-19 school shutdowns, would be further delayed.
The government last year proposed teachers, principals and other education staff would have their salaries reassessed on a common scale but teachers and principals want their salaries to stand alone.
Mr. Jayasinghe said a 2008 Supreme Court decision to make the teacher-principal service a closed service needed to be implemented without further delay.
"By making a closed service the salary anomalies of the teacher-principal service can be solved without affecting the other government sector positions," he said.
Education union activism from silent protests to large protest marches took place in many parts of the county throughout the week.
Protests in Matugama, Ratnapura, Moneragala, Dambulla and Kiribathgoda saw hundreds of teachers and principals participating in protests against salary anomalies.
The Ministry of Education said the issuing of results of 622,000 students who sat for the 2020 GCE Ordinary Level exam has been delayed because the practical tests of the aesthetic subjects were not able to be held within the scheduled time.
"Therefore, it has been planned to conduct the practical tests of 169,000 students who sat for the aesthetic subjects from August 28 to September 8 and to issue the results as soon as possible," Education Minister G.L. Peiris said.
Arrangements have been made for those children to start pre-training activities in schools and they will be called to normal classes around August 26 if health recommendations allow this, the minister said.
Unions, however, said teachers would not participate in O/L practicals until their demands are met tomorrow.
Ceylon Teachers' Union President Joseph Stalin said all future action will depend on the Prime Minister, Mahinda Rajapaksa's assurance that teacher demands would be discussed and a solution given at tomorrow's Cabinet meeting.
Ven. Yalwala Pannasekare Thera of the All-Ceylon United Teachers Union said the government should immediately produce a solution to avert work stoppage on exam duties.
The Prime Minister's Office this week said that the Prime Minister would discuss salary issues with the Salaries and Cadre Commission and take the matter to Monday's Cabinet meeting before reaching a decision on salaries.
"With the present global situation and the country's economic crisis the government is unable to increase salaries at once. But as a government we believe in reducing the current salary anomalies," the Prime Minister's Office said in a statement adding that attention is being given to make the teacher-principal service a closed service.
Schoolchildren, meanwhile, are seen flying kites, riding their bicycles, playing cricket and roaming around at leisure in both cities and outstations in the absence of online teaching. Concerned parents urged the government to end the trade union action by providing a solution without delay.