UNHRC puts Govt. in a spot, diplomacy deficient
By Our Political Editor
View(s):
Funds obtained for secretariat on human rights issues in Lanka, while UK Govt. pushes hard for major action
Farmers, teachers and others intensify protests, while COVID and economic crises also pose tough challenges
The United Nations Human Rights Council (UNHRC) is set to crack the whip on Sri Lanka at its 48th sessions just six weeks ahead.
It is not only on issues arising from the March sessions of the damning Resolution on Sri Lanka caused by dismal diplomatic failures and a confrontational posture, particularly with western nations.  Added to it is a part of the Resolution which empowered the Office of the High Commissioner for Human Rights to "consolidate, analyse and preserve information and evidence." This is for "future accountability processes for gross violations of human rights or serious violations of international humanitarian law, to advocate for victims and survivors, and to support relevant judicial proceedings in Member States with competent jurisdiction."
Ruling alliance leaders had believed that a new mechanism for "future accountability mechanisms" would not materialise in the light of budget cuts. In fact, Foreign Minister Dinesh Gunawardena, told the Sunday Times that the budget for Human Rights Council has been pruned down by fifty percent. This was reported in our front-page lead story of June 5. He said the Council's move to set up a separate secretariat to enforce matters relating to the resolution it passed on Sri Lanka in March this year had suffered a setback. He said, he was awaiting a full report from the Sri Lanka Permanent Mission in New York. There have been no comments from Minister Gunawardena thereafter whether a fund cut has in fact taken place.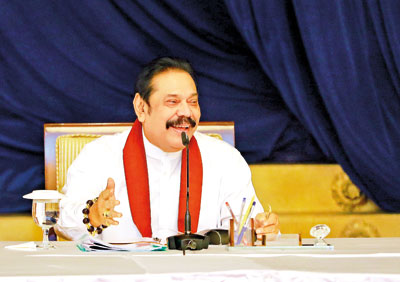 However, the Sunday Times has learnt that the Human Rights Council has won approval for its additional requirements for 2021 and 2022. The US$ 2.8 million as originally requested has been phased out as $ 0.737 million for 2021 and $ 2.1 million for 2022. A diplomatic source said that the Administrative and Budget Committee (Fifth Committee) of the UN General Assembly has approved the funds for the period concerned for the setting up of a Special Secretariat of 13 members. It is not immediately clear of the status of the funding for the remaining years.
The Office of the High Commissioner has already set in motion procedures for staffing the new Secretariat. The top-most position is expected to be given to a Senior Legal Advisor with experience in international criminal justice and/or criminal investigations and prosecutions to coordinate the team and oversee an information and evidence collection strategy. A central repository will consolidate, preserve, and analyse information with national authorities for universal jurisdiction and extra-terrestrial jurisdiction cases and other accountability purposes in line with relevant United Nations guidelines.   There will be one senior Legal Advisor and two Legal Advisors.
If in fact the additional budget for the setting up of the separate Secretariat has seen its way through in its entirety through the Fifth Committee, it regrettably demonstrates the failure on the part of the Sri Lanka Permanent Mission in New York and the Foreign Ministry to pursue a strategy opposing the envisaged finances. This complacency may have culminated from some ill-informed thinking that this Secretariat's personnel will not be permitted to visit Sri Lanka thereby hampering the work of the mechanism. Whilst such action would further isolate Sri Lanka internationally, it should not be forgotten that the Human Rights Commissioner's office claims it already has trophy evidence which would be utilised. This could also lead to bilateral censuring of Sri Lanka by some countries. It is time for sanity to prevail over misplaced ego to ensure that Sri Lanka's economy is not pushed into the quagmire further.
Core-group's concerns
Recent consultations by the core group headed by the United Kingdom makes clear that there has been no official shift in its position since the last Resolution was adopted in Geneva on March 23. Among the areas where the core group is expressing serious concern is the so-called harassment of civil society activists and those in opposition parties. Another is its alleged concern over the deterioration of law and order with murder victims being pardoned and the workings of the Office of Missing Persons (OMP). There is consensus among them to raise issue over these matters.
The United Kingdom, which is playing a key role since the United States was then not a member of the UN Human Rights Council, has widened its efforts as leader of the core group. Last week, the UK government invited proposals for projects promoting human rights and democratic values in Sri Lanka. The purpose, it said, is to alert potential civil society implementing partners to an opportunity to bid for grant funding to deliver project activity promoting human rights and democratic values in Sri Lanka.
"The High Commission in Colombo particularly welcomes expressions of interest (EOIs) which:
nbring together one or more of the thematic areas (for example: working with media to promote and foster social cohesion or protecting human rights defenders and journalists)
ninclude project activities across several strands, including working in partnership with other implementing partners with diverse expertise
nare mindful of cross-cutting themes such as conflict-sensitivity, gender, and environment
"The activities will focus on the following priority themes. Suppliers are encouraged to identify target areas within and across these themes and justify their focus.
"We welcome suggestions for activities, which support press freedom in Sri Lanka. This could include:
nsupporting journalistic practice in identified 'needs' areas in Sri Lanka (such as digital and physical safety, high-quality and inclusive content, or data-driven and investigative journalism) – e.g., through direct capacity building to journalists, or initiatives to support the spread of journalistic best practice and learning
ninitiatives to boost civic literacy and tackle disinformation, especially where potential scalability, cross-cutting themes, or sustainability can be demonstrated.
We welcome proposals that address ethno-religious and religious tensions in Sri Lanka. These could include:
raising understanding and awareness including on triggers of religious and ethno-religious tensions and conflict (inter and intra-communities), through effective research and documentation
promoting conflict management through education of and engagement with local and national authorities.
"Suppliers should consider the best delivery mechanism to meet needs. Suppliers may want to consider capacity building (direct, or through 'train the trainer' models) alongside more creative mechanisms such as support to peer to peer networks or sector initiatives and creating relevant products/resources (eg: technical 'tool kits'). Activities will need to consider Covid-19 risk mitigation and planning.
"The successful implementer should be able to commence work from October 2021 and complete all project activity by mid-March 2022 (subject to final funding decisions).
"Project involving communications will be subject to an additional approximately 2-month approval process in addition to usual set up processes. Suppliers should consider delay in start-up in designing their work.
"We anticipate budget provision for a number of outputs with individual costs up to £60,000. Proposals with multiple implementing partners should be submitted under one lead contractor. We are unable to support contingency, miscellaneous, small grants, or per diem costs. Admin costs must not exceed 10%.
"EOIs (Expression of Interest) should cover the type of project intervention and delivery proposed, as well as how it will address value for money. Bidders must provide a broad indication of proposed activities to be delivered, anticipated outcomes, and sustainability approaches post-completion of the project. They should factor in risks and mitigation plans, i.e., with COVID-19. They must also demonstrate an ability to deliver all project activity before mid-March 2022, with a substantial portion within the first half of the project. An outline activity-based budget must be submitted as an annex to the EOI."
This project explains the UK government's focus and the mechanism, no doubt, would help it to obtain feedbacks on areas of human rights and related fields. However, some in Colombo feel that the move was a retaliatory measure, after Sri Lanka became the only Commonwealth and South Asian country to back China in a joint statement to condemn the UK over human rights violations. It no doubt would help eliciting further information on human rights abuses that would be useful for the new Secretariat.
Rather sadly, it comes as a time when there has been considerable re-thinking on the part of the ruling alliance over issues before the UNHRC. President Gotabaya Rajapaksa tweeted just two weeks ago: "We are committed to work with the @UN to ensure accountability & human dev. to achieve lasting peace & reconciliation. We are dedicated to resolving the issues within the democratic & legal frame to ensure justice & reconciliation by implementing necessary institutional reforms." It came with plans to launch a programme of reconciliation – a task which is to be undertaken by Finance Minister Basil Rajapaksa.
However, the fault lies elsewhere — at the Ministry of Foreign Affairs. Since the adoption of the Resolution on Sri Lanka in March, no concrete measures have been taken by the Government to explain its own position either to the Sri Lankan people or the world community at large. Yet, the Ministry of Foreign Affairs put out a 30-page response to the report from UN Human Rights High Commissioner Michele Bachelet. It said that the Government repudiates the conclusions and recommendations "that have been erroneously arrived at in the High Commissioner's report as they are based on incorrect and/or unsubstantiated and extraneous sources/material, and contravenes the principles of universality, impartiality and non-selectivity, as speculated in the General Assembly resolution 60/251 that created the HRC." There were also three other main reasons, all of which, Sri Lanka said, "went beyond the legitimate scope of the Office of the High Commissioner." The initiative by the British High Commission is blatant in openly seeking to posture in the internal affairs of the receiving state. The Foreign Ministry's silence in this regard is deafening.
US resolutions and Canada's moves
Having taken that position at the March sessions, engaging the Human Rights Council in September does become a challenging issue for the Government. It is particularly because of the same issues surfacing in different forms at other international fora. In May, six representatives submitted a resolution to the US Congress (H. Res 413). The text, which makes references to a so-called "Tamil homeland," is now before the Foreign Relations Committee. Diplomatic sources say deletions of such references was likely but did not rule out the resolution coming up before the Congress. This resolution is in the name of Deborah K. Ross, Brad Sherman, Bill Johnson, Danny K. Davis, and Kathy Manning.
This is the third such resolution on Sri Lanka before the US Congress. In March 2011, the US Senate unanimously passed resolution S. Res. 84 introduced by Senator Patrick Casey. It commended the UN Secretary General for appointing a panel to advise the UNSG on Sri Lanka's human rights accountability and called "on the Government of Sri Lanka, the international community, and the United Nations to establish an independent international accountability mechanism to look into reports of war crimes, crimes against humanity, and other human rights violations committed by both sides during and after the war in Sri Lanka and to make recommendations regarding accountability," as one of the four elements of the resolution.
In June 2019, the US House of Representatives passed resolution H. Res. 442 — observing 10 years since the war in Sri Lanka ended on May 18, 2009, commemorating the lives lost, and expressing support for transitional justice, reconciliation, reconstruction, reparation, and reform in Sri Lanka. The resolution said such measures "are necessary to ensure a lasting peace and a prosperous future for all Sri Lankans".
Just last week, Canada's Foreign Minister Rob Oliphant rejected a call from Tamil diaspora groups for that country to take up Sri Lanka's case before the International Criminal Court. In the wake of a petition campaign by Tamil diaspora groups, Oliphant said that the Resolution adopted in March "does not incorporate a mechanism to refer Sri Lanka to the International Criminal Court (ICC). Only the United Nations Security Council could refer cases to the ICC if the country concerned is not a party to the Rome Statute or has not accepted the ICC's jurisdiction. He, however, declared that "Canada recognises the importance of an independent and credible justice process that has the trust and confidence of victims and believes this remains necessary for reconciliation and long-term prosperity. The OHCHR's new mandate will be critical for establishing future accountability processes. Canada also encourages all non-States Parties to consider acceding to the Rome Statute of the ICC." Sri Lanka's new High Commissioner designate to Ottawa, Harsha Navaratne, has his work cut out when he reaches that country. Canada is a co-sponsor of the March resolution.
Whilst there was a government explanation on the revision of the Prevention of Terrorism Act, a much talked of issue by the European Parliament and referred to in the March Human Rights Council resolution, should not the government by now have established at least an action plan on the way forward on reconciliation and human rights issues and sought its operationalisation at this juncture? Adopting such a step on the eve of the September sessions of the Human Rights Council would only give credence to the claim that they (the government) have been pushed to dance to the tune of the west rather than serve the interests of the nation.
Economy under strain
These developments come amidst a worsening economic situation, the result of a dip in foreign reserves. The Government last week honoured another debt commitment of one billion rupees. Finance Minister Basil Rajapaksa is involved in a two-pronged approach, one to prepare for the budget in November and the other to take further stock of the worrisome financial situation. Some of the observations of the rating agencies, which advice investors, portfolio managers, agencies and institutions, are causing great concern. The coverage by them affects investor confidence, phenomenally increases borrowing costs and tends to shut Sri Lanka from the international capital markets. This leaves the Government with only one choice — to rebut their claims. Such a move has not been effective.
On July 19, just days before the last sovereign bond settlement of one billion US dollars, Moody's placed the Government at "CAA1", putting the country's ratings under review for downgrade. This immediately triggered a frenzy of panic sell offs at huge discounts. This is the second time in six months Moody's has given a negative assessment. A few months earlier, Fitch Ratings downgraded Sri Lanka to "CCC" category, indicating a possibility of default. Bloomberg noted that "Sri Lanka's risk premium for a default jumped, reflecting concern that the COVID-19 pandemic is damaging the nation's ability to fill its foreign exchange coffers.
The Ministry of Finance reacted after Moody's announcement with a statement which charged that the pronouncement was "ill timed, ill-judged and unacceptable." However, Goldman Sachs, another leading agency said it was confident that Sri Lanka will "muddle through" near term debt challenges. It said its calculation points to Sri Lanka (comfortably) meeting all external obligations falling due in 2021. Save existing reserves, swap lines, and other already announced funding lines, are sufficient to honour foreign currency obligations falling due this year.
However, Goldman Sachs cautioned, that "the trajectory beyond 2021 would be more daunting without additional external financing. It adds that its calculations point to Sri Lanka "comfortably meeting all its external obligations falling due in 2021, leaving the country with an estimated US$ 6.4 billion in external reserves by the year-end although the trajectory beyond that could be more daunting without additional external financing."
Finance Minister Rajapaksa has refrained from responding to the rating agencies or making public comments on the state of foreign reserves. That task was taken over by State Minister, Nivard Cabral. For the next three months, he declared, listed inflows would amount to US $ 2,650 million. The breakdown:
SWAP from India US$ 400 million
SWAP from Bangladesh US$ 250 million
Loan from China Development Bank US$ 300 million
Special Drawing Rights allocation from
IMF US$ 800 million
Central Bank Purchases from the forex market in the next three months US$ 200 million
Inflow from International Sovereign Bonds by local banks –US$ 300 million
Expected inflows from the utilisation of under-utilised assets – US$ 400 million
The Central Bank has also negotiated a SWAP arrangement with China for US$ 1500 million, which too, he said, can be accessed. Hence, he said it could be included as part of effective reserves. However, State Minister Cabral appears to have glossed over a key factor — that there is a bill to pay internally and internationally (for imports). He also assumes that a rollover of Sri Lanka Development Bonds and Foreign Currency Banking Units is possible without conditions. For example, the US$ 400 million from India cannot be rolled over beyond once without the Government signing an agreement with the International Monetary Fund (IMF).
As expected, the Government has now set August 2 (Monday) for the fuller resumption of work in the state sector. This is part of a priority programme to restore 'normalcy' whilst fighting the COVID-19. With this task, it is focusing on reviving the tourism sector in a bid to shore up foreign exchange earnings.
Protests continue
However, the spectre of strikes has been a cause for concern. Protests by teacher and principals' unions continued in various parts of the country. Teachers continued their boycott of online classes. Friday marked 19 days since teachers stepped back from conducting online classes over several key demands. Main among them is that the authorities take steps to resolve a salary anomaly that has affected teachers and principals reportedly for 24 years. Trade unions are demanding that the issue be settled by enforcing the recommendations of a committee.
However, that is not the only issue their protest campaign is linked to. They have also turned their sights against the controversial Kotelawala National Defence University (KNDU) Bill and have called for it to be withdrawn. The debate on the bill is due to take place on August 6.  The protests are being spearheaded by a coalition of 17 trade unions, including the Ceylon Teachers' Union, the Ceylon Teachers' Service Union, and the Sri Lanka Professional Principals' Association.
The Federation of University Teachers' Associations (FUTA) too announced a boycott of online classes this week demanding that the Government scrap the KNDU Bill.
Accordingly, lecturers at all state universities have stepped back from conducting online classes. Lecturers' associations also held protests outside universities this week to condemn the KNDU Bill and demand its withdrawal. The prevailing fertiliser crisis saw  farmers continuing to hold protests. Many who were at these protests strongly disputed the Government's claims that there was no fertiliser shortage. Some farmers also demanded compensation for crop losses suffered on account of lack of chemical fertiliser. Most of these protests were organised by the Janatha Vimukthi Peramuna (JVP) aligned All Ceylon Farmers' Federation.
The spread of COVID -19 on the one hand and the threats of strikes which are having a crippling effect, no doubt, are serious obstacles to the Government's efforts to restore 'normalcy'. Not so long ago, sections of the state sector were declared essential service but that has not come as a deterrent. Hence, the Government has a bigger challenge.