Uplifting the lives of persons with disabilities
By Chani Imbulgoda
Feature
View(s):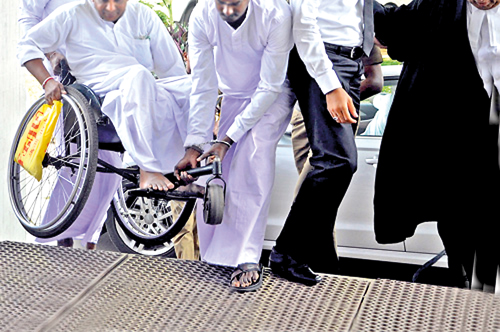 When talking of persons with disabilities (PwDs) the first person who comes to our mind is Stephen Hawkins, the late wheelchair-bound theatrical physicist, who was one of the greatest scientists of the modern world. He was diagnosed with degenerative motor neuron disease at the prime age of 21 while doing his PhD at the University of Cambridge. His permanent disability restricted his bodily movement and speech but never stood on his journey of success and groundbreaking scientific inventions. Technology and education were behind his success.
Helen Keller born in 1880, became both blind and deaf at the age of two. The world knows her as an author, political activist and lecturer, and America's first Goodwill Ambassador. She was the first deaf-blind person to earn a Bachelor of Arts degree from Radcliffe College. It was at 'university' that her career as a writer and social activist started.
Eddie Ndopu aged 30, the youngest serving UN Sustainable Development Goal advocate of our time, plans to go to space to convince that people with disabilities are recognised not only on our planet but, anywhere in the entire universe. Suffering from a degenerative disability, he is another colourful product of Oxford University.
Among these would be many who would reach higher echelons provided they are given 'space' in higher learning, in their desired field of discipline. Education in general, and university education in particular can compensate deficiencies of disadvantaged people. Universities have a moral obligation to promote education among all who are willing to learn and to make them competent citizens. Education for all is a globally accepted norm. Inclusive higher education, in simple terms, is providing an opportunity for education to any human who seeks to learn, without prejudice. With the changing social strata, demographics and economic dimensions, inclusivity in higher education is becoming significant today more than ever. Whether universities recognize this fact and cater to all without prejudice is a concern raised by many international, national and community organisations. Statistics show that PwDs worldwide are on the rise; most of them complete their secondary level education successfully and are eager to pursue tertiary level education. In response to the growing demand for inclusive higher education, reforms are being introduced to the universities. However, the realisation of the reform objectives is below satisfactory.
UNICEF finds "disability as the single most serious barrier to education across the globe". The Americans with Disabilities Act defines a disability as a physical or mental impairment that substantially limits one or more major life activities. We can cite many examples of the immense contribution made by PwDs to the world despite their disabilities. In my view, disability does not mean that a person is not able, but he/she is bestowed with different abilities. It is left for the intellectuals to explore ways and means to recognise and sharpen the abilities of differently able persons, and to assist them in improving their contribution to the community and world of work. About 8.7 percent of the total population above the age of 5 in Sri Lanka lives with some form of disability. This is a considerable percentage in any standard. Are their capabilities idling? How many of them are engaged in productive work? Do they live happily? Does society provide them with enough opportunities to succeed in life? There are many opportunities available to uplift the living conditions and social status of PwDs. Inclusive higher education is one among them and foremost. Higher education inculcates critical thinking, moral values, technical know-how, and competencies to face and overcome hurdles in the society and world of work. Wattenberg (2004) says that while enrollment of people with disabilities in colleges and universities has increased, few have been able to graduate, find successful employment, and move on to independent lifestyles, free of government assistance. Isn't this true in the Sri Lankan context, even after nearly two decades of this statement by Wattenberg? In contrast to the developed world, our higher education sector is yet to increase access to PwDs.
Reforms are introduced to the higher education sector among other objectives to enhance opportunities for PwDs in university education. The Quality Assurance System introduced in higher education specifically expects universities to create infrastructure and supportive environment for students with disabilities. But, the reality is that admission of students with disabilities remains low and far below expectations. Resources, academic support and welfare facilities provided in universities for disabled students, are insufficient. Most buildings and pathways need disability access and improvements for the benefit of disabled students. No elevators in high rise buildings. Student hostels are in a dire situation and PwDs have no special facilities. Nevertheless, strategic plans, action plans, work plans are neatly written with details on how to cater to disabled students. Audit Reports written at the same time are offensive and highlight the lack of facilitation and inclusion of disabled students in universities.
It is unfair to expect universities to make miracles. They need soft and hard infrastructure to provide basic facilities. Physical facilities such as access to buildings, machines, and equipment are needed. Staff needs special training to use assistive and adaptive technologies to match the needs of PwDs. The technology is developing fast, and assistive and adaptive technologies can be accessed free of charge. Not only the facilities, but awareness and interest play a significant role in making inclusive higher education a success.
What holds back the inclusion of
PwDs in higher education?
There are numerous challenges that hold back opportunities for PwDs. Academics argue that the disciplines taught at their departments are not compatible with the requirements of disabled students, especially with physical disabilities. "Our degree programme involves a lot of practical work" is the readily available excuse in many instances. The assistive and adaptive technologies can play a role in bridging the gap between the physical inabilities of PwDs, and the course requirements in most cases. Present teaching modes, learning environment, and exam arrangements are demotivating the disabled youths from entering universities, even some of those admitted leave halfway through higher education with frustration.
Attitude matters a lot more than physical facilities in inclusive higher education. Lack of flexibility of university staff in the provision of alternative, differentiated diverse forms of learning is a major drawback. Absence of competence and empathy among the staff; both academic and management are identified as impediments to the efforts made to include PwDs in higher education. Inclusion per se is not only admitting PwDs but to make a culture in the institution that they would happily pursue their dreams similar to other students. Inclusion needs to be strengthened with equity by providing fair and equal treatment to all. The ragging and bullying is another impediment that chases the PwDs away from higher education. Not only, the staff, but students of universities shall be inculcated with humanity and empathy to make an environment for inclusive higher education for differently-abled students.
PwDs and their parents are dubious about higher education.
Some PwDs prefer isolation; some requires attention; some are eager to engage in manual work, while others find it difficult. Consideration of the special and diverse needs of PwDs is challenging. Mental traumas and lack of resources to provide high education are some challenges faced by parents. Discussion with a senior academic in a private higher education institute revealed that parents of disabled students are reluctant to seek admission in private institutes as the cost is prohibitive. He stressed that parents would try if it is free education. So, free education is duty-bound to take PwDs under their wings. Many PwDs and their parents expect paid employment upon completion of higher education. Thus, labour market needs and employers' concerns are to be understood as an initial step to strengthen inclusive higher education. After spending time and resources on education in addition to the many hurdles experienced by PwDs, unemployment or underemployment cannot be accepted as the end result. Universities invite prospective employers to the Senate room to discuss future prospects of undergraduates. Similar discourses on the future of PwDs should be laid on the table, and action taken.
The growth of the Internet, expansion of online teaching and learning can be exploited to cater to the demands of students with disabilities for university education. This would enable to address the obstacles caused by limited physical access to buildings and facilities, and the inaccessibility of textbooks, and other learning materials effectively. The 4th industrial revolution has dawned sooner than expected, and artificial intelligence is the key to future work. The higher education sector can take the lead in opening avenues for PwDs using a novel way of teaching and learning and transforming them into capable graduates who would meet their future employers' needs.
The time is ripe to think out of the box and to open the iron cages. The COVID-19 pandemic can be transformed into a blessing in disguise to solve the problem of providing easy access for PwDs to higher education. Most PwDs suffer from movement. The physical difficulty, social mistrust, stigma, fear of getting bullied are some reasons. Studying from home, working from home, whether we like it or not has come to stay and is becoming the new normal. It is the right time to promote the inclusion of PwDs in the workforce, and in the learning community. There is a silver ray in every dark cloud. May this darkness bring light to those with different kinds of disabilities who silently suffer the darkness dawned on them.
(The writer is a holder of a senior position in a state university with international experience and exposure and an MBA from Postgraduate Institute of Management (PIM), Sri Lanka and currently reading for her PhD in Quality Assurance in the Higher Education Sector at PIM. She can be reached at cv5imbulgoda@gmail.com).