Ruchira to chair WAGGGS, an honour for SL after 1960
View(s):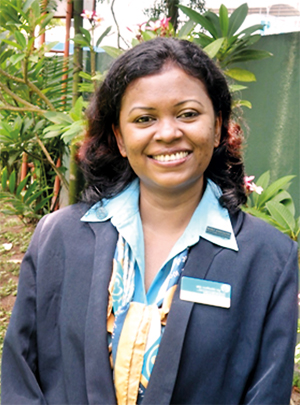 Sri Lankan Ruchira Jayasinghe has been accorded the honour of chairing the 37th World Conference of the World Association of Girl Guides and Girl Scouts (WAGGGS) that will be held virtually from July 27 to 31.
Ms. Jayasinghe, a National Executive Committee member of the Sri Lanka Girl Guides Association (SLGGA),  has been a member of the Asia Pacific Regional Committee and also chaired the Asia Pacific Regional Conference in 2019.
Ms Jayasinghe has served the SLGGA in many capacities and represented SLGGA at many international events including the prestigious Juliet Law seminar. She was member of the Asia Pacific Regional Committee (2007 -2013) and member of the Membership Growth Committee of WAGGGS (2015 – 2017). She works at the Colombo Stock Exchange.
Ruchira follows in the footsteps of a Guiding great of yesteryear, Sita Rajasuriya, who in 1960, was elected to the World Committee by the 17th World Conference. Ms Rajasuriya was the first Asian to chair a World Conference of WAGGGS.  She was also the first Sri Lankan to be on the World Board (then known as World Committee) of WAGGGS.
SLGGA, in a statement, said it is very proud to have Ms. Jayasinghe selected as the second Chair of a World Conference from Sri Lanka. "It is an honour and a privilege to have had two members selected to chair the key governance event of WAGGGS and we wish her the very best."
The World Conference which takes place every three years, was originally scheduled to be held in 2020 in Uganda but was postponed due to the pandemic. The conference, now set to be held virtually via an online platform will see member organisations elect the new World Board members, decide the host of the 38th World Conference in 2023, and consider the proposed constitutional and other motions.
The first World Conference was held in 1920, in Oxford, UK, under the patronage of the International Council, which in 1928 became WAGGGS.
The Sri Lanka Girl Guides Association (SLGGA), a full member of WAGGGS, is submitting a Motion at the conference on a process for sharing external opportunities for engagement with member organizations. This was put forward together with the Girl Guides Associations of Malaysia and Maldives.
The SLGGA is also nominating Chamathya Fernando for a seat at the World Board 2021- 2026. Chamathya was appointed to the World Board in 2018 and served till 2020, as the youngest member of the Board.
The Sri Lankan delegation of 10 members to this Conference will be led by Sulari Jayawardena, Chief Commissioner of SLGGA.