Perching lightly on the landscape
By Yomal Senerath-Yapa
Palinda Kannangara's 'Frame Holiday Structure' made of stilts and glass and set in a sea of green wins the Geoffrey Bawa Award for 2019/2021
View(s):
When the judges of the 5th Triennial Geoffrey Bawa Awards for Excellence in Architecture 2019/2021 waxed lyrical, enthusing about the winning entry, one realizes the decision may well have been unanimous. The award was announced on Thursday evening, with the ceremony organised by the Bawa Trust being held on Zoom.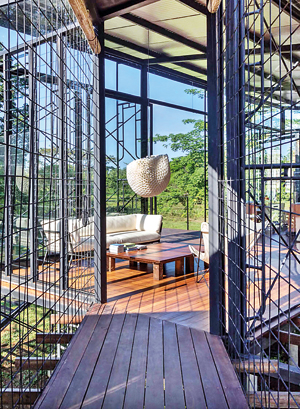 Speaking about Palinda Kannangara's the Frame Holiday Structure in Imaduwa, made of scaffolding and glass that seems to float over a green flooded land, all one with the feathery trees and shadows, Prof. Barry Bergdoll speaking from New York on behalf of the judges said, "this holiday residence perches above a fragile nature…, offering a vision of a light occupation of the land as though humans might alight with the discretion of native birds."
That lightness, and the harmony with which the Frame conspires with the emerald landscape (it is a secluded villu with banks of forest where peacocks and ibises and other birds flock) is the hallmark of its creator, architect Palinda Kannangara.
Palinda grew up in the semi-urban hotchpotch of Kolonnawa and schooled at Ananda College. Having studied Maths for his A' levels, he did a BSc in Maths at the same time as his architectural course at the SLIA.
Having graduated in 2004, his gurus included renowned architect Anura Ratnavibushana. After setting up on his own in 2005, his first project was a hydropower plant which won a commendation in the first cycle of the Bawa Awards. In fact he has been a nominee in all five cycles.
Each nomination he says was encouragement and each time he did not make the cut made him learn from his shortcomings, which is an important lesson for young architects.
Having begun with a small practice, Palinda was always searching for answers and trying to relate to the site, connecting with the roots, the surroundings and the clients.
Consequently his approach to each building was unique, moving away from comfort zones.
This year has been a fortuitous one for Palinda, for he has also won a Royal Institute of British Architects (RIBA) award of excellence for another artist's residence in Pittugala, which is just as minimal with brick and wood and cement.
The Frame with its pristine beautiful natural setting demanded a sensitive approach. "It was a beautiful experience and I was so excited," says Palinda of his first impression. It absolutely had to be horizontal because the landscape stretched horizontally, spreading towards Sinharaja rainforest.
The site often got flooded, but there were other issues. The site was used by the villagers for their cattle to graze. The stilts finally solved both conundrums. Today the cattle graze and even sleep underneath the Frame.
It has always been Palinda's practice to have a minimal impact on the site- whether visually, or physically.
"It's very important how we allow our buildings to be part of the surroundings and disappear. That is something I always believe. Do only the basic requirements- and not add many things."
Palinda is an avid traveller and draws inspiration from buildings around the world. Some of the buildings he loves are Le Corbusier's Ronchamp Chapel, the Barcelona Pavilion by Ludwig Mies van der Rohe- reflecting that stark, simple but human and warm atmosphere- and he is also in love with Sigiriya, Ritigala, Mihintale and Kaludiya Pokuna. None of these directly influence him; they leave a 'fragrance' in his mind which he may inhale when designing.
Palinda thinks our architecture as practised by the young is heading on a sensible path- the path set by masters like Bawa, though he does add that the high-rises that punctuate the cities and suburbs rapidly do need some rethinking.
Palinda lives in Rajagiriya with his lifetime partner Varna Shashidhar, a landscape architect of Indian origin.
The judges for this awards cycle apart from Prof. Bergdoll, were Veranjan Kurukulasuriya, Nadija Tambiah and Swarna  Mallawarachchi.