Kingsley moves away from brush and easel
By Yomal Senerath-Yapa
View(s):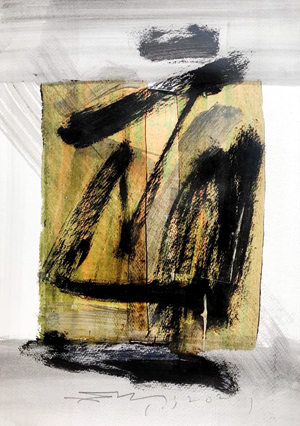 For young Kingsley Gunatillake, the back wall of their rambling old house in Wadduwa was an ample canvas, where he riddled the limewash with the spiky doodling of his young, unbridled imagination- all done in charcoal nipped from the kitchen.
His artistic efforts, says Kingsley, were neither praised nor put down when discovered days later. This even though he came from a creative brood born to a businessman father, with a poet, a watercolourist and a magician among the siblings.
Today, Kingsley Gunatillake is one of Sri Lanka's best known artists, coming out with a new exhibition, In Between II at the Paradise Road Gallery Cafe, where he showcases work that "moves away from the brush and the easel", involving pigments which he 'circulates' around the canvas.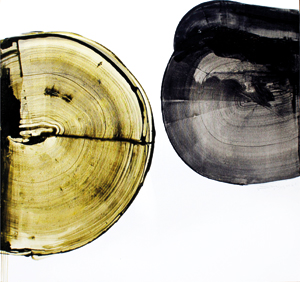 Having been to five schools including St. Anthony's College Panadura and the Wadduwa Boys' School, Kingsley got his BFA in art at the University of Visual and Performing Arts, Colombo, and lectures there today.
Kingsley's art maybe cryptic, but self-satisfaction from their bold and dream-like mindscapes remains the bedrock of his existence. He follows the William Blake-like advice by artist Yayoi Kusama to "become part of your environment, take off your clothes, forget yourself. Make love. Self-destruction is the only way to peace."
Kingsley was 21 when he started painting in earnest as an adult, and among the most formative experiences he says were participating in overseas camps, including in Munich, Bratislava, Dublin, Manila, Pune, Strathclyde, Northern France and a couple in Japan.
After the tragic bomb attack at the Dalada Maligawa, Kingsley spearheaded a team sent over to restore parts of the shrine and to copy some of the murals. The time spent with those stylized traditional drawings was beneficial; it imparted much to his own modern work.
Kingsley is also a practitioner of book art, a niche where books become works of art. An example is his exhibition at New Delhi in 2019 titled The Wounded Book, including 'bullet ridden' books speaking of pain and loss. Other books are wrought into fancy flowers reminiscent of ancient mythical flora.
Kingsley does not want his book art to be seen as material objects or sculpture however; he uses it simply for conceptual expression. He wants viewers to read into the concepts of the books, and to be taken away from them, "awaking various symbolic, contextual and inter-contextual meanings".
A continuation of a series of paintings he began in 2019, In Between II is open to the public from July 15 – August 5, at Paradise Road Galleries, The Gallery Café, 2 Alfred House Road, Colombo 3, from 10 a.m. to midnight.