Colourful pages from Dutch Ceylon
View(s):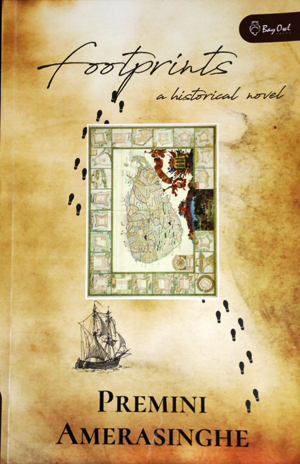 Footprints is a historical novel that begins in Galle, for that is where author Premini Amerasinghe's long ago ancestor hops off from the ship Laprienenburg, "one cloudless June day in 1760". He was from Saxony and had a few plans for the future in his young head.
As the novel wends on however, Jan Spittel gathers much moss by staying put in Ceylon. His story told by Premini is a rich, pungent evocation of 18th Century Dutch Ceylon (and a bit of British Ceylon as well) – from the colonnaded and inner courtyard verandah houses to Delft china, Edam cheese and "penne frittata, izer koekis, frikadels, patties and bol fiado".
The Spittel ancestor was common to Premini and her uncle, the famed surgeon and anthropologist Dr. R. L. Spittel. Her uncle's own novels, readers may recall were about another young boy (Dutch this time) cast on these shores and taking to the wilds rather like Mowgli. Footprints, unlike The Wild White Boy et al, takes place in 'happening' colonial cities with a babel of tongues and colourful multitudes- Colombo, Galle, Kandy.
The Burghers, one could complain, seem fixated on their ancestry, but you have to reckon that they are heirs to two disparate cultures that met in the twilight of old Lanka and the apex of Flemish and Portuguese worlds. They are torn between the two, and it is this ancestral fascination that has prompted Premini's book.
Jan is a man after anyone's heart, winning himself a pretty Dutch wife and soon acquiring the reputation of a linguist within the 'Landraad' of the VOC (the Dutch East India Company) where he works. He learns Sinhala and befriends a learned monk who makes him realize that the 'heathens and us' narrative of European colonizers leaves much to be desired.
Premini writes in lyrical, mellifluous prose that renders the tale highly readable. She evokes a world of cobbled streets and avenues lined with sooriya and tree- tulip trees alongside quaint Dutch houses with roofs sloping towards the street – and the stables (in rich households) housed in the inner courtyards.
It is with a good eye for home comforts that Premini describes fanlights with monograms, stoeps where gossip was shared in the evenings and card tables, hat racks, candlesticks, ebony settees and reclining chairs.
The novel depicts how in Ceylon the races mixed and the customs – from food (hoppers became a favourite and rice and curry) to betel chewing were adopted by the Dutch ladies in cotton dresses with flounced sleeves who 'used spittoons' and gossiped in Creole Portuguese.
Jan proves to be quite the adaptable Burgher in the latter stages mastering English in no time when the 'conquerors became the conquered' and taking tragedy in his stride, for the Spittels, no sooner they seem happily together, are struck with misfortune.
Juxtaposed with Jan's story is the saga of Ceylon, as the Dutch and the British gamble for its future. Sometimes the historical narrative and the Kandyan wars get technical, seeming to happen in another world, but the quickly changing fortunes of the Kandyan and European camps keeps one reading.
Premini evokes an 18th Century Crow's Island, a haven for picnickers, reached by luxurious padda boats equipped with bars, passing the holiday bungalows of the haute monde, overspilling with bougainvillea.
There are also journeys to Galle and Kandy, major adventures. The foray to the South takes two days through coconut estates, river crossings (with carters having to carry the cart and passengers) and wild elephants while the sojourn to Kandy is more epic, passing shells of Roman Catholic shrines and pristine emerald villages on the way to a kingdom being ransacked by rapacious soldiers. The Mannar pearl fisheries, elephant kraals and the devil bird feature.
The exotic yet authentic novel proves that the Dutch, of all the colonisers, were the happiest to make themselves at home with their sunny, sanguine disposition.
Wrapped within the maritime VOC romance, is also a story of love, starting anew and the human pursuit of happiness.
Footprints is a warm toast to the Burghers, a community that contributed much to their homeland despite being viewed as 'foreigners' and made to repatriate; a moving tribute to a people who helped usher modernity in to Ceylon, to only soon fade away themselves.
(Footprints – a Bay Owl publication, is available at leading bookshops priced at Rs 900)
Book facts
Footprints by Premini Amerasinghe
Reviewed by Yomal
Senerath-Yapa