Tokyo's bid for a safe and secure Olympics
By Shehan Daniel
View(s):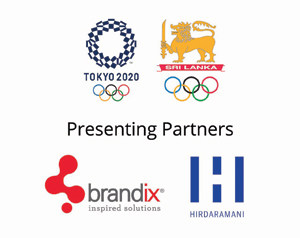 In what has become representative of the times, empty stadiums will host events of the Tokyo 2020 Olympics, which starts in Japan this week, despite the emergence of positive cases amongst those travelling for the games and widespread public opposition.
The Tokyo games' organisers have repeatedly attempted to allay concerns from Japanese residents, who fear the event could become a super spreader for the virus, with one poll in Japan stating that as much as 78 percent of respondents did not want the Olympics to take place.
But the International Olympic Committee (IOC) President Thomas Bach stressed earlier this week that the protocols in place promised a safe and secure games with zero-risk of the virus spreading from the Olympic participants, adding that the games would be a show of global solidarity during the pandemic.
Japanese media reported that some 400 proposals were drawn up by the Tokyo Olympics organisers in a bid to conduct the games – already delayed by a year – safely and without burdening the Japanese health system.
At the core of these efforts, is a protocol of testing, tracing and isolating of participants, before they leave for Tokyo, when they arrive in Tokyo and during the course of their stay in Japan. Coaches and athletes have also been asked to limit their celebrations to clapping of hands only and not by opening their mouths.
Use of public transport has been advised against, and strict limits have been imposed on where participants can travel to.
Meanwhile, Sri Lanka's Niluka Karunaratne and Tehani Egodawela reached Tokyo yesterday, and will be among the first athletes to compete, on the first day of Olympic competition. Swimmers Aniqah Gafoor and Matthew Abeysinghe will leave from Thailand and the United States on the 18th and 20th, respectively.
Judoka Chamara Dharamawardene, currently in Kosovo, will depart for Tokyo on Monday (19). Sprinter Yupun Abeykoon will leave from Italy on the 23rd to join the Sri Lankan contigent in Tokyo, with Nimali Liyanarachchi taking flight from Sri Lanka on the same day. Mathilda Karlsson will be the last athlete to join the Sri Lankan team, leaving for Tokyo on the 24th.
The athletes will quarantine for three days, though they will be allowed to carry out games-related activities as long as they test negative for Covid-19 on all three days and operate under a high level of supervision.
Dr. Himan de Silva, an IOC panel doctor, who was appointed the Covid-19 Liaison Officer (CLO) for Sri Lanka's contingent to Tokyo 2020, said a panel of medical officers in Japan were assessing the situation daily and issuing specific guidelines for each country.
"They meet on a daily basis to assess the conditions of the countries that are taking part in the Olympics and issue specific guidelines to each nation," Dr. de Silva said.
Based on these meetings, the panel of Japanese medical officers had categorised Sri Lanka into a group of countries that were deemed to have the highest risk.
Also in the group of countries considered to pose a high risk are Afghanistan, India, Indonesia, Kyrgyzstan, Maldives, Nepal, Pakistan and Zambia. Those departing from countries in Group 2 – Bangladesh, Malaysia, Russia (City of Moscow), Uganda, United Arab Emirates and United Kingdom – needed three consecutive days of PCR testing, while the rest need to do just two PCR tests, 96 and 72 hours before leaving for Japan.
"But it doesn't matter what rules you have followed or which country you are coming from, if you land in Japan and test positive, you'll be moved straight into a quarantine centre for 14 days," Dr. de Silva added.
"This robust system," Dr. de Silva said, "ensures that the chance of identifying Covid positive persons at an early stage is high. This is how they hope to avoid Covid-19 from entering the country and avoid the importation of the virus. This will help create a bio-bubble in Japan and daily antigen tests will be administered on those in Japan for the duration of their stay. If an antigen test returns a positive result, they will administer a PCR test, which will determine if the individual will be moved to a quarantine facility. Due to the meticulousness of their planning, organisers believe that the likelihood of a spread is extremely low."
No quarantining will be required, unless someone returns a positive PCR test.
Athletes will only be allowed to move into the Athletes' Village five days before their respective events and will be expected to leave within two days of completing their events.