The Sunday Times Sports Desk spoke to some of the experts in the badminton scene
View(s):

Clarence Homer- Former SLB Secretary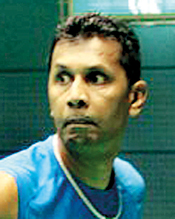 We have enough and more talent but their progress has been blocked. Badminton is an individual sport where the players should have the freedom to train anywhere. But Sri Lanka Badminton has a new Code of Ethics, where players can't train anywhere else. This is absurd. They are blocking the training of other children. This is a mafia and we have no option but to leave this country. You might have X as head of badminton but there's one family who remote-control him. This is why we are sending a 37-year-old into the Olympics.
He did not qualify and this is like a scholarship and we are offering that to a man who has passed his retirement age in badminton. On the other hand what has he done to the game. He claims to be a such a great player but has he even won a South Asian Games gold medal. No. Sri Lanka Badminton and Ministry of Sports have spent millions to sending him on tours abroad but have they done the same for other players. This is such a pathetic situation but unfortunately everyone is silent. Kavindi Sirimanna is 26-years of age and NOC did not nominate her for Olympics. There is an ongoing inquiry into the matter. We are fed up with this system and unfortunately, there's a deafening silence.
 Ajith Wijayasinghe- Ex BWF Match Official and selector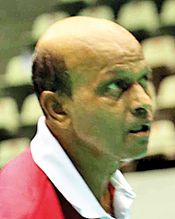 Although he is 37-years-old, he is still our No.1 player which we need to acknowledge. Anyone and everyone can't go to Olympics and Niluka is the only player who has been successful in that qualifying process. I am not sure whether the SLB has not provided opportunities for other players to get to qualify for the Olympics and it's a question that SLB should answer. However, a couple of days back we discussed to send some players to Europe to compete in international meets since no action is happening in our region due to Covid-19.
All our champions who have held the crown for long periods, have played the game fulltime without getting involved in any other employment or education. However when you look at our system, we cannot ask anyone to take up badminton fulltime since we do not have a safety net for them. Even though that's the way to go, we don't have a system to support that. So Niluka somehow managed this and this is why he is our number 1.
But I wouldn't say he is world class. He could be among the top 75 players in the world. This is because even though he was given enough exposure to play in tournaments across the globe, he didn't have a year round training like the best players in the world get. He was at the peak in 2012 but not anymore and I don't think we should invest in him anymore.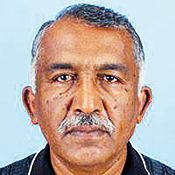 Palitha Hettiarachchi-SLB VP: National Training  
We did not get involved with Niluka's selection, which was solely handled by the NOC. They never kept us informed of the development. We only facilitated him to earn qualification which he failed. I won't deny the story that Niluka is getting favoured treatment. We have new talent coming through the system like Viren Nettasinghe, Rasindu Hendahewa, Ranithma Liyanage and Dasithma Jayathilaka to name a few. They will be exposed to foreign competition from now on.
Chandrika de Silva – former women's national champion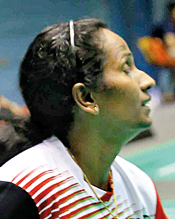 This is a pretty bad situation, one that has existed for many years. We should be ashamed of sending a 37-year old to the Olympics. If he earned his passage by meeting the qualifying standards, we could understand. But this is more like a wild-card, why do we need to give such an opportunity for someone who has already being there twice.
This is the dirty side of politics we see in badminton. We had lot of hopes when Rohan (de Silva)took control of Sri Lanka Badminton, but he is no different. It's a 'you-scratch-my-back, I-scratch-yours' situation. The progress of young players have been consistently blocked and this is why we have a 37-year-old as our national champion. We should be ashamed of that. What have all those people in-charge of development done to support new talent?