Power of empathy through song
By Sashini Rodrigo
Known for using her musical platform for issues faced by girls and women, leading artist Ashanthi's latest single, Nidahase, raises awareness on intimate partner violence
View(s):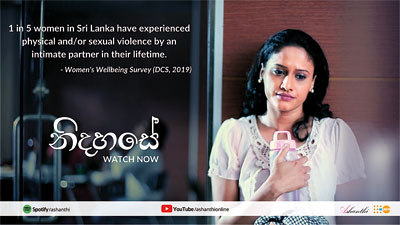 One in four women in Sri Lanka (24.9%) have experienced physical and/or sexual violence since the age of 15 by a partner or non-partner, according to a survey by the Department of Census and Statistics (with assistance from United Nations Population Fund and the Government of Canada). The survey also found that close to half (49.3%) of the women who experienced sexual violence by a partner did not seek formal help anywhere.
To raise awareness on the issue of intimate partner violence (IPV), UNFPA has collaborated with leading artist Ashanthi de Alwis to produce her latest single 'Nidahase' which also features upcoming vocalists Madhuvy Vaithialingam and
Shemil Clinson.
The project aims to encourage women to seek help through the national helpline or women's shelters and increase funding and resources to address the issue, which has exacerbated during the pandemic. All proceeds from the digital purchases of the song will be directed to women's shelters that house survivors of violence.
Following the release of the music video last week, we caught up with Ashanthi  for an exclusive insight into her creative journey and her drive for social change.
Ashanthi is no stranger to using her considerable platform as an established musical artist to raise awareness on the causes she believes in. She has been a vocal advocate for girls and women (rights?) for years, focusing on key issues such as gender based violence and mental health, particularly depression and suicide prevention.
Her previous music video 'Rajiniye' highlighted the particular issue of gender based violence in the workplace and public transport, while her track 'Hitha Danne Mithuranne' was released in partnership with Mobitel and the British Council as a powerful commentary on the rising suicide rate in the country, with proceeds from downloads going towards aiding counselling organisations like Sumithrayo, CCCline and Shanthi Maargam.
For Ashanthi, her passion for creating socially conscious music was simply a part of growing as a person as well as an artist. "When we grow out of our teens and twenties and become more serious about our music and the message you want to give society, then you start thinking a bit more about the people around you and how the world affects us all," she shares.
Nidahase is Ashanthi's first collaboration with UNFPA, and their first venture into using music as a means of prompting social change. Initially Ashanthi was shocked at the statistics, and wanted a deeper insight into what intimate partner violence meant, how and why it happens, and what can be done to help stop it. After a visit to Women In Need (WIN) together with UNFPA, she was given the opportunity to hear firsthand what women all over the island have faced.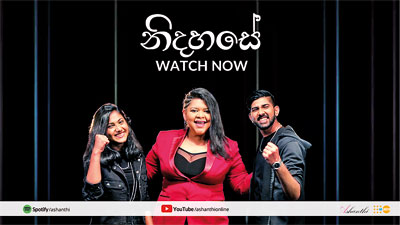 Ashanthi with her co-artists Madhuvy Vaithialingam and Shemil Clinson
"I was completely gutted hearing these stories. It's just unbelievable to think that these things are actually possible, that violence like this can be done by human beings to other human beings," Ashanthi says, adding that the empathetic emotional response drove the spirit of the creative process for this song.
Ashanthi put a lot of thought into crafting a song that inspires her listeners to empathise with the subject in the verses, and empower them with the chorus. It was 'magical', when the words came together with the beat to create the catchy  mid-tempo song. "Music is a universal language. You don't have to speak a specific language to feel a rhythm," she says.
Hours after its release, the Nidahase music video trended at #29 on YouTube in Sri Lanka in the music category, reaching #13 soon after — a first for Ashanthi and her team.
"It means something really huge for us as a community," she explains. "It means that we are paying attention to things that affect us, rather than trying to distract ourselves or escape the reality of our daily lives."
To reach the younger generations like Madhuvy and Shemil, Ashanthi has also launched a TikTok campaign, where users are encouraged to do a duet with her on the platform, tag her on their Instagram posts and stand the chance to be featured on her Instagram page.
"I encourage everyone to download, share, like, comment, and spread the word on this music video as much as possible — because it is all going to women who need it," Ashanthi adds.
With a few more music videos in the works this year, Ashanthi has a lot in store for her fans. But one thing she is most looking forward to is visiting the shelters, and speaking to survivors to help as much as possible. "I think that's the key to a good society," she says. 'Empowering everyone, not just a few."