'Nobody' in cinemas now
View(s):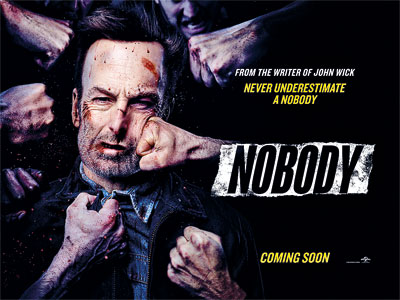 With the opening of cinemas after long closure due to Covid-19 pandemic, Hollywood action thriller 'Nobody' is now being screened at leading theatres in Colombo and islandwide.
Directed by Ilya Naishuller and written by Derek Kolstad, the film stars Bob Odenkirk, Connie Nielsen, Aleksei Serebryakov, RZA, Michael Ironside, Colin Salmon, and Christopher Lloyd.
'Nobody' follows a man who helps a young woman on the bus being harassed by a gang of thugs, only to become the target of a vengeful drug lord.
Emmy winner Bob Odenkirk (Better Call Saul, The Post, Nebraska) stars as Hutch Mansell, an underestimated and overlooked dad and husband, taking life's indignities on the chin and never pushing back. A nobody. When two thieves break into his suburban home one night, Hutch declines to defend himself or his family, hoping to prevent serious violence. His teenage son, Blake (Gage Munroe, The Shack), is disappointed in him and his wife, Becca (Connie Nielsen, Wonder Woman), seems to pull only further away. The aftermath of the incident strikes a match to Hutch's long-simmering rage, triggering dormant instincts and propelling him on a brutal path that will surface dark secrets and lethal skills. In a barrage of fists, gunfire and squealing tyres, Hutch must save his family from a dangerous adversary (famed Russian actor Aleksey Serebryakov, Amazon's McMafia)-and ensure that he will never be underestimated as nobody again.
Released by Universal Pictures in the United States on March 26, 2021, 'Nobody' has grossed USD 56 million worldwide against a production budget of $16 million.
'Nobody'  is now being released at Liberty by Scope Cinemas, Colombo City
Centre, Savoy -Colombo Savoy Rajagiriya, Vista Lite – Ja Ela, Sky Lite Malabe, Majestic Ultra Cinema, PVR – Colombo and Regal – Dematagoda.
Outside Colombo, the film is also released NIT – Kurunegala, NIT – Ratnapura, Nelson Trinco,
Regal – Gampaha and
Maxx Lite – Moratuwa.