Four girls in Pakistan prove power of music
By Susitha Fernando
Goethe Institute presents docu-film 'Lyari Notes',
View(s):
Goethe Institute in its online platform to promote cinema will present Pakistani documentary film 'Lyari Notes', a narrative of four young girls who attend Hamza's music school and learn what it takes to express oneself despite the cycles of violence. The film narrate how in Pakistan a rock star teaches a group of girls to express themselves through music in Karachi's most volatile district. The 80 minutes film based India and Pakistan and both Hindi and English (with English Subtitles) was captured over three years.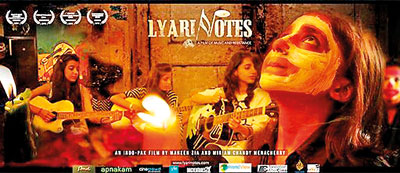 Made by Maheen Zia and Miriam Chandy Menacherry, the film can be watched by the live link which will be available on July 21 at 6.30 pm IST and from 8:00 pm IST onwards the film lovers will be able to join the film makers for a live discussion on Facebook.
Miriam and Maheen are amongst 18 mid-career filmmakers selected from Asia and the Middle East for the Global Media Makers Program 2019-2020 by Film Independent and the US State Department with their new film projects.
Hamza Jafri travels in an armed vehicle. He is a musician famous for his hard hitting political lyrics since the 1990s. Since then religious fundamentalism has been on the rise with shops selling music torched, concerts bombed and musicians threatened with death. Seeing the shrinking space for music and artists Hamza opens a music school.
The documentary film won rave reviews internationally and participated at several film festivals around the world.