CB wastes valuable foreign exchange on non-circulating coins
By Kavan Ratnatunga
View(s):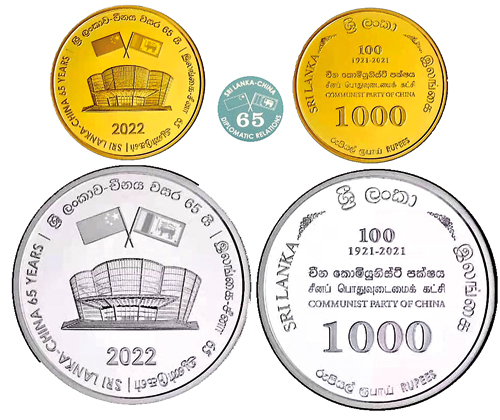 The Central Bank (CB) of Sri Lanka issues coins to commemorate special events in Sri Lanka. For the first time in Sri Lanka, the CB has thought it fit to issue a coin to commemorate an event unrelated to Sri Lanka, the 100th Anniversary of the Chinese Communist Party (CCP), and to make matters more ridiculous issue both a 1.5 sovereign gold (25.4mm) coin in addition to a sterling silver crown size (38.6mm) coin, both with the same Rs. 1000 face value.
The plan to issue such a coin was exclusively reported in the Sunday Times on June 27.
A CB media release says the coins will be put on sale from the CB Economic History Museum from tomorrow – the Gold coin for Rs 222,000 and the Silver for Rs.17,000. 500 Gold coins and 2000 Silver coins have been minted in China in a rush order, reflected by the very basic design shown in the coins.
The only illustration is the Nelum Pokuna Theatre centred below the crossed National Flag of China and Sri Lanka. According to reliable sources some of these coins were gifted to participants at an event by the Chinese on the CCP anniversary on July 1, 2021, even before the "first" gold coin was presented to the President by the Governor of the Central Bank on July 6.
Only on very few occasions since CB started issuing commemorative coins in 1957 have gold coins been minted. The first was 1.6 sovereign gold one rupee coin minted with a profile of President J. R. Jayewardena (JRJ) in 1978 and gifted only to Cabinet members. A similar gold one rupee was minted in 1992 with President R. Premadasa (RP). Only 40 of the JRJ and 100 of the RP gold coins were minted and were not sold to the public and are sort after by collectors. The first modern gold coin issued to the public was in 1991 for the 5th SAF games. The only other coin was the very beautiful gold sovereign issued for the Sri Lanka Independence 50th Anniversary in 1998 and was sold for Rs. 8,000 (US$125).
The Rs.222,000 ($1100) coin is beyond the reach of most genuine collectors of Lankan coins. Many leading collectors who have bought all coins issued by CB, have told me that they can't afford to do so this time. As a coin collector is it reasonable to pay so much for a modern gold coin, since for far less one can buy a genuine rare historic 8th century Type-I gold Kahavanu, which would be considered the highlight of any Lankan coin collection? The CB has truly let down the collectors, who may give up this hobby. The silver coin at Rs.17,000 ($85) is at a price more typical. The last crown size silver coin issued in 2015 for Colombo Municipality 150th anniversary was sold for Rs.8110 ($56).
The news that the CB was going to issue a commemorative coin to celebrate the 100th Anniversary of CCP was revealed in a Facebook post on June 16 by Dr. Waruna Chandrakeerthi, a former employee of CB who got his Ph.D. in China. According to him the suggestion came from one local politician who wanted to put the CCP logo on the obverse of the coin. At a planning meeting, it was suggested for an alternative proposal for the 65th anniversary of China-Sri Lanka diplomatic relations in 2022. The coin to be issued commemorates both.
On the current international Gold value of $1810 per troy ounce, this coin has Rs,130,000 ($640) of gold. I am told in Sri Lanka a gold sovereign currently sells now for about Rs.120,000 and a 1.5 Sovereign coin should have cost about Rs.180,000. The extra being taxes and demand. So an additional Rs.42,000 is a bit of a mystery, but CB insists that it is being sold at cost including Air Freight, Customs Duty, and VAT. Maybe this rush order had some extra overhead for minting.
The recent rapid depreciation of the Sri Lanka rupee may make these coins attractive to those who have excess rupees.
Assuming that all the coins minted cost the total list price of Rs.145 million ($725,000), one could wonder why the CB felt it necessary to spend limited foreign exchange to import Gold and Silver coins from China to commemorate a Chinese event and insult our supposed Non-Aligned Nation.