Appreciations
View(s):

He lit up any room he was in

Immac Juventinus Thampoe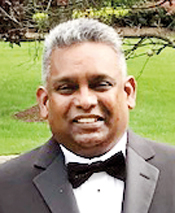 Immac Juventinus Thampoe, Ph.D., J.D., or Casey as many knew him, passed away unexpectedly on Friday, June 18.
Immac is survived by his wife of 26 years, Virginia and children, Michael and Emily; his parents, Anna and Joseph Thampoe; his uncle Bishop Emeritus Thomas Savundaranayagam; his siblings Vijitha (Dudley), Basti (Karen), Indra (late Philip), and Lalanthi (Peter); parents in-law the late John Alfred Singarayer and Rose Alfred; in-laws late Antony (Jeeva), Sylvester (Sharmila), Felician (Sujeeva) and Anne (Kannan); and his many nieces and nephews.
Despite all his accomplishments in the fields of biology, law, and on the tennis court, Immac was a very grounded and humble man who loved his family and friends dearly. Known for his hearty laugh, brilliant smile, and jovial nature, he lit up any room he was in. He enjoyed many things including classic rock music, reading, the outdoors and making food for his family, friends and colleagues.
Immac was born on February 2, 1959 in Kayts, Sri Lanka and spent most of his childhood and early adolescence in Colombo. He attended St. Benedict's College in Colombo and was an altar boy and also a Boy Scout. He earned top marks and received many accolades in school.
Just before his 16th birthday, he was awarded with a scholarship that allowed him to move to the United States in 1975 to pursue studies in the Jesuit tradition at Fordham Preparatory School in the Bronx, New York City.
He would then go onto pursue Bachelors, Masters, and Ph.D. degrees in Biology on the Rose Hill Campus at Fordham University. After finishing his Ph.D., he worked as a post-doctoral Research Fellow and Research Associate in tumour immunology at the Memorial Sloan-Kettering Cancer Center from 1986 to 1990.  Spending many years as a scientist, Immac became a student at Fordham Law School and graduated in 1994. His first forays into the world of patent law include a role as an Associate Patent Agent in the Biotechnology Patent Law Group at Fish & Neave (now Ropes & Gray) and as an Associate in the Intellectual Property Group at Cummings & Lockwood.
He then spent time in various roles as an in-house Patent Attorney at Schering-Plough Corporation, as Managing IP Counsel at Merck & Co. after the merger with Schering-Plough, and  at Regeneron Pharmaceuticals, Inc. Most recently he was the Executive Director & Assistant General Counsel for IP Portfolio Development.
Immac was a past President of the New Jersey Intellectual Property Law Association, and the chair of the group's Patent Litigation Committee since 2000. He chaired and spoke at many biotechnology patent law conferences in Boston, London, Munich, New York and San Francisco.
Outside of his illustrious education and work, he played Varsity Squash for Fordham and managed its Squash and Tennis teams. Since 2011, he has been a player captain of USTA Adult League teams and led over 10 different teams to the USTA National Championships. He received many accolades from the USTA including the 2017 Middle States New Jersey Captain of the Year award.
To our dad, who did so much in his life and for us and our mother – we are blessed to have many wonderful memories with you. We will miss you dearly. We love you very much.
May you rest in peace.
Michael and Emily Thampoe
---
To those Prep School days and more
Kanishka D. Perera
Number 13 is always considered a number of ill omen. On May 13 we heard the sad news of the untimely demise of our dear classmate from Grade one and throughout at St. Thomas Prep School due to COVID complications. Incidentally, on this same day, the school by the sea in Kollupitiya, lost three of its old boys who fell to the deadly COVID-19 virus.
Kanishka was the eldest in the family, his late parents Dunstan and Leoni Perera both in the noble profession of teaching, expert teachers in Maths and Science. Kanishka resided in Lunawa, Moratuwa throughout his life. He had two younger brothers but no sisters much to the disappointment of his classmates. His family were regular worshippers at Emmanuel Church, Moratuwa.
A promising student, Kanishka excelled in Maths and Science at Prep School, undoubtedly well guided by his parents. He used to enjoy the Science lab session unlike most of us who would eagerly wait for the interval bell.  His weakness was his bad handwriting for which he was constantly reprimanded by his teachers.
He obtained good results in the Ordinary Level exam, and opted to continue his Advanced Level studies at Ananda College. Kanishka gained admission to University and successfully completed his degree as a Civil Engineer, however changing course at this point to electronics which according to him was his forte. He eventually changed course again to be appointed as Head of IT in a local bank, and held this position until the time of his demise.
During his early years at STC Prep, residing in the vicinity of the Lunawa railway station, Kanishka used to travel to school by train. This probably spurred his interest in trains. He was a great collector of model trains and even as an adult continued to be an active member of the Model Train Society. Once he exhibited his collection at the S. Thomas' College Mount Lavinia carnival assisted by his two sons who schooled there. Occasionally he would request a few of us, his buddies living in Moratuwa to join him by train on his commute home from school and take pride in providing a running commentary about various locomotives which was of much interest to us too.
Kanishka faithfully attended all our frequent class reunions when we would gather in small numbers for dinner, enjoying each other's company.
When he fell victim to COVID, it was he, who informed us through the class WhatsApp group. When his condition turned serious, we organized special prayer sessions for healing. These sessions on Zoom were attended by many of our classmates both in Sri Lanka and overseas. Christian, Buddhist, Hindu and Islamic prayers were offered according to everyone's own faiths.
A few of Kanishka's Buddhist classmates offered Bodhi Poojas. All these prayers and intercessions were for the recovery of our dear friend. Perhaps God had other plans for him.
Rest in peace my dear friend. You will be truly missed machan by all your school friends from Prep School, and more so at our get-togethers.
May God grant you eternal rest. Rest in Peace and Rise in Glory.
Member of STPS class of 79
---
You left an imprint in our lives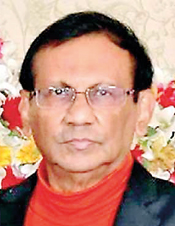 DR. GANESH RATNAM  
Dear Doctor you epitomized a gentleman
In every sense of the word
You taught us not to limit our challenges
But to challenge our limits
It is easy to leave footprints in the sand
But it takes a very special person
To leave an imprint in the lives of those he touched.
Remembering your birthday
on June 25
With gratitude and affection – Karen
---
He always inspired us to do our best 
Gemunu Alawattegama
It was a shock to me, when I heard the sad news that Eng. Gemunu Alawattegama had passed away on June 12 after a brief illness.  He was one of the best Chairmen we had in the Construction Industry Development Authority (CIDA).
Eng. Alawattegama as a leader did not just guide us to do things but inspired us by compelling us to "own" things. As Chairman, during this short spell of nearly one year he set an example, motivating others to do their best. We were certainly lucky to be under him. During progress meetings, acting like a father figure, he managed situations in a way others cannot even imagine.
Eng. Alawattegama was a Trinitian and proud product of Peradeniya University. During his short tenure as Chairman, he was able to introduce many aspects such as standardizing the construction industry, specifically striving for a better image for CIDA. The concept of a Standard and Research directorate was his brainchild, and it was incorporated into the corporate plan along with a well architected hierarchical structure.
A seasoned professional, he was a "Chairman and a gentleman". He did not get carried away by tale-tellers. He was able to identify people's true potential quickly. Very few bosses in our lives, called us by our first name. He was one of them. He knew how to get the best out of everyone and he was never out to find fault with his staff.
It is with profound sadness we bid adieu to our respected leader.
May he attain the supreme bliss of Nirvana.
Eng. S. Amarasekara
---
She was our 'go to' person 
JOAN DE  ZILVA MOONESINGHE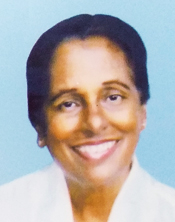 Two years have gone by since we woke up on that Sunday morning to the awful news, "Joanie has passed away." .
Joan was a driving force in all our lives. She was our rock, always there, always ready to lend a helping hand. Leaving no stone unturned, she looked out for everyone, not only in our extended family, but friends and acquaintances as well. She was our 'go to' person for just about everything.
Joan lived a life governed by simple precepts: her unshakeable faith, her love of family and her sense of duty and responsibility.  Family always came first with her. Her devotion to her much loved, late husband Anil, beloved children, and adored grandchildren, as well as all of us cousins and our families is something that will always be cherished. Her work ethics were formidable; no one could ever question her dedication and sense of responsibility to her job. She was forthright and fearless and would brook no corruption; she never deviated from calling it as she saw it and stood firmly for what was right.
She balanced all of this with running her house, keeping a beautiful, welcoming home for everyone, and cooking delicious repasts from scratch. Her sense of duty was just as phenomenal: be it being there when someone needed her, remembering people's special days, showing her gratitude for any help given to her, entertaining visitors from abroad or finding solutions to all the problems laid at her door…
Retirement never slowed her down, but it did give her time to indulge in her hobbies, finding innovative ideas for decorating her home, and turning out every dish possible, especially her signature pavlovas. Her most cherished time, were the hours she spent with her two beautiful granddaughters; the photographs she sent me are a testament to her love and pride in them.
Words are so inadequate to pay tribute to this wonderful, caring woman who has left such a void in our lives. We will miss her indomitable spirit, her ''never say die'' attitude in the face of any odds, and mostly her loving care for us all.
Rest in peace beloved cousin, you will forever be the binding force in our lives.
Lilani Ranasinghe
---