Two more resign from vaccine committee
By Kumudini Hettiarachchi and Ruqyyaha Deane
Dr. Jayasundara Bandara, Project Director of COVID-19 Emergency Response and Health Systems Preparedness also leaves post
View(s):
Two members of the independent vaccine advisory expert committee of the drug regulator have resigned, citing reasons as "personal" and "overload of work".
They are Prof. A. Pathmeswaran (community physician) attached to the Colombo North (Ragama) Medical Faculty who resigned from the committee two weeks ago and Prof. Neelika Malavige (immunologist) attached to the Sri Jayewardenepura Faculty of Medical Sciences who did so this week.
Not only the eight-member expert committee but also the National Medicines Regulatory Authority (NMRA) has been dogged by controversy with sackings as well as resignations being frequent since the beginning of this year.
The original expert committee in addition to Prof. Pathmeswaran and Prof. Malavige comprised Dr. Ananda Wijewickrama (physician), Dr. Rajiva de Silva (immunologist), Dr. Kanthi Nanayakkara (virologist), Prof. Channa Ranasinghe (respiratory physician), Dr. LakKumar Fernando (paediatrician) and Dr. Hasitha Tissera (epidemiologist).
Earlier, with major issues arising out of pressure on the committee – to approve the Sinopharm vaccine without data on safety and efficacy in Phase 3 trials being provided – some members had been dropped from discussions, while the committee had been expanded with new members.
As such, currently on the committee are Dr. Rohitha Muthugala (virologist), Dr. Mahen Kothalawala (microbiologist) and Prof. Saroj Jayasinghe (medicine) who is retired from the Colombo Medical Faculty.
Meanwhile, Dr. Jayasundara Bandara, the Project Director of Sri Lanka's COVID-19 Emergency Response and Health Systems Preparedness had left his post last week.
Dr. Bandara told the Sunday Times that at the stage when a majority of the work under the project, which was funded by a World Bank loan, had been completed, the Secretary of the Health Ministry wanted him to advertise the post and he followed instructions.
A new Director had been appointed in early June, but the announcement from the ministry had come on June 15. "So, what else could I do but leave. There was nothing else to do," said Dr. Bandara, a former Acting Director-General of Health Services.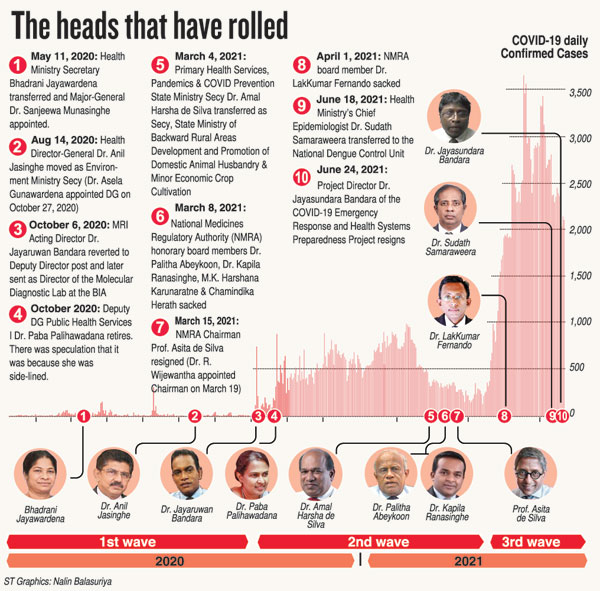 He said that initially he was handling the Primary Healthcare System Strengthening Project (PSSP) of the World Bank, when the COVID-19 pandemic hit and the emergency project was launched. He had been requested by the Health Ministry, the Finance Ministry and the World Bank to handle that work as well. At that time, he did not have a dedicated staff and he was using the PSSP staff for this project as well.
"Most of the work is complete. With this loan (US$ 128.6 million, roughly equivalent to Rs. 25,594,177,760), there was a need to carry out sustainable work and that is why there were plans to expand or build six hospitals to meet the new threat of infectious diseases," said Dr. Bandara.
The plan was to build a 285-bed hospital in Ampara and a 200-bed hospital in Kilinochchi which have been commissioned half-way through due to the rising number of patients. There were also plans to re-haul the old Hambantota Hospital, while expanding Angoda's Infectious Diseases Hospital (National Institute of Infectious Diseases) with the addition of 130 isolation units, he added.