"Today, the people of this country no longer have a reason to fear" – President
View(s):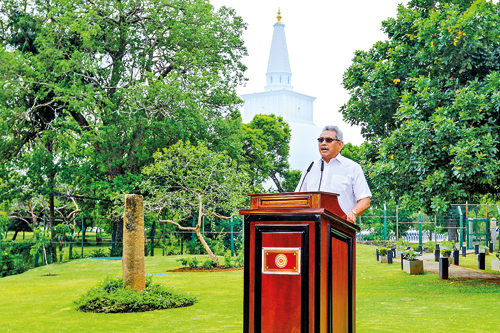 While outlining the health and economic challenges posed by the Covid-19 pandemic, President Gotabaya Rajapaksa used his address to the nation on Friday to highlight what he claimed were the key policy achievements of his government so far.
The government had made great strides in ensuring national security, President Rajapaksa said, noting that it has strengthened the intelligence services weakened under the previous government and restored the morale of the security forces. "Today, the people of this country no longer have a reason to fear for the unity of the country. This government will not allow anyone to interfere in the internal affairs of our country," he insisted.
President Rajapaksa said he inherited an economy that was in ruins, but his government had a plan to revive it. The emergence of the Covid-19 pandemic less than a month after he became President, however, meant that these plans could not be implemented as expected, he claimed.
He said the government was able to control the first and second waves of the pandemic in the country, but it was now facing a third wave as a consequence of people traveling in large groups during the Sinhala and Tamil New Year.
While Sri Lanka too went into lockdown like many other countries in a bid to control the pandemic, it had a devastating impact on the country's economy, including massive losses to industries such as the apparel industry, loss of jobs among migrant workers and tourism, he pointed out.
One of the weaknesses of our government was that its development work were not properly communicated to the people, the President said.
President Rajapaksa also insisted that he would not walk back his decision to ban the import of chemical fertiliser. He asked the people to support the drive to increase the use of organic fertiliser.
He said the government would be able to vaccinate 13 million people by the end of September. The government will be able to vaccinate everyone over the age of 30 by that time, President Rajapaksa said.
(See for complete speech https://www.pmdnews.lk/president-gotabaya-rajapaksas-special-address-to-the-nation/)