Reckless quarry blasts render residents' protests inaudible
By Namini Wijedasa
Mines bureau stays clear of controversy, as villagers claim boulders land near their houses
View(s):
Near a stone quarry at Diddeniya South in Hanwella, villagers are locked in battle with the Geological Survey and Mines Bureau (GSMB), saying the mine has expanded so much over the years that rock blasting is now threatening their homes.
The mine is in an area called Thennapitahena in Diddeniya South. In 2018, the name came up in Parliament when the then Janatha Vimukthi Peramuna Parliamentarian, Bimal Ratnayake, alleged that it was one of 11 quarries supplying rocks to the Colombo Port City project.
Matters came to a head in November last year when 12 villagers claimed damages saying blasting led to boulders landing near their houses. The mine operator, a resident of Pitakotte, has promised compensation, says a letter from the Officer-in-Charge of the Hanwella Police to the Seetawaka Divisional Secretary.
"But none of us asked for compensation," said P.V.D. Ranjith, who represents the complainant families. "This mine has grown over the decades and it is now poses a significant threat to our lives and property and to the environment."
The GSMB Regional Mining Engineer told the Sunday Times the bureau had no mandate to look into social issues and could only check the quarry coordinates to ensure activities were within the prescribed distance. He insisted there was no violation of regulations.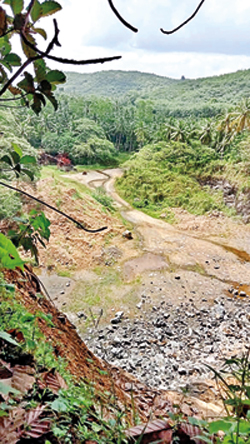 "The rule is that activity cannot take place within 100m of any human settlement," Mr Ranjith said. "But there are at last three houses that are heavily exposed to rock blasting as it is taking place close to their boundaries. Also, they earlier started work at 8am and stopped at 6pm. Now it's from 6am to 8pm."
In February 2020, the GSMB wrote to residents saying it had conducted an on-site inspection and delivered instructions to the mine operator to continue activities without causing harm to life or property. "But we were not called for this inquiry, nor were we asked anything," Mr Ranjith protested. "And nothing has changed. We live in constant danger."
"There are a lot of mines in Diddeniya and one of the problems with this one is that the road in front of the quarry is also full of vehicles transporting rocks," the Area Engineer said. "This particular union of villagers has been speaking up for a long time, even at meetings. These are not issues the GSMB is tasked to handle. We have to make technical assessments based on noise, vibration and other parameters."
But Mr Ranjith said villagers–having experienced the harm stray boulders can cause last year–are unwilling to take the word of the authorities. They are also concerned the blasting can now damage the main water tank which is nearby, thereby depriving tens of families of water. They have requested the GSMB to shut down the quarry.