50,000 cleared for jobs in West Asia but blocked by COVID rules
By Chrishanthi Christopher
View(s):
Around 50,000 people with clearance to work in West Asia are unable to take up their jobs because of COVID travel restrictions in Sri Lanka.
The Association of Licensed Foreign Employment Agency (ALFEA) said it has received 35,000 visas from Qatar and 10,000 visas from Saudi Arabia but are unable to send the workers because the selected personnel are unable to travel to Colombo.
In addition, ALFEA Secretary M.H.M. Harshad said, all personnel need to report to their respective agencies to finalise formalities but agency offices have been closed for nearly a month.
"We have requested that our services be made 'essential' but there has been no response from the government," he said. People engaged in essential services can gain exemptions from travel restrictions.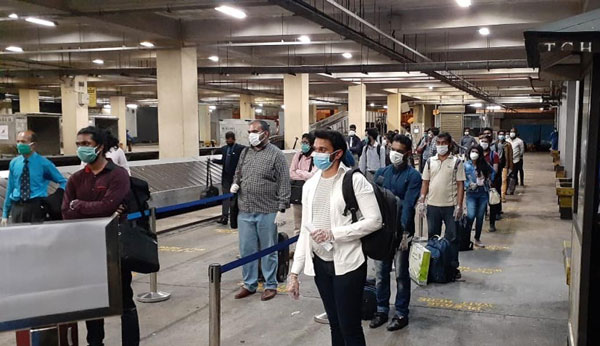 Currently, only Qatar and Saudi Arabia have opened their doors to Sri Lankan workers.
Kuwait and Dubai will open up soon, Mr. Harshad said.
He revealed that most people who had held jobs in the  are apprehensive about returning to those countries because of the bitter experience they had during the height of the pandemic.
"All who want to go now are 'freshers', and they come from the Eastern and North-Western provinces," the ALFEA Secretary said.
The number of women taking up jobs in the West Asia has declined in the past decade, he added: of the 50,000 waiting to go, only 15,000 are women.  Irrespective of COVID restrictions, fewer people are now willing to go to the West Asia  for work. According to ALFEA figures 225,000 workers went to the  in 2019. In 2020, the number fell sharply to 50,000, and this year only 23,000 workers have left in the past six months.
"We doubt whether we can achieve last year's figures," Mr. Harshad said.
There are some 50,000 workers who have completed their contracts and are due back home. "We have written to their sponsors and requested to have their contracts extended," Mr. Harshad said.
Korea-bound workers given hope of end to two-year wait

Jobs waiting in South Korea for 2,500 Sri Lankans will be held open until COVID-19 restrictions are cleared for the workers.

Sri Lanka Bureau of Foreign Employment (SLBFE) spokesman Mangala Randeniya said the State Minister for Foreign Employment Promotion, Priyankara Jayaratne, had written to the Labour Minister in Korea about the workers.

Minister Jayaratne had signalled Sri Lanka's preparedness to send regular workers as permitted by Covid-19 regulations in South Korea.

Seoul has set up a committee to analyse the Covid-19 situation in countries that supply workers and, it is learnt, there is understanding of the situation in this country.

"They will extend the contracts," Mr. Randeniya said.

He said South Korea had restricted workers from overseas and opened its doors only to a few neighbouring countries such as Thailand, Laos and Vietnam.

"Sri Lanka is moving towards a positive curve and we should be able to send our workers soon," Mr. Randeniya said.

Around 2,500 Sri Lankans who have passed the proficiency tests have been waiting for two years to go to South Korea for work. The future of another 1,600 on service agreement is also in limbo.

The SLBFE plans to inoculate all future migrant workers. Mr. Randeniya said this would relieve potential workers of the need for having PCR tests and quarantine in Sri Lanka and in those countries, to be declared free of infection.

Romania has also opened its doors to Sri Lankan workers.

The backlog of migrant workers waiting to come home has eased as the airports are open and flights operating.

"They can book and come any time and there is no waiting time," Mr. Randeniya said.

Arrivals can use government-sponsored facilities for the 14 days' quarantine or, for those willing to pay, there are designated hotel facilities.