Safeer enters cinema
By Susitha Fernando
View(s):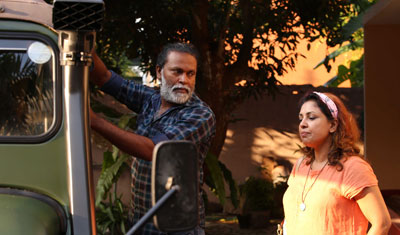 Veteran theatre practitioner, lecturer at several foreign theatre academies and experimentalist on drama, M. Safeer's debut film "Mama Nemei" or "Hereafter bygone" has completed shooting and it is in the post-production stage.
Locally and internationally awarded playwright who introduced the theatre concept like 'black box' theatre to Sri Lanka, Safeer was instrumental in organising Colombo International Theatre Festival for eight consecutive years since 2012.
The entire film is woven around two main characters played by veteran actress Dilhani Ashokamala and experienced theatre actor Sanjeewa Upendra.
A nostalgic journey, the story moves along 30 cities, 15 districts with covering around 1500 km. The film revolves around the protagonist, a woman played by Dilhani Ashokamala who takes up a journey with a driver (Sanjeewa Upendra) around the country.
The two has nostalgic memories and as they visit various locations, they have special stories to share with us. As they move the audience moves with them.
In the technical staff Suran Bopitiya is the director of photography while the line producer is M. Shafraz. Rest of the production team includes W. Jayasundara as production manager, Keshan Sethunga as assistant director and Thilak Perera as the still photographer. Musical score is written by Dumindu Kadigamuwa and Sujeewa Pathinisekera is the executive producer.
Screenplay, costume and direction is by Safeer while "Mama Nemei", an Inter Act Art production is co-produced by Mahil Madusanka, Tharindu Illeperuma, Sampath Rajapaksha, Nirosh Kaviratne and Sujeewa Pathinisekara.