Sri Lanka Embassy in Japan Connects 220 Investors at the Virtual Investment Forum
View(s):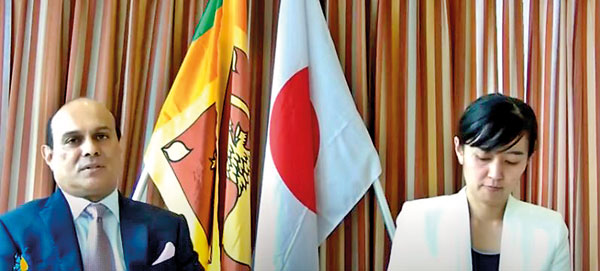 Sri Lanka Mission in Japan facilitated connecting investors in diverse sectors at the first ever country specific Virtual Sri Lanka Investment Forum (SLIF) concluded two weeks ago.
The 220 potential investors the mission attracted through its outreach and marketing efforts included a cross section of segments including software, pharmaceutical, agricultural and manufacturing where Sri Lanka has a comparative advantage as a low-cost high-quality labour environment and access to 1.6 billion people through Free Trade Agreements with India and Pakistan. Another commonality and potential that was highlighted was in the field of Agriculture with small farming size in both countries and the ability to transfer Japanese Technology to increase crop yields and productivity.
The Keynote speakers at the country specific virtual session included His Excellences' the Ambassadors of Japan and Sri Lanka, Chairman of BOI, Chairman Noritake-Japan Ltd, CEO of Colombo Stock Exchange, Country Director of JETRO as well as Chairman Dockyard Sri Lanka and Chairman of Expo Lanka Pvt Ltd.
Japanese official including Ministry of Economic Trade and Industry (METI), Japan International Cooperation Industry (JICA) congratulated for the informative session and positive responses that were received from prospective investors. Mr. Tetsuya Yamada, Chief Representative of JICA in Sri Lanka remarked, "Congratulations to the great success of the Investment Forum, which gave a lot of useful information and made me feel the appetite of investors towards Sri Lanka."