SLIIT heralds landmark achievements during pandemic with continued mission to offer education excellence
View(s):

Today, looking back at the fifteen months of the pandemic, SLIIT can proudly celebrate many significant accomplishments during the 2020-2021 academic year, despite the unique challenges posed by COVID-19.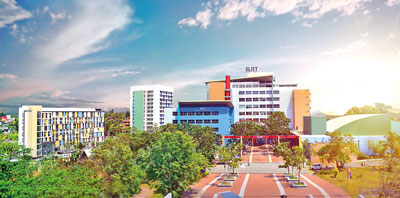 The entire SLIIT community has worked hard to adapt to the new virtual learning environment and follow the required health and wellness protocols. All faculties have transformed their courses to entirely online or hybrid learning, with both staff and students provided with the necessary tools and resources to work and study from home.
With its long-established commitment to academic excellence, SLIIT introduced several new degree programmes during the pandemic. The new BSc (Hons) Degree in Financial Mathematics and Applied Statistics (FMAAS) is offered through SLIIT's newly formed School of Mathematics under the Faculty of Humanities & Sciences (FHS).
Specially designed to cater to the financial sector, the degree provides the theoretical foundation in Mathematics and Applied Statistics and the practical knowledge to succeed in the finance and investment sectors. It is also the first such degree programme conducted in Sri Lanka.
SLIIT's new Postgraduate Diploma in Education is another milestone during the pandemic. It offers graduates and officers in Education the knowledge and tools to bring qualitative improvements to the sector. Additionally, SLIIT's School of Architecture is about to launch the new BA (Hons) Interior Design Degree offered by UK's prestigious Liverpool John Moore University (LJMU). This programme will equip students with the skills in interior design and retail practice, brand consultancy and visualization to become a leader in the growing interior design sector in Sri Lanka and the region.
Showcasing its excellence in research, SLIIT organized the International Conference on Advancements in Computing (ICAC 2020) during December 2020.  It was an exciting opportunity for researchers to get exposed to the world of innovation, demonstrate their talents, and share their knowledge with academia from around the world and local industry.
Catering to new normal, SLIIT conducted its 24th Convocation in March this year. The Hon. Minister of Justice was the Chief Guest and delivered the keynote speech. Other well-known eminent personalities also graced the different sessions of the convocation as Chief Guests. The ceremony was conducted following social distancing norms and Covid health guidelines.
Providing students with an opportunity to experience the campus life and the international exposure it offers, SLIIT organized a series of Virtual Open days. These events helped students meet the individual academic staff and gain an understanding of the programmes available. Open Days held during the pandemic included Undergraduate Open day, Curtin University Open day, and the Open day for postgraduate applicants.
Despite the pandemic, SLIIT continued to host several important events through online platforms such as the SLIIT International Conference on Advancement in Sciences & Humanities (SICASH 2020), the inaugural annual research conference of the Faculty of Humanities & Sciences showcasing multidisciplinary research, targeting international researchers in the areas of Natural Sciences, Law, Education, English Language & Literature, Nursing, and Psychology; Codefest 2020 – the nationwide Software Competition organised by SLIIT's Faculty of Computing geared towards exhibiting the software application design talents of students island-wide; and Soft Skills+ 2021, the flagship CSR project of SLIIT Business School. Soft Skills+ is a top-rated programme targeting secondary school students and individuals from different communities to improve their soft skills, especially positive thinking, creativity, analytical thinking, leadership skills, problem-solving skills, communication skills, and teamwork.
SLIIT initiated a novel School Reach Programme titled 'Sip Saviya' last year, supporting talented young students across the island. Due to Covid, SLIIT maximized the use of technology and engaged O/L and A/L students virtually through Zoom to improve a range of skills necessary for their future academic and professional journey. Through the Sip Saviya School reach project, SLIIT has reached more than 25,000 students virtually.
SLIIT Global Education successfully organised a virtual postgraduate evening with the Liverpool John Moore University of UK. This session was mainly to help students continue with their dreams of postgraduate higher education opportunities in the UK despite the challenges and impediments due to the pandemic.
Four exemplary students of the SLIIT Business School, majoring in Accounting and Finance were recognised for their collective thesis published as two articles in two world renowned journals. The articles topics: 'Do chronic illnesses and poverty go hand in hand?' and 'Chronic diseases: An added burden to income and expenses of chronically-ill people in Sri Lanka' were published in acclaimed journals international with 300 H-index (SJR), (prestigious indicators than ranks journals). This feat is considered a rare achievement at the undergraduate level.
To further enhance students' knowledge, SLIIT Business School continues to organise thought-provoking virtual guest lectures. The Guests are leaders in their chosen field and provide a unique opportunity for the student to listen and learn from their experience.
While 2020 was an unprecedented year for SLIIT and academic institutions worldwide due to COVID-19, SLIIT continues to face the challenges of the pandemic in 2021 successfully due to the dedication, creativity, and community spirit of every member of its community. The past year and the six months into 2021 have showcased a host of success stories and significant milestones for SLIIT as it looks towards the future, demonstrating excellence, resilience, innovation, and leadership in higher education.