IT offers attractive career choices for Sri Lankan students
View(s):

Begin your pathway to a top Australian IT degree at UTS College Sri Lanka

Spurred on by an increasingly connected population, Sri Lanka continues to innovate in the field of Information Communications Technology (ICT). Sri Lankan graduates with strong ICT skills will be attractive candidates for opportunities with local or global ICT companies. In even better news, the pathway to a successful IT career can begin right here in Colombo. Students who successfully complete a Diploma of IT at UTS College Sri Lanka develop the skills, knowledge, and confidence to thrive at university, along with a firm foundation for their ongoing IT studies. They may also be eligible for direct entry to the second year of a related degree at the University of Technology Sydney (UTS)*, Australia's leading young university.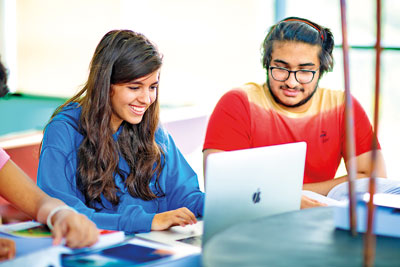 Develop real-world skills in new and emerging fields
UTS is a global leader in practice-based, industry connected teaching and learning, supported by the best in real-world research. It enjoys strong partnerships with more than 1000 companies, so its teaching and research remain industry relevant. This gives students a strong edge when it comes to industry experience and engagement. In fact, UTS has been ranked 11th in the world for Computer Science in the prestigious Academic Ranking of World Universities (ARWU).
Graduates of the UTS Faculty of Engineering and Information Technology gain real-world entrepreneurial and digital transformation skills in new and emerging fields. In just one example, students who enter the Bachelor of Computing Science (Hons), could choose majors in high demand areas such as Artificial Intelligence and Data Analytics, Cybersecurity and Privacy, Networking, Business Information Systems Management, Games Development, and much more.
Attractive career choices
Here are a few popular careers open to IT graduates:
Software Developer
Programmes must be secure. They need to be continuously tested to make sure code is released consistently, quickly and at high quality. Software Developers are the creative minds behind computer programmes and algorithms. They ensure that clients and customers have a seamless and safe experience across applications. Smart solutions, robots, machine learning, artificial intelligence, autonomous vehicles and advanced enterprise solutions are increasing the demand for custom software solutions.
Cybersecurity Expert
Advances in interconnectivity, smart technology and online services carry with them an increasing risk of cyber threats. In fact, according to a PwC Global Economic Crime Survey, cybercrime ranks as the second most reported economic crime in the world. Cybersecurity experts simulate, track, and target hackers.
Data Analyst
Data analysts have deep analytical skills. They can identify patterns and draw conclusions and insights to inform business decisions. As the 'Internet of Things' connects an ever-increasing number of items to the net (such as mobile phones, home appliances, healthcare devices, lights, wearables, engines and machinery), the demand for data grows – and with it, the demand for skilled data analysts.
Virtual Reality Designer
The world of virtual and augmented reality is changing rapidly as it becomes more accessible and widespread. Beyond the gaming industry, VR is also used in the engineering, architecture, construction, education, medical and military industries for 3D design, simulations and training.
Artificial Intelligence
AI powers computer systems with human intelligence to enhance human decision-making. This includes machine learning, where humans teach computer programmes to learn by finding patterns in data. The more data available, the better the performance. As technology advances and AI breakthroughs occur, we can expect further integration into our daily lives – automated transport, social robots, virtual personal assistants and advanced health detection, for example.
A gateway to study in Australia
The Diploma of IT from UTS College Sri Lanka offers a guaranteed pathway to UTS, Australia's number one ranked young university. Alison Hiscox, Principal, UTS College Sri Lanka says, "The UTS College Sri Lanka Diploma of IT is an excellent gateway for students seeking an Australian education. Students can begin their Australian university experience close to home at our modern Colombo campus, enjoying small classes, ongoing support, and a high-quality curriculum. They will develop lifelong learning skills which help them to thrive at university and in their future careers as IT professionals."
Academic merit scholarships up to 100 percent
There is still time to apply for Semester 2 at UTS College Sri Lanka (students can apply with pending A-levels), and academic merit scholarships up to 100 percent are available.
To find out more about the Diploma or IT, the range of courses available at UTS College Sri Lanka, and how to take advantage of scholarship opportunities, visit utscollege.edu.lk/experience or call 0774 775 774.
About UTS
UTS is a dynamic and innovative university, ranked as Australia's top young university, and 133rd in the world in the QS World University Rankings 2021, reflecting its strength in employability, research, teaching, and internationalisation.
UTS College Sri Lanka prepares students for entry to all UTS undergraduate courses though the UTS Foundation Studies Programme and offers a Diploma of Business, a Diploma of Engineering and a Diploma of IT. When students complete their first year at UTS College Sri Lanka, they are ready to complete their UTS degree in Sydney.
Subject to successful completion of a diploma with no more than 2 subject fails and depending on course chosen.