Gateway students enter the best Universities worldwide
View(s):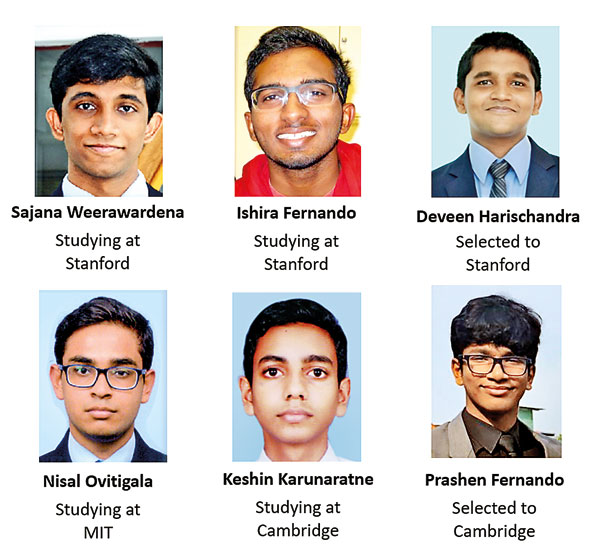 Gateway students continue to secure admission to the most prestigious universities in the USA, UK, Australia, Canada, Hong Kong, Malaysia, Singapore, New Zealand and Japan with scores of students currently studying in the top 200 Universities – based on the Times Higher Education World University ranking.
Most recently, a few Gateway students entered the worldGs most prestigious seats of learning that include Stanford, MIT and Dartmouth in the USA and Cambridge in the UK.
There are also many students who have received handsome scholarships, some up to 100% from very reputed Universities.
It is heartening to see many Gateway students entering the most sought-after institutions of higher learning that include the 8 Universities in the IVY League in the USA, 24 Universities in the Russell Group in the UK, the Go8 (Group of Eight Universities) in Australia and the U15  (Fifteen Canadian Public Research Universities) in Canada.
Among the popular destinations of Gateway students are:
Stanford University
Massachusetts Institute of Technology (MIT)
University of Cambridge
University of California, Berkley
University of Chicago
Imperial College London
University of Pennsylvania
UCL (London)
Columbia University
•  University of Toronto
National University of Singapore (NUS)
New York University (NYU)
University of Edinburgh
University of Melbourne
University of British Columbia
University of Hong Kong (HKU)
McGill University
University of Manchester
University of Sydney
Chinese University of Hong Kong
Australian National University (ANU)
Monash University
University of Amsterdam
UNSW Sydney
Utrecht University
University of Warwick
Delft University of Technology
Purdue University West Lafayette
Dartmouth College
Getting three students into Stanford within a short period of time augurs well for Gateway College. Stanford receives 45,000 applications each year and only 5% of those applicants are accepted into the university. In total, companies founded by Stanford affiliates and alumni generate more than $2.7 trillion annual revenue, which would be the 10th largest economy in the world.
These companies include Google, Nike, Netflix, Hewlett-Packard, Sun Microsystems, Instagram and Charles Schwab. Stanford alumni also have founded nonprofit organisations like Kiva and SIRUM. The first American woman to go into space is also an alumnus of Stanford. Since opening in 1891, Stanford counts 19 Nobel laureates within its community today.
Breakthroughs at Stanford include the first successful heart-lung transplant, the debut of the computer mouse, and the development of digital music.
Gateway s focus on academic success supplemented by co-curricular activities, work experience, volunteering, social service and the development of key skills that foster creativity, critical thinking, communication and collaboration has without doubt contributed towards its students being accepted into these prestigious seats of learning.