SF reveals how prison days made strange bench fellows
View(s):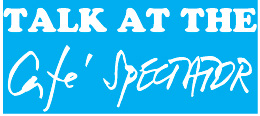 An exchange took place between the Government and Opposition in Parliament on Tuesday regarding the plight of detainees held under the Prevention of Terrorism Act (PTA).
Sports and Youth Affairs Minister Namal Rajapaksa pointed out that many LTTE suspects arrested under PTA had been held for years without charge or had their cases still pending in court. He called on the Government to either file charges against the suspects or rehabilitate and release them.
Welcoming the Government's decision, Samagi Jana Balawegaya (SJB) MP Field Marshal Sarath Fonseka recounted an incident from his own time as a prisoner after being arrested under the Mahinda Rajapaksa Government.
"They used to take me from Welikada Prison to court for my cases. I had to sit on a bench with other prisoners until my case came up. On my left used to sit a young man who was accused of transporting the suicide bomber who tried to assassinate me while I was Army Commander. He was being produced in the court case regarding my assassination attempt," he revealed.
Field Marshal Fonseka survived an attack carried out by a female suicide bomber at Army Headquarters on April 25, 2006.
"That young man used to sit next to me and we would talk. He still phones me from time to time. The attempt on my life took place 15 years ago and I believe he was arrested about one year after the attack. He is still in remand custody and the case is pending. I agree with what you (Namal Rajapaksa) said. Though I myself was a victim of such an attack, I believe that it is time for those held under the PTA to receive justice. I think being in prison for 15 years is punishment enough," he said.
---
5 minutes for fuel issue before all make beeline to dinner at Janadipathi Mandiraya
The hike in fuel prices was to be a big topic at last Monday's government parliamentary group meeting but it only lasted just over five minutes.
The weekly meeting of the Cabinet of Ministers, which began just past 5 pm went on till 8 pm. Thereafter, the ministers met with the MPs at Temple Trees but realised that they had to attend a dinner for them hosted by President Gotabaya Rajapaksa.
Hence, Prime Minister, Mahinda Rajapaksa, who chaired the meeting said they would have to wind up so all of them could attend the dinner at Janadipathi Mandiraya. He said that MPs could discuss any issues they have at the next meeting of the government group.
The MPs who gathered did not forget that last week was President Rajapaksa's birthday. So, they felicitated him by cutting a cake. One of the MPs was seen feeding Premier Rajapaksa a piece of cake.
---
Sri Lanka stands steadfast with China to ward off call for UN probe
Sri Lanka is among seven countries that supported China to ward off a call to allow UN Human Rights chief access to its far western region of Xinjiang to investigate the detention of Uighurs, a Muslim ethnic group.
Others are Belarus, Iran, North Korea, Russia, Syria and Venezuela. The issue came up before the current 47th session of the UN Human Rights Council where over 40 countries made the request. They include the UK, Germany, Italy, Japan, Spain and the United States.    China has denied mistreating the Uighurs, once a majority in their ancestral homeland until waves of ethnic Han Chinese began to migrate there with the support of the state. Beijing has denied all allegations of abuse of Uighurs and other Turkic Muslims and said the camps are vocational skills training centres necessary to combat "religious extremism".
---
Northern fisherfolk concerned over fishy business
Fisherfolk in the north are concerned these days about privately run aquatic seafood farms coming up close to the northern islands to farm sea cucumber and prawns.
Another worrying issue is the increased Chinese personnel brought to work on these farms and other road construction activities that are implemented by Chinese companies. They ask why these mega-companies which secured tenders for farming are not willing to hire locals rather than bringing workers from other countries.
Elsewhere in the country, a controversy erupted over Chinese nationals in camouflage uniforms working on the renovation of the Tissamaharama Wewa.
---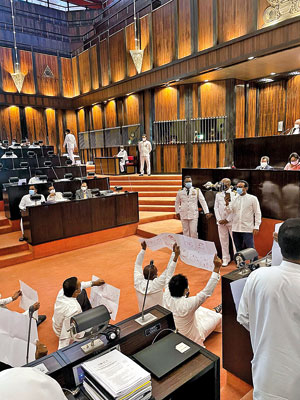 Not a play within a play, but parliament within parliament
SJB MPs resorted to briefly holding a parallel parliamentary session on Wednesday as they protested the Government's decision to hike fuel prices.
SJB MPs, some holding placards containing handwritten slogans, made their way to the Well of the House to carry out their protest.
Speaker Mahinda Yapa Abeywardena was unmoved, and proceeded to continue the session even amid the shouting of slogans and poster waving by the SJB MPs.
Some of the SJB MPs then proceeded to hold their own parliamentary session in the Well of the House. MPs Nalin Bandara and Harin Fernando were among those who made 'speeches' during the session on the fuel price hike. The MPs 'adjourned' their Parliament after about half an hour and went back to their desks.
Nothing was recorded though in the official proceedings of Parliament, Hansard.
---
JMC in the news for wrong reasons
Lately, the Jaffna Municipal Council (JMC) has been in the news, particularly in local Tamil dailies in Jaffna for the wrong reasons. Recently, there was a controversy when the council introduced a security unit with personnel being given uniforms similar to the onetime LTTE Police unit. Later, Mayor V. Mannivanan was taken into custody over the incident and released.
On Friday, the council sessions were suspended twice over an issue- not related to council affairs but more personal. An 'Honourable Member' rose to draw the attention of the council over inappropriate words used to address another 'Honourable Member' of the same party, the Tamil National Peoples' Alliance. The problematic phrase used to address his fellow man during a verbal dispute was: "Don't bark like a dog".
After heated arguments and suspending sessions, it was decided to listen to the recording of the speech of the councillor who spoke in a language that was not fit for an honourable member of the council.
After the confirmation, a motion was moved by the Mayor to interdict the said councillor by preventing him from taking part in the council sessions for a month. Again, it was put into a vote. A majority of 23 supported him. The concerned member left the council immediately. Later, the honourable councillor apologised for his choice of words.
---
Vociferous on Duminda's release, but nothing to say on pardoning LTTE suspects
Not a single Tamil political party issued a formal statement welcoming the move by President Gotabaya Rajapaksa to pardon 16 LTTE suspects who were convicted and serving their terms.
The good gesture was marred with the special Presidental pardon given to murder convict Duminda Silva who walked out free on Thursday.
A local journalist in Jaffna called one of the middle-rank TNA politicos to get his comment on the pardon issued to LTTE suspects who his party considered as political prisoners. He downplayed the gesture but condemned the release of Mr Silva on the basis of the rule of law and favouritism extended to politically connected people.
The reporter stressed that even the release of LTTE suspects had not materialised under the Yahapalanaya government which the TNA supported without any conditions. The politico on the other end did not have an answer.
---
Indian Deputy High Com gives helping  hand to our athletes
A ten-member team from Sri Lanka was granted their visas to travel to India by Deputy High Commissioner, Vinod Jacob this week.
This is to help them take part in the inter-state athletic championships that is being held by the Indian Athletics Federation.
In the light of COVID-19 pandemic, India has imposed tough travel restrictions on Sri Lankans travelling to India.
---
35 years on we are still pleading for Tamil as an official language: Sumanthiran
Time and again, Tamil speaking MPs of Parliament have raised concerns over the continued failure to give Tamil due recognition as an official language.
Raising a privilege issue this week, Tamil National Alliance (TNA) MP M.A. Sumanthiran revealed that the so-called "complete" Tamil translation of the Final Report of the Commission of Inquiry into Political Victimisation that had been distributed among MPs was missing huge chunks of the original report, which runs into 2043 pages.
Though MPs had been asked to give their language preference for a copy of the report, and he had given it as English, Mr Sumanthiran noted that the report was only tabled in Sinhala. Much later, a CD had been distributed among Tamil speaking MPs which was supposed to contain the complete Tamil translation.
After comparing the Sinhala report with the Tamil translation, the TNA MP said he had been "appalled" to find that large sections of the original report were not there. "Volume II of the Sinhala report is totally missing. Pages 160 to 554, 570 to 608, 667 to 1556, 1565 to 2043 are all missing in this CD that is said to contain the full Tamil translation," he revealed.
The MPs said he wanted to know "why a fraud of this magnitude has been perpetrated on the Tamil speaking Members of this Parliament. Who is responsible for this," he asked.
He added that he had been told by Parliament staff that the Tamil translation had been done by the Presidential Secretariat and that Parliament merely copied the CDs and distributed them among the MPs.
"In 1987, we are supposed to have amended the Constitution and accepted Tamil also as an official language of this country. More than 35 years later, I have to stand in that very assembly that passed that amendment and plead for equality, plead for the right of Tamil as an official language," he pointed out.
Speaker Mahinda Yapa Abeywardena expressed regret to Mr Sumanthiran and pledged to investigate the matter.