Dodampe Mudalali murder case: The beginning of blatant disregard for due process by political establishment
View(s):

A Sunday Times reader has asked me to write on the Dodampe Mudalali (DM) murder case. He says his generation has only heard that there was a sensational case by that name. This was a sensational case, no doubt, but also controversial, due to the many irregularities. I will only touch on the salient issues, due to space restrictions.

Background: In 1965, after Dudley Senanayake became Prime Minister, the Government began to revoke several ultra-Sinhalese policies undertaken by the Bandaranaike government. This infuriated some factions, who vociferously criticized the government.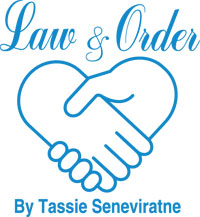 When Premier Senanayake was out of the country in July 1966, Minister of State J.R. Jayewardene (JRJ) hand-picked SP Ana Seneviratne (ANS), who was head of the CID/Special Branch (SB), to conduct investigations on alleged anti-government activities. This was a deviation from regular practice. The SB function was intelligence gathering, and investigations under the Criminal Procedure Code were handled by the CID/Investigations Branch (IB). JRJ's confrontations with the CID/IB, and his antipathy towards it, were well known.
On orders from JRJ, IGP John Attygalle met Army Commander Richard Udugama at the Katunayake Airport, on being recalled from the U.K. He was then led to a washroom where he was formally arrested. That is why it earned the sobriquet – 'Lavatory Coup', contemptuously, as no one took the allegations seriously. Thirty other suspects were also   arrested. Among them were: N.Q. Dias, Secretary/Defence and Foreign Affairs; Rev. Henpitigedera Gnanasiha thera; Capt. Sirisena; Sgt. Thilakawardena and 20 non-commissioned officers and privates; several civilians, including L.V. Podiappuhamy a.k.a. Dodampe Mudalali (DM).
ANS's next step was to summon Inspector Rahula Silva (RHS), who was OIC Beliatta Police, without following the line of command. RHS too reported at the SB office without informing his superiors. RHS's forte was extracting confessions by torture.  He was encouraged by his superiors' failure to take action against him despite complaints by people and the media. The allegations even included rape.
Trouble came when DM and Sgt. Thilakawardena died from falling off the fourth floor of the SB office. First, the magistrate returned a verdict of suicide. After hearing new evidence, he revised the verdict to murder.
Even if they had jumped out, one could surmise that it was not with intention to escape from custody, but to escape unbearable torture.
A private plaint for murder was filed against ANS and his subordinates involved in the investigation.  The Attorney General (AG) A.C.M. Ameer, a political appointee, stepped into the case and withdrew it.
In this connection, I would like to refer to a similar case to make a point: At the time of this case, along with two sub-inspector colleagues of mine at Maradana Police, I was facing murder and attempted murder charges in the same courts. It was for murder of Madavi Somay and attempted murder of Darmadasa alias Choppe.  I approached SP Colombo Eleric Abeygunawardane and pleaded to have our case also withdrawn. His advice was, "go through with the case, justify your actions before courts, and have done with it once and for all." So, we went through with the case. The magistrate returned a verdict that death was due to justifiable force by police. Thus ended our case.
In regard to the DM murder case, a commission of Inquiry was appointed after the change of government. To extricate themselves from the allegations, ANS and his subordinates had to face this inquiry which dragged on, incurring heavy expenses.
This case kept haunting ANS in the service, also becoming advantageous with the correct change of government, but then making him look like a political stooge. As a result, he had difficulty in earning the respect of his men when JRJ as President appointed him as IGP over the more senior DIG, Rudra Rajasingham, who was quite popular on account of his uprightness.
It was unfortunate that some highly respected junior officers, with impeccable reputation for honesty and integrity, got dragged into this quagmire.
As for the coup case, the AG filed plaint against the surviving suspects, before Colombo's Chief Magistrate, who committed the case to the Supreme Court (SC). The Chief Justice arranged a Division Bench of three judges and a jury panel.
The case was dismissed without calling for defence, when the jury unanimously acquitted all the accused due to lack of evidence.
In fairness to Major General Udugama, may I mention the fact that he was an officer with battle experience while serving with the British Army in Burma during WW II on secondment from the Ceylon Defence Force. He had the option of accepting political asylum in a foreign country as there were offers. But the bold, fearless and upright officer decided to come back to clear his name. Unmatched, he was, by his political persecutors.
The DM case was, perhaps, the first blatant disregard of this magnitude for the criminal justice process by the political establishment ever known to this country. That beginning paved the way through later history, to the current day, for similar interference with due process. The only difference is that today such meddling is brash and arrogant, lacking the intelligence and sophistication of yesteryear. In the DM case, the actors were of some malleable material who bowed down to the justice process that pursued them. Those police officers faced courts and commissions of inquiry with due regard and respect.
Today, that brash and arrogant attitude has hardened to rock solid rigidity, and impunity. The whole criminal justice apparatus, without exception, has been swallowed up to the neck in the mire. Instead of justice, such shuffle of process brings on promotions and many other perks of attraction.  The question is asked: how a system called due process can survive? For, ill-gotten returns from undue process are surely better for them than from due process.
It is presumably seeing all this that President Rajapaksa has turned to Community Policing, for good measure.
(The writer is a Retired Senior Police Officer. He can be contacted at seneviratnetz@gmail.com
TP 077 44 751 44)