DIMO offers local students a gateway to 700+ German degrees through its partnership with FH Aachen University
View(s):

DIMO, one of the leading conglomerates in Sri Lanka with over 30 years of excellence in Vocational Education through its DIMO Academy for Technical Skills (DATS), has recently been appointed as the local representative for FH Aachen University, Germany's No. 1 University for Applied Sciences.

Sri Lankan students can now enrol at the world-renowned freshman program of FH Aachen, leading to internationally-recognized Bachelor's degree programmes in state and private universities in the state of North Rhine Westphalia, Germany.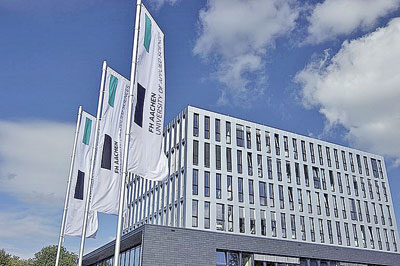 With this new venture DIMO will facilitate placement of local students for Engineering, Medicine, Business / Economics, Art and many more degree programmes offered by FH Aachen University of Applied Sciences, as well as several other partner universities such as SRH Hamm, South Westphalia University of Applied Sciences, University of Duisburg Essen, and HBK Essen University of Fine Arts.
DIMO Chairman & Managing Director Ranjith Pandithage stated, "DATS has been able to transform the vocational training landscape in Sri Lanka since its inception. With over three decades of vocational training excellence, the next bold step for DIMO was to offer the opportunity of a world-class academic qualification for Sri Lankan youth so that those who wish to pursue degree-level higher studies have a pathway to do so in order to boost their knowledge and careers."
Since its inception in 1939, DIMO has offered the best-engineered German products and services to the Sri Lankan public. The DIMO Academy for Technical Skills (DATS) was established in 1990 in collaboration with Daimler AG Germany, with the aim of providing world-class vocational training in the automotive sector. In 2018, DATS partnered with the Delegation of German Industry and Commerce in Sri Lanka to offer German certified vocational qualifications, giving access to the international job market for local students. DATS has continued to further broaden its horizons by offering qualifications in other sectors, the most recent being the introduction of the Diploma in Plant Engineering, a state-of-the-art program in the field of building services.
However, access to German universities has been limited to Sri Lankan students due to prerequisites such as fluency in the German language and the lengthy (6-12 months) admission process. The freshman program assists in overcoming these hurdles as there is no need for prior knowledge in German language for Engineering, Business and Arts related degrees. Further, the University of Aachen ensures fast visa acceptance by providing necessary documentation and recognition of a state university. The freshman year prepares students for an independent life in Germany during Bachelor's studies.
The intake for the year 2021 will close on 30 June 2021. Students who are interested in conquering the world with a German degree can now book an appointment with DIMO for personal career guidance on 0773415243 or by emailing DATS@dimolanka.com.