On the singular importance of judicial courage under fire
View(s):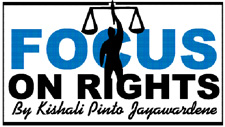 Even as arrests of Sri Lankan social media critics and opposition protestors continue in a covid-afflicted nation with an oppressive net slowly tightening on democratic spaces, the appellate court's acting in revision to grant bail to former head of the country's Criminal Investigation Department (CID) Shani Abeysekera this week is akin to a deep and veritably life-saving breath of (judicial) fresh air.
A scathing judicial assessment
Indeed the decision is remarkable not only for the fact of bail being afforded to Abeysekera in deeply (political) pressurizing circumstances but also, for the scathing assessment of the circumstances of the arrest itself. The Court of Appeal found it 'strongly demonstrated' that the allegations against Abeysekara 'are a result of falsification and embellishment and a creature of after-thought.' This finding emerged from a meticulous examination of the basis of the arrest. It is not by accident therefore that the ruling, in its opening paragraphs, details that Abeysekera had been 'a key prosecution witness in over 100 trials including over 20 murder trials that led to convictions.'
These high profile investigations included the attack by the Liberation Tigers of Tamil Eelam (LTTE) on the Katunayake International Airport (2001), the murder of Yvonne Johnson at the Royal Park Condominium (2005), the disappearance of 11 youths by Naval intelligence personnel (2008 – 2009) and the kidnapping and disappearance of journalist Prageeth Ekneligoda. Demoted after the election of President Gotabaya Rajapaksa in 2019, Abeysekera was arrested on 31.07.2020 on the allegation that he had 'falsely introduced certain weapons…thereby fabricating false evidence to frame' a case against disgraced Deputy Inspector General of Police, Vass Gunawardena.
Harsh but very fitting reprimands by the Court
Incredibly, (or maybe not for those familiar with the tortuous subversion of our criminal justice system), this allegation related back to the notorious Mohammed Shiyam murder case in 2013 in regard to which Vass Gunewardene was convicted in 2015. At that time, another police officer and others, named as 'close associates' of Vass Gunewardena's had been implicated in the contract murder of businessman Mohammed Shiyam which severely tarnished the name of the Police Department. These were the key 'witnesses' who had made the allegation against Abeysekera six years after the incident. These two suspects, along with other suspects had been released just prior to Abeysekera's arrest. It was purely on their testimony that the arrest had taken place.
Looking at the attendant circumstances of Abeysekera's arrest, the Court pointed to manifestly contradictory statements made by these so-called 'witnesses' in 2020 as compared to what they said in 2014. Moreover, as observed quite correctly by the judges, there was no 'substantial evidence to link the possession of the said weaponry' to Abeysekera other than the statements of the witnesses.' In fact, he had no prior wrongful conduct, pending cases or convictions. There was thus, no reason to suggest that, if given bail, he would abscond, interfere with witnesses or obstruct the course of justice. The Court went further, pointing to 'the unusual and extraordinary delay in lodging the first complaint (against Abeysekera) despite every ability to do so.'
Thus, it was pronounced that 'the complaint has not only lost the benefit of the advantage of spontaneity, but also smacks of the introduction of a fabricated, false version and an exaggerated account or concocted story involving a set of collaborators or conspirators, to unduly cause prejudice and harm' to Abeysekara, 'for collateral purposes.' This is indeed harsh but very fitting language that conveys principled judicial repugnance in every sense and form. Indeed, what is left unsaid in this judicial formulation of Abeysekera's arrest and detention is perhaps more telling that what is directly said.
Sri Lanka must put its 'legal house' in order
The ruling also reiterated the long established standard that, in the interests of 'human freedoms', the granting of bail should be the rule and refusal the exception with reasons to be given. Quite coincidentally, this Order by the appellate Court came in the wake of a recent warning by the European Parliament to Sri Lanka to demonstrate commitment to the Constitution and the Rule of Law failing which, the affording of the EU GSP Plus facility to Sri Lanka may be in jeopardy. Several other cases, along with Abeysekera in remand custody for the past ten months, had been mentioned in that statement.
Essentially this is a reminder to this country to put its house in legal order. Amusingly enough, a Cabinet spokesman attempted to state some days ago that conditions linked to the granting of EU GSP plus must be labour related ie; fair pay for workers, absence of child labour etc. But this is akin to teaching your grandmother how to suck eggs, as the hoary saying goes or to put it in another way, like Andare (Sri Lanka's jester of folk lore) holding forth on governance. To put the matter simply, a beneficiary of EU largesse cannot dictate to the EU how to apply its GSP Plus scheme which is based on the adherence of countries to specific international conventions in order to qualify.
In other words, for Sri Lanka to become a beneficiary of that privilege, we must conform to its conditions or go elsewhere. That said, the demand to replace the Prevention of Terrorism Act (PTA, 1979) with a counter-terrow law that conforms to international standards was repeated in this recent warning by the European Parliament. But we must recall painful lessons learnt here.In the golden days of yore when the 'yahapalayana' sun shone so blindingly that many (including Colombo's diplomatic community) were falsely dazzled into excusing each and every sin committed by the UNP Government, a draft counter-terror law was proposed which was infinitely worse than the PTA.
Putting an end to the suffocation of the Rule of Law
Certainly this was not a 'robust' national security framework which protected fundamental freedoms that the European Parliament has wished for recently but rather a flawed and compromised draft. Finalised in secret by a few in 'yahapalanaya' corridors with little or no practical knowledge of the country's criminal justice system, preposterous clauses broadly defined what amounted to 'terrorist' acts, 'seditious offences', proscribed writings that threatened 'unity' and, allowed unrestrained powers to the police to gain access to bank records. Each draft, each manifestly worse than its predecessor, were subjected to unrelenting scrutiny in these column spaces.
Public outrage led to the removal of some sweeping powers but the draft itself remained unredeemable. These were experiences that may have led to a different and far more accountable exercise to replace the PTA with a well balanced law. The option is not to cut and paste provisions of the West's counter terror laws into a completely different factual context that Sri Lanka presents, which was what the 'yahapalanaya' counter-terror draft experiment was all about. But that opportunity was lost. For that, the responsibility lies with, not only the Government of the day but enthusiastic cheerleaders of the Wickremesinghe led administration who should have been far more alive to the dangers at the time. .
In the final analysis, the shambles of a democracy that we experience now is a cumulative result of profound failures of critical thinking by society itself, irrespective of who occupies a Presidential or Prime Ministerial chair at a given time in this country. That acknowledgement is essential if we are to emerge from our pitiable state of hopelessness as exemplified by this instance of a key criminal investigator being stripped of his self respect, cast into prison to become seriously ill and, by the grace of judicial courage under fire, afforded respite at the proverbial eleventh hour.
Coming after months of stultified suffocation of Rule of Law protections, the impact of this Order extends beyond the particular case. It gives breathing space for many others treated as arbitrarily as Abeysekera. That by itself, is reason enough to hope.