Public service: Law outside courts
View(s):

Public service (PS) in law is a puzzling concept. It is not easily fathomable for its role, unlike judicial service (JS) which is well founded in law. PS is not even an appendage of the criminal justice system (CJS), although it consists of a whole body of competent learned officials. Thereby PS, in relation to the courts, is not much different from witnesses in court who have no say in the proceedings. This is because a sharp distinction is drawn between the JS and the PS.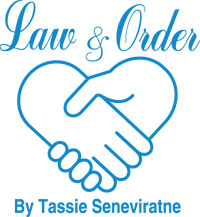 The prevailing notion of rule of law (RoL) is confined to the JS. This exclusion means PS officials do not exercise judicial power (JP). JP is taken to mean a power which by definition cannot be exercised by others than judges. But this perception of JP is only a matter of practice. Through history RoL has become the one court, the one court administration and the rules made by this one court. Such is the observation by A V Dicey, an internationally recognised expert on law in all its aspects.
Prof Jensen of Stanford University, in a Lecture at the Open University of Sri Lanka (OUSL) on Jan 4, 2019 said: "RoL has for long been considered only in a limited legalistic sense, devoid of other considerations deemed extraneous to law. These are political, social and economic circumstances. They give a new dimension to the legal RoL. Scarcity, low capacity and other impediments affect the clear understanding of RoL. Outside circumstances are of a wide nature. Thus, legal niceties are ineffective in disturbed social conditions, particularly in public order situations."
The idea of 'reasonable suspicion' comes under severe strain in current conditions such that the courts cannot now cope with this concept and leaves it to public officers to make that interpretation. Prof Jensen noted further: "RoL is a multi-variable phenomenon that requires coordination across multiple institutions, both formal and informal." Jensen speaks further of two types of RoL, the constitutional RoL and the citizen RoL. Constitutional RoL is that which focuses on distribution of power at the top of the political system. The citizen RoL variety is concerned with the distribution of power, its effectiveness, and equal application at the bottom of the political system.
Rol is thus weakened for many practical reasons. The citizen RoL is concerned with distribution of power, its effectiveness, and equal application at the bottom. This type of RoL is focused on the daily life problems of citizens, ranging from disputes, debts, bribery and the like. This is, in essence, administration of the law under RoL. In delivering the common good under RoL, a valid consideration is that bureaucracies are critical decision-making bodies and are part of the legal system. Bureaucracies make many more decisions that are critical to the lives of citizens each day than do judiciaries. Jensen adds there is no bright demarcation either between judicial and bureaucratic decision making.  If at all, judicial decision is formal; bureaucratic decision is informal. The formal/informal separation is not a clash, neither a contradiction. For either formal or informal, both entail a process of decision making. In both cases, that process incurs sagacity, judgement, and prudence. For, in any judicial or bureaucratic decision these qualities are inherent in the process.
Provision of the informal process allows the RoL to include the pubic officials and the judges together even in their respective tasks. The effort is then collective and it is shared RoL. Such may well be the objective of RoL, originally conceived, that the people will be served all the better. To this end, it is necessary that the capacities of government officials be likewise enhanced to deliver services and to contribute to the judicial and administrative norm of RoL.
The Public Service Establishment Code (EC) can eminently supply this need. But over the years the prevailing RoL concept has swallowed all other rules, including the EC, to near extinction.  Examples are replete. Only a single illustration is given here: The EC provision for bribery and corruption control, including the Police Disciplinary Code, framed under the EC, has been taken away to the Bribery Commission. EC responsibility of PS has been simply handed over to the Bribery Commission.
We, in the Police service, have put aside laid-down laws, rules and regulations and used our discretion many-a-time in matters of law and discipline, for better end-results. When I was OIC Hiniduma Police, I was informed by subordinates that recruit constable X (RPC X) had taken a bribe stating it was for the OIC. When confronted, RPC X admitted the allegation. I gave him a choice of facing an inquiry where he would face cancellation of his enlistment for the offence; or return the money, take leave and send his resignation giving his reason as 'seeking better prospects', thereby keeping his record clean. He opted for the second. Years later, I ran into him working as a ticket inspector in the CTB.
By practice, RoL has weakened the potential for informal processes to work alongside the formal process. Public order handles a huge volume of minor cases to be administered informally as by conciliation, mediation, compounding of cases etc. In these cases,the method requires enlistment of the energies of the disputing parties for conciliatory solution, rather than allowing adversarial posturing of law professionals. It is a fact of life that the more disputes, better the earnings of law professionals. Community elders, priests, etc are better equipped for this particular task than judges. Lawyers are otherwise inclined and should be kept out from these initiatives.
Social standing of the interveners to influence reconciliation for maintenance of order is all the more profound than of professional judges, however they may be equipped. This assertion is not to detract from the competence of judges to deal with serious cases. The effect of judicial decision ends in the court house; the settling influence of the informal interveners continues into the village. Therefore, an imaginative review of RoL outside courts, will help advance RoL within courts. Courts can then deal with serious cases expeditiously.
A review of RoL on the lines asserted above is commended to the President Rajapaksa who is presently bent on RoL for the country.
(The writer, a retired Senior Police Officer can be contacted at seneviratnetz@gmail.com, 077 44 751 44)