Himasha loses appeal as athletes eye Olympic spots
athletics
View(s):
An appeal made to Sri Lanka Athletics (SLA) through the National Sports Council (NSC) by sprinter Himasha Eshan, to include him for the upcoming Kazakhstan Open Athletics Championship to be held on June 19 and 20, had been turned down, the Sunday Times learns.
The sprinter had met the Chairman of NSC, Mahela Jayawardene, to intervene on behalf of him but the appeal was turned by the SLA given his mediocre performances.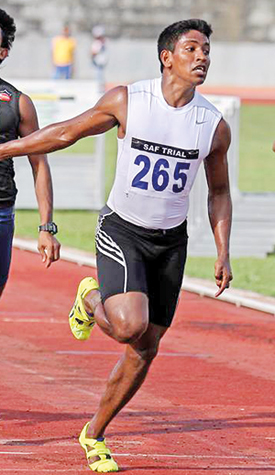 Jayawardene met SLA officials via Zoom Technology where SLA officials Rtd. Major General Palitha Fernando (President), Prema Pinnawela (Secretary), Saman Kumara Gunawardene (Official Recorder) and Damayanthi Darsha (Vice President) were
present.
The main reason for the exclusion of Eshan from the Kazakhstan Open, according to SLA officials was sprinter's below par performance. Beside the organisers have given only a quota of six. SLA had recommended that they have named six potential athletes who had the highest possibility of qualifying for the Tokyo Olympics, with the deadline for qualifications nearing end.
SLA officials had explained to NSC chief Jayawardene that only a limited number of athletes who possess the potential could be recommended under such circumstances and they (SLA) had picked the best out of the lot.
Eshan last appeared for
Sri Lanka at the South Asian Games held in Kathmandu in December 2019 and won the silver medal clocking 10.50 seconds in the Men's 100m final. He was edged out by Maldivian sprinter Hassan Saeed, who clocked 10.49 seconds.
Eshan's best timing was recorded as 10.22 seconds, at the 2019 Nationals, but the minimum qualification mark is identified as 10.05 seconds for Tokyo Olympics. Presently Yupun Abeykoon, who is based in Italy is the top ranked Sri Lankan sprinter in the Men's 100m. He clocked 10.15 seconds at an event in Italy, renewing the national record.
With the hopes of Sri Lanka track and field athletes fading gradually to reach the qualification standards of Tokyo Olympics 2020, SLA requested its international counterparts in Kazakhstan to allow the country's elite athletes to take part in the Kazakhstan Open, which had been ratified by the hosts.
SLA will have to spend at least Rs 350,000 as airfare for each athlete, which sums up to over Rs. 2 million in total.
SLA now pins hopes on its track and field athletes Nimali Liyanaarachchi, Kalinga Kumarage, Sumedha Ranasinghe, Nadeesha Ramanayake, Ushan Thiwanka Perera and Yupun Abeykoon to earn possible qualifications for the Tokyo Olympics with the last attempt in hand.
Female athlete Liyanaarachchi is looking to earn a slot in the Women's 800m event, but Dilshi Kumarasinghe, whose name was initially included, had pulled out from the tour in the eleventh hour after her injury, that came while competing at the recent qualification meet. Liyanaarachchi's best timing comes as 2 minutes and 3.80 seconds while the minimum qualification of Olympics is 1 minute and 59.50 seconds.
Kumarage and Ramanayake have done exceptionally in the Men's 400m and Women's 400m events in the recent times. Kumarage's best in the recent times is recorded as 45.99 seconds and he should clock below 44.90 seconds to qualify for the Olympics. Ramanayake's best timing is identified as 53.11 seconds, but she must reach 51.35 seconds to reach Olympic standards.
Ranasinghe is a javelin thrower who had improved his performance in the recent times. He has cleared 76.00 metres, his seasonal best performance, but his challenge will be to clear 85.00 metres to qualify for the Tokyo Games.
Abeykoon, who is currently based in Italy recorded improved timings in the Men's 100m event, while renewing the Sri Lanka record clocking 10.15 seconds on May 13. He clocked 10.09 seconds on May 21 at the Anhalt 2021, which is considered the fastest timing recorded in Men's 100m by a Sri Lankan but the timing remains as 'not ratified' as the sprint is said to have had wind assistance of +2.2ms, according to Sri Lanka athletic officials. The qualification standard for Tokyo Olympics is 10.05 seconds.
In addition SLA had included Ushan Thiwanka Perera, who renewed the Sri Lanka record in Men's High Jump with a leap of 2.30m, but the USA based athlete has announced his inability to join the team in Kazakhstan due to reasons better known to him. Perera stands with a thick chance of earning a possible entry to Olympics, with its minimum qualification being noted as 2.33m.
However sprinter Abeykoon had committed himself to take part in next week's event.
So far none of Sri Lankan track and field athletes have qualified for the Tokyo Olympics.
Even if Sri Lankan athletes fail to earn qualification Nilani Ratnayake is likely to earn a wild card entry for the 3000m Steeplechase event, in which 32 athletes have been listed according to global rankings.
Ratnayake is ranked among the 32 athletes globally in the Women's 3000m Steeplechase. She clocked 9 minutes and 53.96 seconds at the 99th National Athletics Championship held on May 21.
In addition Sri Lanka has been invited by the Athletics Federation of India to send 16 athletes to its 60th National Inter-State Senior Championship, to be held from June 25 to 29 in Pattalia. SLA will include 11 additional names to the now-trimmed five-member squad, in which Eshan would have a higher possibility of being included. The contingent to India will also include a Women's 4x100m team. India has also invited Bangladesh, Chinese Taipei, Malaysia and Kazakhstan in addition to Sri Lanka.