Meet the movie wizards
By Anoushka Jayasuriya
Young filmmaker Akash Sunethkumara's webinar series Junkyard Theory has drawn in some of Hollywood's leading professionals
View(s):
Don't we all miss the thrill of going to the movies? Seeking out alternatives like online streaming platforms, YouTube channels, podcasts and other forms of virtual entertainment is something many of us have done in the last year to enjoy our favourite films and the hotly awaited new releases.
Of course, most if not all attention is usually focused on the actors who appear on screen and the directors who guide the crew to fulfil their vision.
Yet an award-winning film is the cumulative effort of many other gifted professionals working behind the camera and Junkyard Theory is the series that turns the spotlight on how they make your favourite movies and television series come to life.
Created and hosted by  filmmaker, actor and lecturer, Akash Sunethkumara, Junkyard Theory is the only Sri Lankan webinar series and film education platform featuring a stellar line-up of guest speakers who are some of Hollywood's leading film professionals.
The series' impressive line-up so far has included the likes of Academy Award winner Paul Hirsch, editor of Star Wars,  Academy Award winner Dan Laustsen, cinematographer of The Shape of Water, Academy Award winner Donald Sylvester, sound editor of Ford v Ferrari, Academy Award nominee Dean Cundey, cinematographer of Jurassic Park and the Back to the Future trilogy, William Simpson, storyboard and concept artist for HBO's award-winning TV series Game of Thrones and Fabian Wagner, cinematographer of the 2021 director's cut of the 2017 superhero film, Justice League, often referred to as 'The Snyder Cut'.
The series which has featured these heavyweights sharing their experiences on multiple disciplines  from directing, editing, screenwriting, sound design, stunt and action coordination and more in these hour-long live sessions has had two seasons and 19 episodes so far.
Junkyard Theory was conceptualized last year and made its debut during the nationwide lockdown on May 31. "So many people work behind the scenes to make the director's vision come alive. I want to highlight these people and make the audience understand what they go through to make a movie," says Akash, explaining the essence of Junkyard Theory.
Interested in the intricacies of filmmaking since childhood, Akash says his love for film emerged when his father first introduced him to movies. Growing up watching martial arts movies in particular, from the 70's and the decades that followed, he was enamoured with how the genre was evolving with every fresh viewing. "Movies have made me feel things in ways that no other medium has."
From the dramatic posters to the suspenseful trailers and the engrossing behind-the-scenes footage which revealed how his favourite movies came together, Akash has been a devoted fan for years. So much so that during his final years in school he decided his career path would be filmmaking. He went on to found the production house, High School Junkies in 2015. The team has produced several short films and music videos over the years, most notably works such as EIDETIC and The Summoning, the first two Sri Lankan films to be screened at the San Diego Comic Con in 2017 and 2018 respectively with additional screenings at several other international film festivals.
Leaning towards the film education side of things with Junkyard Theory, Akash explains that the name refers to, "a place where you can find pretty much everything. There are no rules in a junkyard and I think it's pretty much the same with filmmaking these days. While rules and tenets define structure, I don't think the everyday filmmaker with the bare minimum resources can always abide by those and instead, does not follow a set theory. Similarly, there's no particular theory to a junkyard and you're free to assemble something from scraps where there's no limitations or boundaries. It's about finding creative and innovative ways to get your thing done".
Graduating with a Master's degree in Film, from the Staffordshire University Akash was lucky enough to accumulate some valuable contacts during this time, including his mentor and first guest on Junkyard Theory, famed American cinematographer, David Worth whose works include the Clint Eastwood directed film, Bronco Billy released in 1980. On writing to others whose work he had long admired, Akash admitted that persistence could not be substituted in the often taxing process of scheduling guest appearances on Junkyard Theory. It would sometimes take as long as four months to book a guest for despite being under lockdown themselves, those he reached out to were busy working on their own projects from home.
Just one month shy of its first anniversary, Junkyard Theory also made waves internationally  receiving recognition from one of the biggest industry sites, No Film School, where they discussed the beginnings of the series as well as its impact as a contributor to film education in Sri Lanka.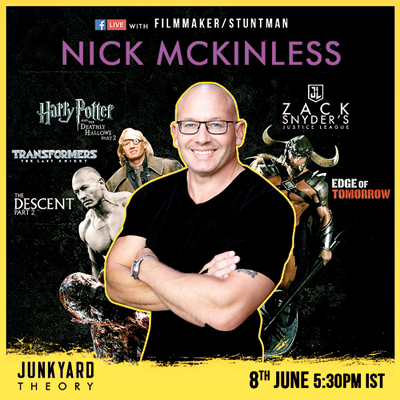 Akash says Junkyard Theory is his way of giving back to the country. He adds that during his initial years as an upcoming filmmaker, he wished he had the opportunity to access a resource which allowed for this type of direct exposure to the international film industry and to hear firsthand about the inner workings of major motion pictures from the Hollywood experts responsible for bringing them to our screens.
To encourage the growing number of film enthusiasts in the country, each episode of Junkyard Theory is available for free viewing and participants are welcome to interact with the guests during live sessions. A key addition is educational courses on aspects of basic filmmaking where guests are invited to come on board, share their expertise and guide interested participants. Introduced in December last year, Junkyard Theory's first course saw over 300 participants signing in to learn and enhance their knowledge of film. As the series moves forward, Akash says viewers can look forward to more notable guests scheduled to appear in the upcoming episodes as well as more educational courses.
Junkyard Theory's episodes can be viewed on their YouTube channel: Junkyard Theory
Follow them on Instagram @junkyardtheory and on Facebook @junkyardtheoryofficial