Engrossing tales and compelling message on future of medicine
Letters to a Young Doctor- by Hilali Noordeen Reviewed by Rajiva Wijesinha
View(s):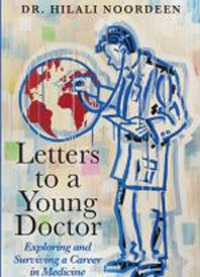 Amongst recent reading was something very different to everything else that kept me going during this time of coronavirus. This was Letters to a Young Doctor by Hilali Noordeen who came up to Oxford in my last term there. But I did not know him then, and only met him for the first time when he was back in Colombo the following summer. It was then I think that one of my friends, told me he thought Hilali – who was involved by then in the Oxford Union – would fulfil my longstanding hope of another Sri Lankan President.
Hilali did succeed, and has the distinction or otherwise of having been the President who gave Boris Johnson his first paper speech, the first step on the political career of yet another Balliol man. Hilali however, did not go into politics but became a doctor, changing to this while at Balliol, an unusual move he describes in the book. He then settled in England to what seems a very successful practice, combined with an academic position too.
And then, though he always kept in touch when he came to Sri Lanka, there was another reason for bonding for he married the daughter of my father's great friend Mr Sahabdeen, an intellectual who has endowed awards for social contributions.
But it is a few years now since I heard from him so I was pleasantly surprised when he called up a few weeks back and wanted to see me. He dropped in for lunch and we talked as though we had parted just a few days ago.
He had also, he said, wanted to give me a book he had just published, and I was delighted then to read it over the next few days. It was written when his elder son thought of becoming a doctor and asked his advice. He decided then to set this down on paper, and the result is an informative excursus into his career, with reflections on where medicine is heading.
The glimpses of his training are fascinating, covering lessons of different sorts learned from a host of teachers he admires, lessons in thoroughness and understanding in addition to technicalities. He also knows how to tell an exciting story, as of when he had to deal with an emergency on a plane, which led he relates to an upgrade to first class when he travelled for a year thereafter.
But even more compelling are his reflections on what he thinks is going wrong with the medical profession, where adherence to systems has taken over what should be the primacy of sympathetic care. I will not attempt to synthesize the points he makes, but his oppositioning of what he calls a culture of command and control to the primacy of care indicates what he feels has gone wrong. And his critiques of the increasing power of administrators obsessed with paperwork, which turns often into simply the ticking of boxes, is devastating.
I was aware that there has been much concern in recent years as to what was happening to the National Health Service in England, a marvellous achievement when it was set up as I found when I benefited from it as an undergraduate. As in Sri Lanka the Thatcher determination to cut waste in public service, an admirable ideal in itself, led to the cutting of the service too.
We are not yet as bad as England where as Hilali shows success is increasingly judged by presentation not achievement. And there still seems to me magnificent professional commitment on the part of many of our medical personnel, though not all as I found in the years when I took my father to various doctors, most of them devoted and helpful, one or two racking up patients without sufficient time with them.
Where we will end up I do not know. But as Helena Kennedy puts it in a blurb, the book is not only a lively guide for young doctors, it is 'also a serious message to our society', not only British but Sri Lankan too.