Chandi, the star and country's evergreen athamma is 94
By Yomal Senerath-Yapa
View(s):
Irangani Roxanna Serasinghe celebrated her 94th birthday on Wednesday, June 9. It is hard to think of an actress more iconic, having begun with the stage and then conquered the screen with the aplomb and grace of a Kandyan heiress. Apart from her legendary career in acting, she is an ardent environmentalist known for her many battles for our trees and fauna.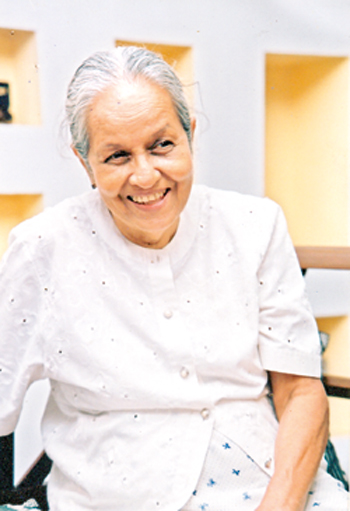 Born a Meedeniya (her grandfather was the Adigar John Henry, and her father John Hercules a Rate mahatmaya) she was brought up in Moodugowmua in Ruwanwella, in a rambling walawwa where kith and kin would often drop in; these including many of the 'country gentry' and leading Colombo clans.
The genesis of her acting was in the humorous mimicking and imitating she was often called upon to perform to entertain visitors. A village upbringing, Irangani insists, was a great boon- it made her sensitive to nature and made her the artist she is.
Schooling was at St. Bridget's, Bishop's and finally the Kandy Girls' High School- when she was something of a poet too, preferring scribbling verses to poring over textbooks.
It was with great persuasion that Irangani's cousins managed to convince her father that a university education would be an asset for her. Despite being an Oxford graduate, his conservative Kandyan stance was that 'that den of iniquity' would not do for his daughters.
At Colombo University Irangani came into her own, doing justice to the nickname her grandmother had given for a tomboyish streak- Chandi. Here they would have what she would call 'good, innocent fun', and in the process would get sucked into the theatre world with dons like Cuthbert Amerasinghe and Lyn Ludowyk, doing plays like The Second Mrs. Tanqueray and Antigone, often travelling to Kandy and Jaffna for performances.
In 1948,  as the country gained Independence, Irangani appeared in the memorable Pageant of Lanka as Sita to Chitrasena's Rama (Vajira was a deer and Ena de Silva the 'spirit of Lanka'), though that tryst with dancing was short-lived. Her dalliance with communism (with cousins like Sama Ellawala) also didn't survive beyond university.
Married to the well known dentist S. B. Dissanayake, Irangani left for England where she studied drama at Old Vic Theatre School and the Central School of Speech Training and Dramatic Art.
After returning to Colombo their marriage ended, and Irangani married Winston Serasinghe, a ruggerite and actor, a kindred soul Irangani had known for a long time. Together they were amongst the first to cross over to the Sinhala theatre- from the Lionel Wendt to the Lumbini.
There was a period when, determined to earn her own bread and butter, Irangani joined the Times of Ceylon under Tori de Souza, where as women's page editress she strived to make more space for serious reading amidst fashion spreads of Yvonne Gulamhussein, Sundari Rockwood and prominent socialites.
Irangani, in those young and heady days, also worked for the SLBC and Walker's Tours.
It was with Lester James Pieris's Rekawa (1956) that Irangani made a uniquely triumphal entrée to the Sinhala cinema. Lester's films, the first realistic Sinhalese films not to be set in studios in the South Indian style, were all the more appealing for her acting skills.
Afterwards she went on to star in Sandeshaya, The God King, Bak Maha Deege, Avaragira, Loku Duwa, Wekande Walawwa, Delovak Athara, Indiana Jones and the Temple of Doom and Machang amongst others.
Amidst her teledrama credits are Yashorawaya and Doo Daruwo, those family sagas which reached the apogee of popularity a teledrama could, with Irangani playing the grandmother.
Today, 'Chandi' Meedeniya would wish for nothing better than an evening 'sitting relaxed in the verandah of a dry zone bungalow set in a wild area" as she said in an interview with Kumar de Silva. 'I drink like nectar the sights, sounds and smells of the jungle and hold my breath when a leopard, elephant or bear beautifies the landscape. Not that other animals and birds are not welcome."
A well-earned rest indeed it sounds, for our nation's favourite athamma.