Appreciations
View(s):

My Thathie, my hero

Mayadunnage Bertie Edward Wijeratne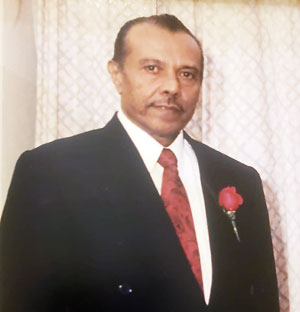 Thathie who would have been 86 on June 1, was a very loving, jovial and romantic person. He loved his wife and three children very much.
He was a magnificent personality and always had his own style of doing things. He was very confident and  meticulous in his decision making.
Thathie was definitely one of the leading planters in the Sri Lankan planting circle. Very fluent in all three languages, he was much loved by the Tamil community. He always gave priority to his job and held some top positions in his profession.
He loved his brothers and sisters very much and helped them immensely. Of all his brothers and sisters Richard Bappa and George Bappa were the closest to him.
Unfortunately due to his sudden demise in on December 1, 1994, he could not see any of his eight grand children. If he was here today he would have been the happiest grandfather ever.
I wish that he will be my father in my next birth too.
May his soul rest in peace. 
Loving putha Haren
---
He lived a full life while taking up many causes
Ahmed Faiz Nizar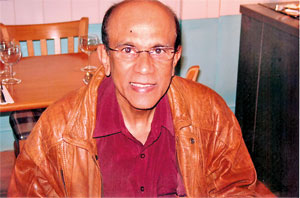 We mark a year since Ahmed Faiz Nizar passed away, in London, UK. Husband to Sirini for 46 years, and father to Shiyam and Shahan, he was known as Faiz by his family and close friends.
He was born to Abdul Hamid Nizar and Najmul Hidaya in Colombo, Sri Lanka on May 7, 1941. His mother passed away during childbirth when he was just 18 months. He was the youngest of four siblings and was brought up by his father and maternal grandparents in Wellawatte, Colombo.
Faiz led a complete life, and one that exuded remarkable balance and integrity. He had a hugely successful  career that straddled three different countries. He was a devoted and loving husband, father and grandfather. He remained a respected father figure and mentor to his nephews and nieces and was never short of dispensing pearls of wisdom. He founded and led charitable organizations and was a pillar of his local community, both in the UK and Sri Lanka.
Faiz was supremely well read and cultured. There was a hardly a subject that he was not well versed in; he had a deep insight with regard to history, finance, economics, politics, religion, and the arts in general.
He attended St Peter's College, in Colombo, Sri Lanka and obtained an honours degree in Geography in 1965 from Peradeniya University. He later trained as an Accountant and completed his Chartered Accountant qualifications in 1972. He progressed quickly to leadership positions – he became Deputy General Manager of Finance at the Insurance Corporation followed by becoming Managing Director of Lanka Orient Leasing Company, where he was an integral member of its rapid growth in the early 1980s. In 1985 he took up an appointment for a year in Tunisia as Financial Controller with a Saudi based multinational firm, before transferring to London with his family. He remained in the UK, thereafter, where he subsequently became involved with trading and finance and was an active member of the London Chamber of Commerce and a Director of the Merton Chamber of Commerce.
Faiz married Sirini in 1974. An exceptionally devoted family man, he never hesitated to place the needs of his family first. He guided their two sons, Shiyam and Shahan, with strong values and to become well-rounded and successful individuals in their own right as Consultants in Surgery and Anaesthetics, respectively.
Faiz dedicated considerable amounts of time and energy to numerous charities and organizations. He co-founded the International Sri Lankan Association of Muslims, UK in the early1990s, which helped numerous poor and destitute people from Sri Lanka.  He was a founder member of the Sri Lankan Leukaemia Foundation UK and also a founder member and former President of the Sri Lankan Chartered Accountants Association (UK), which provided mentorship and networking opportunities for young Chartered Accountants in the UK.
He was also passionate about matters of injustice and oppression and was a member of the Campaign for Peace and Unity in Sri Lanka (in the UK) and a member of the Stop the War Coalition (in the UK) from its inception. Faiz volunteered as a steward in the million-man march against the war in Iraq, in London in February 2003. He was also a key figure in securing planning permission for the building extensions of his local mosque in Colliers Wood.
Faiz indulged in his appetite for travel and culture by visiting numerous countries across all continents together with his wife and close friends. He remained a keen sports enthusiast throughout his life and had a special fondness for all racket sports including tennis and table tennis. In 2007, he was diagnosed with Parkinson's Disease but continued to have a highly active and productive life. He displayed a remarkable level of patience and perseverance and maintained a strong will to make the best of all the opportunities afforded to him during his latter years when his condition became increasingly debilitating. In turn, his extraordinary spirit and positivity in the face of adversity inspired others close to him.
Faiz died with his wife, two sons and nephew by his bedside on February 10 2020. Faiz was someone who was truly unique and who genuinely touched all that knew him. He shall never be forgotten.
Dr Shahan Nizar
---
Getting to know my brother better after his far too early exit from this world
Rajeewa Jayaweera
Rajeewa was my elder brother and June 11 marks his first death anniversary.  His death occurred under unusual and tragic circumstances, which created quite a stir and gave rise to a lot of conjecture in the Colombo circles.  The year following Rajeewa's demise has been difficult and one of extreme sadness for my two sisters, brother and myself. Over this period of one year, I think I got to know my brother better than ever before.  As condolence messages poured in and appreciations written about him both by known and unknown persons were published, I learnt of a softer and gentler side to him, which I had not quite seen before.
Before Rajeewa's demise he left a letter for our second brother outlining the reasons for his decision. Unfortunately this very private letter leaked out to the media causing a lot of heartache to his siblings.  No sooner I read this letter I knew it was authentic.  The contents written, the language used were Rajeewa inside out.  He did it his way.  He had mentioned that he had serious health concerns with which he didn't wish to continue living.  He said in the final analysis he had lived his life in full and since the negatives outweigh the positives he had decided to call it a day.  Like Nelson Mandela he too wished to be the "Captain of his ship and the master of his destiny".
Reading through the letter confirms how weary he was of life. He had meticulously planned his departure for nearly six months keeping it a secret from everyone. He left fulfilling all his obligations – donating to charities, funds and people, paying his income tax and credit card bills to the last cent and not owing a cent to the country or anyone else.  Being the patriot he was, I feel he chose Independence Square for his exit as he wanted to gain his independence at the same place Sri Lanka gained its independence.
As a son he was dutiful and very caring towards our parents. When my mother was sick and could not manage the household, he took on the responsibility of providing meals for our parents.  During his posting in Paris he got down our parents on vacation for three consecutive summers and gave them some of the best holidays they have spent.  I am ever grateful to him and will never forget the way he looked after our father after our mother's demise. Even whilst living overseas he micromanaged my father's household and his care-givers looking into the minutest detail.  There was not a thing that he missed or overlooked. He would call me from abroad to discuss how certain tasks should be carried out in my father's household and sometimes we would argue as we didn't necessarily agree on the way it should be done, but most often he would win and I would end up doing it his way!
As a brother he was not demonstrative or chatty, but if ever his help or advice was sought he was there.  His advice was always unbiased and rock solid and has many a time held me in good stead.   If he could do something he would do it and if he couldn't he would say so without hesitation.  The words "I will see" and "I will try" were never part of his vocabulary.  It was always a firm "I can" or 'I can't".  He was guided by what was right and not inclined to bend the rules based on a person's status or position. I still recollect when he was Country Manager of SriLankan Airlines in Colombo, I was working for a leading conglomerate and the Chairman of the Group was planning a personal trip overseas.  My Supervisor at the time approached Rajeewa and requested a free upgrade for the Chairman.   In the past Rajeewa had assisted to secure seats for him when flights were fully booked, nevertheless, this time it was a polite and a firm 'no'.  He said under foreign management the policy to only upgrade passengers on full fare was strictly in force and upgrades for discounted or cut-rate tickets as it was in this case were not possible.  Naturally his response did not augur well with my Supervisor as the expectation was he would make an exception and accede to the request, most likely because his sister was working for the company.  Be it family or anyone else he would not bend the rules.
Post Rajeewa's career in the hotel and airline industry, he decided to pursue his passion for writing during his retirement.  He was a regular columnist to the Daily Island and the Sunday Island.  I learnt recently that he had 322 articles to his credit, all well researched and written. Personally I feel he found his vocation in life through his writing. He voiced his candid opinion boldly without fear of repercussion.  It is certainly sad that someone like Rajeewa who could have contributed to the welfare of the country decided to call it a day, when he had many more years ahead of him.  Out of the several condolence messages I received, I quote two which highlight how certain people valued his writing and felt about his premature demise: "I am sad that the family has lost a brother, but more importantly the country has lost a great son of the soil.  His passing away was in vain.   Your brother is no more, but celebrate his life and treasure his memories and good qualities" and "You have lost a brother, Sri Lanka has lost an intelligent, forthright citizen who had the ability to analyse and articulate his honest thoughts on paper without bias or without any expectations or favour from any particular political party".
Aiya, may you walk your sansaric journey in peace and comfort. 
Vimuktha
---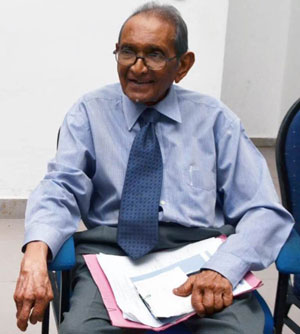 A vision to help emerging artists that took shape as a foundation
CEDRIC DE SILVA
On behalf of the George Keyt Foundation, it is only apt that we say a few words in appreciation of the tremendous effort that Cedric de Silva, together with his wife Sita, has done to establish the Foundation and to bring it to where it is today – recognised as one of the premier organisations of the art world in Sri Lanka. The George Keyt Foundation was established in 1988 to promote Sri Lankan art.
Cedric and Sita, together with Ian Goonatilleke and Prof.  S. B. Dissanayake, all of whom were close friends of George Keyt, together with others of their ilk, decided to establish an organisation to promote the works of our emerging and hitherto unknown artists.
While the '43 Group had already established itself both locally and internationally, there were many young aspiring artists who had nowhere to go to and no way of promoting their work even locally other than to hire a hall and invite a small circle of friends to view their work.
Cedric and his mates decided that something needed to be done to correct this situation and so the George Keyt Foundation was established with the primary objective of promoting our local artistic talent. Named after George Keyt, a personal friend of the early trustees and whose name was already well established to attract art connoisseurs, the Foundation's task was in no way meant to promote Keyt's work.
In fact, the Foundation, while hosting events of international standing including the "South Asian Art Exhibition of Paintings" to coincide with the SAARC conference in 1991, and the exhibition 'Modern Sri Lanka Painters"  to coincide with the Sri Lanka EXPO in 1992, has hosted only three exhibitions of Keyt's work to coincide with significant events in the artist's life.
With its objective of providing opportunities for emerging artists to show their talents, the  Foundation has held several presentations over the years, including the annual 'Kala Pola' open air art fair, the 'Young Contemporaries' or 'Nawa Kala Karuwo' and the 'Sri Lankan Art exhibitions' held each year.
Several International Art Camps too have been held over the years where local talent gets to meet and work with established artists from overseas, and an exhibition "Moods and Modes" in 1998 to celebrate the 50th anniversary of Independence, featured works by 90 leading artists including that of the '43 Group.
All this was part and parcel of Cedric De Silva's vision when he, together with a select few of like-minded persons, joined hands to form the George Keyt Foundation in 1988. Over the next 25 and more years, Cedric was the Chairman of the Board of Trustees, giving guidance and vision to his fellow Trustees in how to take things forward.
In fact within the first ten years of its establishment the Foundation had held as much as 50 exhibitions, from group shows to individual exhibitions of Sri Lankan and overseas painters. In fact, today's art scene in Sri Lanka owes its present standing to the vision and dedication of Cedric de Silva and his band of merry men and women.
Cedric always had a passion and drive to promote and help those in need or those less fortunate and was involved in many public charities and humanitarian organisations where he brought his professional skills and knowledge to bear.
A leading Chartered Accountant of over 50 years professional practice, Cedric served for many years at Tudor V. Perera and Company, where he went on to become the principal Partner. In fact in 2015 he celebrated his 50th year as a Chartered Accountant with a special Service of Thanksgiving at the Anglican Cathedral.
His early passion was tennis. He was a leading player in his day, and went on to get involved in the administrative side of the Tennis Association in the 1960s. In 1981 he was appointed as a Director of the ETF Board and the Insurance Corporation of Sri Lanka and was appointed as Chairman of the ETF Board in 1982.  He was involved in assisting to set up Sampath Bank in the late 1980s, and later in helping to establish Pan Asia Bank.
Cedric was also involved, through the Insurance Corporation in helping to set up the Robinson Club in Bentota, and the Trans Asia Hotel in Colombo. He went on to serve as the Managing Director of the Trans Asia Hotel, better known as the Ramada Renaissance Hotel (now Cinnamon Lakeside) in the late 1980s. In fact, in the early 1990s, he was instrumental in arranging for the hotel to host a series of month-long art exhibitions grouping together the paintings of four to five of our leading contemporary artists.
There is much, much more that we all at the George Keyt Foundation and the Sri Lankan art world are grateful for, in the vision and leadership of Cedric de Silva, ably assisted by his wife Sita, over the many, many years that they guided the fortunes of our art fraternity.  
Chairman and Board of Trustees, the George Keyt Foundation