Gampaha respiratory ward armed with sophisticated HDU
By Kumudini Hettiarachchi and Ruqyyaha Deane
View(s):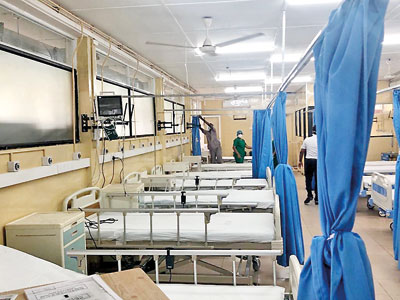 Remember the mass outpouring of support to the beleaguered men, women and children living along the coastal belt soon after the tsunami struck in December 2004!
As the country is battered by a different kind of tsunami – COVID-19 – that fount of generosity came to the fore once again.
Here the Sunday Times turns the spotlight on Gampaha which aptly blossomed and bore fruit on the thrice-blessed day of Vesak – Wednesday, May 26.
The project to upgrade the High Dependency Unit (HDU) of the Gampaha District General Hospital's respiratory ward was on the cards by the Health Ministry, as not just in the third wave but also in the second wave the area was a hotspot.
With a critical need for an HDU – which is in-between a ward and an ICU – as many patients needed oxygen and other respiratory support but not ventilator support, the Sri Lanka Navy had volunteered to give of their labour to put up the building speedily and the Health Ministry provided the material.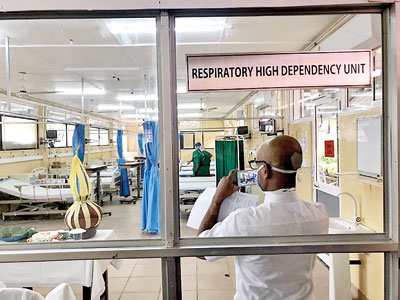 As the building took shape, the donations both in cash and kind, had flowed in. From large amounts to small, those who dug deep into their pockets included business magnate Dhammika Perera; Dr. Thilini Thennakoon; Ramal Siriwardena and Royal Drapers who did up the screens between the beds and the curtains for the windows. State Minister Dr. Sudarshini Fernandopulle had coordinated the donation of the ACs.
The Sunday Times learns that this state-of-the-art 15-bed HDU (inclusive of a paediatric bed) has wall oxygen which can be delivered to patients through high-flow oxygen machines as well as non-invasive ventilation (NIV) through face masks.
Another important factor is that to safeguard the healthcare staff against these aerosol-generating procedures, the HDU also has vital negative pressure to protect them from exposure to the virus.
With the project being completed in three weeks, patients are now in the comfort of this brand new and well-equipped HDU.