Farmers see little of fat profits for their produce
By Nadia Fazlulhaq
View(s):
Middlemen in vegetable trade enjoy high profits as vegetable prices continue to stay high despite farmers being screwed down to low prices for their produce.
Carrots bought from farmers for Rs. 120-125 a kilo at the Dambulla Economic Centre, retailed in markets for Rs. 240
and in supermarkets for Rs. 290.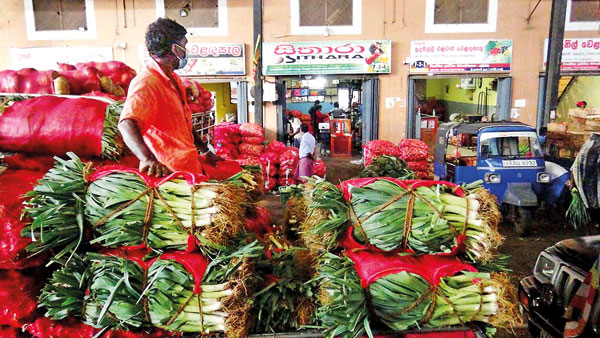 Green beans were bought at Dambulla for Rs. 235-240 a kilo, sold in markets for around Rs. 290 and in supermarkets for Rs. 370. Capsicum was bought at Rs. 275 and sold at markets and supermarkets for Rs. 394 and Rs. 460. Bitter gourd followed the same trail, from Rs. 165-170 to Rs. 274 and Rs. 296 (see graphic).
"Every time a mechanism is introduced it doesn't last long. Both the consumers and farmers are severely affected by this. Middlemen are using this pandemic to earn profits. The sudden closures and opening of economic centres have led to vegetable stocks rotting and farmers desperately selling their harvest at very low prices," the Secretary
of the All-Island Farmers Federation, T.B. Sarath, said.
The reopening of economic centres, especially in Dambulla, saw a sudden influx of farmers bringing loads of produce for sale, but prices in the cities and suburbs are yet to come down.
"While in Colombo people are paying Rs. 200-300 per kilo, these vegetables are purchased for Rs. 40-50 per kilo from us and sometimes even less than that. Only a few traders are allowed to operate after being issued with an identity card to operate during the lockdown period. So all the farmers have to try to sell their stocks to those few," Mr. Herath said.
A lorry owner said he charges Rs. 20,000 for transport from Dambulla to Colombo in a lorry that can hold 5,000kg of carrots.
"Being a trader of vegetables is highly profitable. With a little to spend for transport and wastage, the profit gained is very high,"
he said.
This week, President Rajapaksa instructed governors and district secretaries to immediately come up with a mechanism to purchase and distribute surplus fruit and vegetables purchased from farmers at divisional level.