Jaswar aims to 'restart' Sri Lanka football in digital era
By Allaam Ousman
FSL general secretary primed to assume the reins of power in June 7 elections
View(s):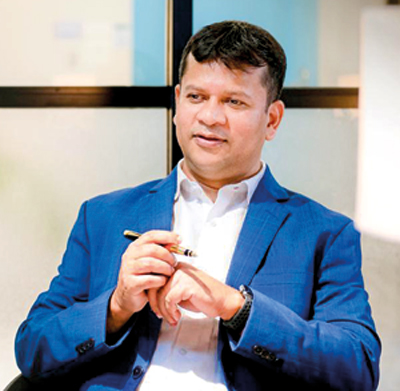 Royal College, Colombo is not renowned for producing football stars but Jaswar Umar who took up the whistle while still playing for school and rose to become an international Match Commissioner, has come up with a vision to make Sri Lanka a "nation of football in South Asia".
An accomplished football administrator pioneering Sri Lanka's first ever semi-professional Super League, Jaswar presents himself as someone who comes from a humble background with a capacity to give dynamic leadership to resurrect football in the country.
Hailing from the east of the country but moving to Colombo since his father was a Director of Education in the Education Ministry, Jaswar grabbed the opportunity to enhance his knowledge and is well primed to assume the reins of power to implement his ideals.
He is seeking the mandate from the footballing community comprising 64 leagues in the country which translates into 186 voting members when the election of office-bearers for Football Sri Lanka (FSL) takes place on June 7.
Jaswar claims to feel the pulse of the people and is aspiring for the top post frustrated by efforts to do something concrete for the development of the sport as FSL general secretary.
Officially unveiling his manifesto 'Restart Football' just days ahead of the FSL elections which has been postponed several times because of the COVID-19 pandemic, Jaswar Umar sometimes walks a thin line between a politician and a sports administrator.
"Football in Sri Lanka is rated as the poor man's game and yet, it has made some rich while the game suffered," he underscored at the outset at a press conference.
He also declared victory over his rival Dr Manil Fernando, boldly claiming he is assured of getting 115 votes giving him a majority of over 40. He dismissed the 'Football 1st' manifesto of Dr Fernando, who heads the Medical Commission of FSL, as being "unrealistic". "I don't see anything sustainable and concrete. Being no. 1 in South Asia is an unrealistic target looking at our strengths and weaknesses as a country," he said.
Jaswar denied that he is hungry for power like most officials, stating he is on a mission to reform the administration of football in the country.
"I am not power hungry. Everybody has a right to choose his own destiny. Very rarely you get a person in football with educational qualifications, with experience as a player, referee, match commissioner and knowledge of Law in Sri Lanka. When God has given me that ability, if I don't use it for the betterment of my country, it becomes a waste. I become a dummy," he said in an interview with the Sunday Times.
"I am going to serve the country. For that I need that position (president)," said Jaswar, who has worked in blue-chip companies in Sri Lanka such as John Keells Holdings and Softlogic Group.
Explaining his mission and vision, he said: "I aim to build a nation of football with a football culture. We have all the components of football in some form. I want to use football as a social tool for the betterment of the society by integrating communities and creating healthy citizens."
"Football is a tool that we can always connect with and bring people together. I want to really use that to bring harmony and friendship through football," added Jaswar who is the architect of Football Friday on the initiative of Sports Minister Namal Rajapaksa.
"Football Friday under my leadership will go to all the districts and villages, east and south where there are wonderful beaches," said Jaswar who is consultant to CPSM (Ceylon Professional Sport Management) owners of this project.
"One of my branding positioning is when you say Friday, people should remember football in any form on the beach, small park or street. Friday is for football. That is the culture and attraction I am bringing," said Jaswar who has an MBA in management and marketing from New Buckinghamshire in the UK, and a Phd in talent management (Reading).
He wants to create a Rs. 1 billion football economy in 12 years. "I am not depending on the funds of FIFA and AFC but I have created a commercial model where from Rs 270 million, I will grow this in two years to Rs 400mn," said Jaswar who played a role of an entrepreneur with SME businesses in telecommunication, marketing, real estate and business consulting.
Explaining the need for administrative reforms, he wants to ensure separation of powers of governance, administration and judicial bodies. "Everybody is doing everything," he said.
The Trust Fund and the new competition model is unique in his programme.
"There are so many people who have done yeoman service for football starting from national players to coaches. How we can repay is caring for them when they are in need of medical assistance," he said.
New competitions such as Super Cup, Division Three, Division Four, Division Five, Schools LIGA one (U-18), Schools LIGA two (U-15), Women's Premier League and a District Championship (U-20) will be introduced.
"I am going to create competitions for every village, every district. Without competition you can't find potential talent," he said.
Digitalization off all stakeholders will be carried out with the support of FIFA Connect global registration system.
The first Sri Lankan to hold a diploma in Executive football laws from the Portugal Football School, Jaswar hopes to transform Beddegana Football Complex into a fully-equipped Football School with foreign and local experts providing world class football educational services.
He also has plans to construct 50 mini-pitches in five years.
Every regional league has been promised financial assistance four times more than ever in history.
"In 2017 I promised 300,000 to all the leagues which I gave. This is the reality. The need of the hour is these, not football first. You need awards, recognition, appreciation, opportunities, etc. Maybe when we are equal with other nations, we can say who is first or second," he said, taking another swipe at his rival.
However, he offered an olive branch to his detractors.
"I will invite anybody who can work, to work with me for the nation for the betterment of football. Manil is an expert in the medical area. I will invite him to serve but at the same time there are certain elements we need to get rid of," said Jaswar who has a diploma in Advanced Sports Management from the International Olympic Committee.
"I have a better structure than what they have proposed. A futuristic programme suitable to our country," said Jaswar who has created waves with his digital campaign.
Jaswar feels he has succeeded in bringing back the football story to the country during his campaign.
"Football is back with the masses. It proves football can be branded, marketed," he said adding what they want to do is restart football where others failed.
"We have a plan. We have a road map. We will not promise miracles. But we know where we want to go next year or year after. We have lost about 12 to 15 years in football. We need to jump to the modern era," said Jaswar, aware of the changes taking place in world football.
"2022 World Cup will be the last of 32 teams. Thereafter it will be 48 teams which means more opportunities for all the confederations. Asia will get 8 slots from 4.5 now. It means more investment, more competition between countries. We have to gear up now. We have to see in 2023 what is going to be the trend. We have to start fundamentally planning for it. That's what I am doing because I am in the system. I know what is happening. I don't have to learn from zero again," he summed up.