Appreciations
View(s):

He flew high wherever  he went

Jayanath Laksen Chandri Salgado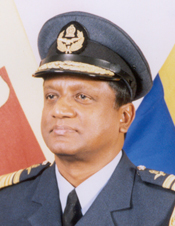 The SLAF No. 2 intake of officer cadets consisted of nine, along with few other in-service inductions. Of the nine, four were Thomians and Jayanath Laksen Chandri Salgado of "Preetheum", Moratuwa was one of them.
Sala, as he was fondly called by his friends came in with an excellent school profile as one who been chosen to represent Sri Lanka at the Indo- Sri Lanka athletic meet in his pet event 400 metres through ACE Athletic Club. It goes without saying that he had won his Public Schools' colours.
He was a college prefect, member of the Cadet Platoon, and also 2nd XV Rugby team. Sala's father, Lloyd Salgado who was a proprietary planter, was well known to my father who was one time Superintendent of Police in the Moratuwa area.
Later, even his brother-in-law, surgeon Dr. Wimal Gunaratne, who too was
a Public Schools athlete, was well
known to me.
Cadet intakes were a result of post '71 insurgency expansion which the services underwent in its wake with the infrastructure required not being able to keep pace. In this context, the No. 01 intake which was of 30 cadets took priority in available resources thus the 'flyers' of our batch had to wait till they (No. 01) completed their phases, which applied to all other branches too.
Diyatalawa's (DLA) renowned salubrious climate was not regarded with the same nostalgia during morning  PT when we were in our thinnest possible vests. One might say we built up a dreadful respect for the "Siberian winter" which we had only read about hitherto!
The stagnation in training facilies made Sala and the flying cadets follow the training that unfolded mainly for Regt. Cadets under then Commanding Officer (CO), Wg. Cdr. Bren Sosa and the Officer Commanding Training (OCT) Sqn Ldr. Tony Direckze. A component of it (No. 1 Officers' Regt. course) was to do a jungle march to a Kuda – Oya area location in small batches and the flight cadets consisted of one of them. It so happened that they reached the destination a day earlier than the other groups, perhaps due to a "flying navigational error" and had to take the "back bearing" to the DLA camp. This all-round training had perhaps stood him in good stead in later service life when commanding stations etc. and in particular when he was the Director Operations with ground ops coming under it.
On commissioning, the three flyers were posted to No. 03 Maritime Squadron flying Cessna 337 aircraft under Sq. Ldr. Chrisan being the CO. However, unexpectedly they were converted to Jet Provost (JPT) fighter aircraft which came into its own glory with the '71 insurgency strike and interdiction sorties. Sala and his batchmates kept on flying this aircraft until it was phased out. It took almost another two decades for the SLAF to get back to fighter jet aircraft flying, post "Op Poonamalai" by the Indian Air Force dropping relief supplies over Jaffna, better known as the  "Parippu drop".
Sala, later qualified as a Flying Instructor and was selected to follow the No. 313 Qualified Flying Instructors (QFI) course at Central Flying School, Royal Air Force, Leeming, UK, meeting a very demanding void felt in flying training which was long overdue. In his seven years as a QFI, the last two years as CO of the Flying Training Wing (FTW), generations of pilots had been churned out meeting the coveted RAF standards. He was the first to follow the Air Warfare Course at the Air War College, Pakistan Air Force for over a year. As a pilot, on his flyingmanship, what better opinion than from his own batchmate who later became a very senior Captain with SriLankan Airlines. He opined that "Sala was an exceptional flyer who could be cool as ever for military flying".
Sala, in his rising career had gone through the ambit of appointments as Eastern and Western Zonal Commander, Director Operations and finally as Chief of Staff of the Sri Lanka Air Force. He was a recipient of the Ranawickrema padakkama (RWP) very early in his career (1992), and without resting on his laurels he continued with his operational contributions till the very end.
Laksen leaves his wife Erandathie and children Laksith and Shalindri. We are grateful to Sala's College friend HDK Silva for keeping us updated on his medical status, sparing us from troubling Erandathie. Religious ceremonies were held at the Holy Emmanuel Church, Rawathawatte, Moratuwa and a service funeral under health regulations.
Old soldiers never die, they only fade away.
May his soul rest in peace.
Ravi Arunthavanathan
(Batchmate From SLAF
No. 2 Intake of Officer Cadets)
---
Recalling the indomitable spirit of Mummy on what would have been her 100th b'day
Philomena Hettiarachchi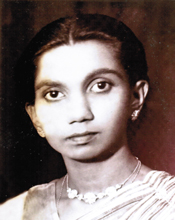 The flower bedecked month of May was her favourite, not because her birthday was part of it but as it was dedicated to Mary, the Mother of Christ, and a great fan she was of her.
Mary Philomena Elizabeth Antoinette Cecilia Hettiarachchi whose lengthy name we joked about, would have turned 100 on May 30, but died four years short in 2017.
Phil, as she was known, was my mother and the magnitude of her grit and strength became evident when she came to live with us in the last 10 years of her life, after Daddy's death.
My earliest childhood memories of Mummy are of hearing colourful tales about birds including crows which were "holding conferences" every evening or flying hither and thither around the huge water tank near our home in Anuradhapura, as she fed me my dinner of mashed potatoes with lots of butter, I love even to this day. Then, of course, wisps of memories of looking for shells in a heap of sand in the garage in our home in Anuradhapura, unknowingly having crossed the path of a polonga (Russell's viper) and finding that Mummy had followed soon after and dropped an iron on the deadly snake.
Her unshakeable belief that her insistence that the family recite the rosary before one of my brothers looked for a "hissing" rat in a disused cooker, was the saving grace from being bitten by a cobra which turned out to be the rat.
Mummy, smartly clad in her Kandyan saree with matching slippers and a konde without a hair out of place, was a teacher of English and more to her students at three convent schools in Anuradhapura and Colombo.
At the end of each school day, her voice would be hoarse, having taught all the periods without idling and unwittingly inhaling the chalk dust (those were the days of blackboards and white chalk), while carrying home a pile of books to be corrected overnight and returned to her beloved children. Meticulously she would draw up "schemes" for her lessons, her handwriting whether in English or Sinhala, beautiful.
Tuition after school was not tuition, for there was no fee involved.
Those were also the days of two long sessions of school with a lunch-break in-between. In the second convent, her students were from different backgrounds, the well-to-do and the not-so-well-to-do. She knew the children who came each morning without even a scrap of breakfast and who would slink out of class during the lunch-break, whether shine or rain, and sit under the spreading Mara tree, as they simply had no food. Mummy decided that she would eat her lunch in her classroom instead of the staff room and without even knowing what was happening the children were enjoying a picnic – each one's lunch box laid open and Mummy sharing whatever she had, with the not-so-well-to-do children also getting a meal, sans a single word about charity.
Personally, she was very much a partner, taking in her stride Daddy's unconventional behaviour with equanimity – whether having exotic pets such as a sambhur and a leopard in our home or taking the family's cat in a basket on our numerous train journeys (Mummy was entitled to valuable railway warrants).
When Daddy stood up for what was right, confronting rioters intent on harming people during the infamous 1958 communal riots or brought home terrified Irrigation Engineers from their stations and kept them in our home until they could be escorted back to Jaffna safely, Mummy was with him all the way.
More recently, in her early 80s, when thugs broke into their home in Nugegoda in broad daylight and demanded her jewellery after tying up Daddy, she had grabbed the double-barrel shotgun in their room before being overpowered by the robbers.
Never a word about pain or discomfort would she utter and we did not even realize what agony she (in her 90s) would have been in, having sprained her back, on our last family trip, until my sister noticed a slight grimace. It was thereafter that we were able to get her a wheelchair whenever the walks were long on that fun-filled journey from Colombo to Dambulla and then onto Habarana with an evening of interaction with the 'Gathering' of elephants at Kaudulla thrown in. Seeing all the babies among about 300-400 elephants enthralled her as she and Daddy had come face-to-face with many wild elephants on numerous journeys from Anuradhapura to Trincomalee in the 1950s and 60s through Habarana which was then a remote hamlet in the midst of the wilds.  The one and only time that she held my hand tight and told me she was in pain was when at 94 she fractured her femur (the thigh bone) while walking. She came out of surgery for implantation of a pace-maker without fuss and also underwent partial replacement of the hip bone without much trouble.
To her 14 grandchildren, she was the gentle 'Achchi' or 'Phil', which she preferred to be called, as even at the time of her death she had only a few silver threads among the black in her hair.
The love of poetry and literature came both from Mummy and Daddy and I marvel at the talent passed onto the grandchildren. She could also play the piano and sing which is strongly evident not only in my sister but also the grandchildren.
Whenever some of us suffer severe migraine attacks we know for sure that it is something passed down by her and wonder how she managed her home with six children (four sons and two daughters) and work life with such debilitating headaches without a murmur.
Cashew nuts, different types of cheese, sweet wine, love cake, Breudher, prawns, chutneys, sauces, pickles and kadachoru that we relish and the love of flowers, we know from where we have got.
How Mummy, who had been running her own house, along with Daddy even at 86, adjusted when she came to live with us was amazing. She would have missed the morning and evening walks to the top of the road where they chatted with passers-by including young monks from a nearby temple. The nine cats they had adopted would follow them up to a point until told to go back home and the faithful dog they had at that time answered only to the name, 'Come Here'.
In our home, constant were the battles I waged with her for eating sauce with every meal or roaming around with the maid in our neighbours' gardens picking flowers (for I feared she would have a fall) and she would go on strike until my husband spoke to her gently and told her how much like Daddy I was with the same impatience or whenever my brother-in-law was around to pacify her.
Long chats she would have with my two children's friends and exchange fist-bumps with my son's classmates. She objected vociferously when I disciplined my children and threatened to go back to her home claiming that I was being unfair.
It is four years since her death and I thought by now I would not miss her anymore, consoling myself that she lived a full life of 96 years. But I am wrong – anxious thoughts assail me. Did I do enough for Mummy, but most of all did I spend enough time with her? As remorse engulfs me, one thing is certain: I miss her!
Kumi
---
 Thank you Punchi Amma for all the beautiful memories
Latha Yapa Easwara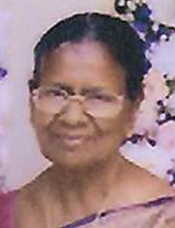 Silent tears rolled down my cheeks when I heard that my "Punchi Amma" (mother's sister) had passed away
on May 2, at the age of 82 after a
brief illness.
Born in Matara, in a picturesque village called "Pathegama", she had her primary education at St. Thomas College, Matara. She was a teacher by profession and extended a very valuable service to numerous students.
She was the most cheerful and lovable lady I have ever come across. She always had a smiling face in good times and bad. She was very caring and thoughtful and was loved by all her relatives, friends and neighbours.
Her friendly and generous hospitality and warm reception was amazing. Her house was an open one to all of us.
Punchi Amma was a connoisseur in the culinary field and whenever we visited her she used to prepare delicious food according to each of our tastes. Thank you Punchi Amma for all your gourmet food and amazing entertainment.
Dear Punchi Amma, you have left behind so many beautiful memories which will linger in our hearts till
we die.
She was married to Dhammika Easwara, a lawyer by profession and a thorough gentleman.  They both led an exemplary life and helped each and everyone around them irrespective of caste, creed or race.
Punchi Amma was a devout, practising Buddhist, and set an example to her younger generation. She inspired us to observe sil on every Poya day, and encouraged us to do a lot of philanthropic work.
Her timely advice and guidance helped us to lead good lives. Thank you very much Punchi Amma for all your inspiration, love and courage. Thank you for being a tower of strength to all our family members. We owe you an enormous debt which we will never be able to pay back in this Sansara. We miss you Punchi Amma, we miss you a lot. The void created with your demise will never be filled, and we will silently remember you in our prayers every day.
The noble life you led and all the benevolent work you carried out will definitely help shorten your voyage
of Sansara.
For her 79th birthday, we arranged a Dhamma Sermon followed by a surprise dinner at Kisha Malli's residence. She was so appreciative and happy and thoroughly enjoyed that day with her loved ones. We are happy that we managed to arrange a family gathering when she was alive.
Dearest Punchi Amma, may you be able to shorten this long journey of Sansara, and may you attain the Supreme Bliss of Nirvana, which you truly deserve.
 Renuka  Gunasekera
---