June 3 ultimatum for Sri Lanka cricketers to sign contracts
By Champika Fernando
Players demand transparency and clarity in points system to grade
View(s):
Sri Lanka Cricket (SLC) has set a June 3 deadline for its protesting players to sign annual contracts. The alternative is to play under tour contracts in future. The ultimatum comes after 24 players offered central contracts refused to sign after demanding clarity on the points system used to grade players on which basis their annual pay packets were determined.
The new pay scheme devised by Tom Moody, the Director of Cricket, in consultation with the Aravinda de Silva-headed Cricket Committee, sees points allocated on five attributes–performance, fitness, leadership, professionalism, and future potential and adaptability.
The performance during the last two years carries 50 points while 20 points are given for fitness. The other three attributes carry ten marks each. The allocation was done by the coach, the three selectors and the physical performance manager. The information is restricted to those involved in the grading process. But players  unhappy about how they were slotted believe they have a right to know every detail of how their points were tabulated.
"Despite the players' requests from the Management Committee for information regarding the manner in which points were allocated in respect of the categorisation, none of the players have been provided with their individual assessment sheets setting out how points were awarded under the criteria of performance, fitness, leadership and professionalism," says a statement issued by Nishan Sydney Premathiratne, Attorney-at-Law representing all 24 players.
"The Management Committee, the Coach and the Selectors have, for reasons unknown to the players, to date, unreasonably failed and refused to disclose such information. All national players in unison, are of the view that the players should be made aware of the assessment scores of each player in order to ensure transparency of the categorization process. This will afford the players an opportunity to ascertain the manner in which they have been categorized and to enable each player the opportunity to address their weaknesses," the statement reads.
They argue that failure to disclose such information creates disharmony, raises reasonable concerns in respect of favouritism, and casts doubt as to the validity of the entire process.
"We are not asking them to increase the retainers. We understand their reasoning on that. But we certainly don't understand how they grade the players. This is why we need to see the points system. Once that's available to us, we will sign them. If not, we will play on tour contracts," a senior player said, speaking on condition of anonymity. "That will have a huge financial impact on us, but we need to make sure that we have a proper and transparent system in place. Every coach will have their own favourites, that's natural, but that should not reflect on the contracts."
Another point of concern is the removal of seniority payment. A seniority payment of $750 to $5,000 was paid based on the number of matches a cricketer has played previously. Players believe this is something they earned through dedication and commitment to the game and, thus, should remain.
"We wanted them to give more weightage for Test cricket since lots of young people have little interest in playing the longer format now. It's a lot of hard work compared to limited-over cricket. So, if someone has played so many Test matches, that shows his commitment to the game and he should be rewarded for that as an encouragement to others," the player concerned explained.
But those who devised the new scheme say seniority has been given five marks under the leadership when categorising players–an explanation the players refuse to accept. The new pay scheme has seen players getting significant pay cuts on their retainer fees.
Angelo Mathews, who was earning a fee of $130,000 the previous year, will lose as much as $50,000 as he has managed to secure a $80,000 A 2 category contract along with new ODI skipper Kusal Janith Perera. Mathews's omission for an A1 contract may have been fuelled by the selector's decision to drop the former captain from limited-over cricket.
Test captain Dimuth Karunaratne also received a pay cut of $30,000. He took on the ODI leadership at a difficult time and has been in exceptional form with the bat in Test cricket but, with selectors not considering him for limited-over cricket, his chances of earning a top contract have withered.
Suranga Lakmal, who was in the top category last year, has only managed to earn a category B1 contract which has a base price of $65,000. Former captain Dinesh Chandimal, on the other hand, has been demoted to category C2 with a base price of $45,000. Chandimal is among several other seniors overlooked for the forthcoming limited over series in Bangladesh and England. Nuwan Pradeep, one of the key players in limited over cricket, missed out on a place among the 24 cricketers to earn national contracts.
"How come Nuwan Pradeep, who has performed for us in white-ball cricket, did not get even a category D contract? They need to explain this," the player questioned.
In addition to the 24 national contracts, the Board is offering six domestic development contracts and an unspecified number of incremental contracts for players who have played multiple matches across formats but failed to get a central contract. Nuwan Pradeep could land a contract under this where he is entitled to a base salary of $ 25,000.
Even though the base salaries have been cut, these players could still gain more through the performance-based incentive scheme which sees a substantial increase in win bonuses in Tests and ODIs and also the introduction of win bonuses in T20 cricket.
The new contracts offer $150,000 for a series win against the No. 1 ranked side, $125,000 for beating the No. 2 ranked team, $100,000 for No. 3, $80,000 for No. 4, down to $10,000 for the team ranked ninth. Under the previous contracts, the team would be paid $25,000 for each Test won against top seven (according to rankings) opponents and $20,000 for winning against the 8th and 9th ranked teams. The bonus for an ODI series win against a No. 1 ranked team has also been increased to $75,000, an increase of $25,000, $62,000 for beating No. 2 ranked team, $ 50,000 for No. 3 ranked team down to $5,000 for a series win against the 9th ranked team. The new bonus scheme for T20 cricket sees a win bonus of $50,000 for beating the No. 1 ranked team the list goes down to $5,000 for beating the No. 9 ranked team.
"A thorough review of what was being practised around the world was taken into consideration. A lot of countries are trying to find what is the right process for them. This was not pulled out of thin air. This was done after thorough research–looking at other countries and their examples of how they contract their players. We put together what we thought was the best, most effective and fair system for Sri Lanka," explained Tom Moody at a press conference in Colombo.
Sri Lanka is currently ranked No. 8 in Tests and T20 cricket while they have been dropped to No. 9 in ODI cricket but players refused to accept the entire blame for the current dismal state of cricket.
"The players concede that Sri Lanka has dropped in international rankings in the past few years but we refuse to take the blame entirely. It cannot be attributed exclusively to the players when the administration and all stakeholders are also involved in the game. Decisions taken to scrap the SLPL in 2012 until last year, when the SLPL was recommenced, as well as the number of clubs in Sri Lanka being doubled to 24 from the initial number of 12 have all contributed," players argued.
With SLC refusing to bow down, it seems the impasse will continue as players are not in agreement to sign "unfair and non-transparent contracts".
"Unlike in other nations when disputes arise and results in players seeking other avenues by way of franchise cricket, the Sri Lankan players will continue to be readily available to play and be selected for Sri Lanka. Going forward, the players urge the SLC and the administrators to work on building the trust of the players, to be transparent in all matters and to fully address the concerns of players with a view to resolving the present dispute," the lawyer's statement adds.
know about The new cricket contracts
Types of contracts
 National player contracts – For 24 players
 Domestic development contracts – For 6 players
 incremental contracts – Number not specified
Player grouping – four groups – each group has further divided into three tiers each
 1st to 6th player ranked based on the total score -
Group A (A1, A2, A3)
 7th to 12th player ranked based on the total score -
Group B (B1, B2, B3)
 13th to 18th player ranked based on the total score -
Group C (C1, C2, C3)
 19th to 24th player ranked based on the total score -
Group D (D1, D2, D3)
Overall scoring and ranking system
 Performance – Score out of 50
 Fitness – Score out of 20
 Leadership – Score out of 10
 Professionalism – Score out of 10
 Future potential and adaptability – Score out of 10
Assessment mechanisms
Performance – Score out of 50
Weighing the 3 formats of cricket – Normal year
 Test – 1
 ODI – 1/3
 T20 – 1/3
Weighing the 3 formats of cricket – 2021
(More weightage for T20 due to the T20 World Championships)
 Test – 1
 T20 – 0.45
 ODI – 0.218
Fitness mechanism
If a player is not meeting the minimum standard (<85 skin fold and 8.55min in 2km run, such player is not considered for selection and awarding of a contract)
Skin Fold should be under 85 – (maximum 10 points)
2km time trial should run under 8.55 – (maximum 10 points)
Leadership ranking mechanism – (out of 10 marks)
Scoring based on 2 main areas
 Seniority
 Other leadership qualities and attributes
3 a. Seniority – out of 5 marks
Following weights are given in calculating the seniority score
 1 Test match – 1 point
 1 ODI match – 1/2 point
 1 T20 – 1/2 point
Mark allocation is based on the total score of each player
 Score over 100 – 5 marks
 Score between 90-100 – 4 marks
 Score between 80-90 – 3 marks
 Score between 70-60 – 2 marks
 Score between 50-60 – 1 mark
3b. Other leadership qualities and attributes – out of 5 marks
 Holding current and previous leadership roles (as the Captain) in Sri Lanka national cricket team
 Selflessness
 Communicative
 Personal care and shows empathy to others
Professionalism ranking mechanism – out of 10 marks
Scoring is based on the 2 main areas
 Adherence to player's code of conduct
 Other professional behavioural ethics and values
Adherence to player's code of conduct – out of 5 marks
 Full 5 marks given to a player if there is no violation of the SLC code of behaviour
 Marks will be deducted fore each code violation
Other professional behavioural ethics and values – out of 5 marks
 Following areas are considered in allocating the marks
 Punctuality
 Exemplary standards around the playing group
 Mutual respect and relationship
Future potential and adoptability – Out of 10 marks
Scoring is based on following 3 areas
 Long term potential and sustainability in all three formats
 High level of skill along with elite professionalism
 Ability to adapt to the game in both home and away conditions
Domestic development contracts
Maximum of 6 additional contracts focusing on developing talent
 Prevailing skill gap and the demand of the national set up and the national squad is to consider
 A player can fall into this category of contract for a maximum period of 3 years only
Incremental contract
 This for the players who are out the 24 nation
contracted players
 players who have played multiple international matches for the contrat year
 This contract is valid only for that particular year for which the contract is signing for
 To qualify for an incremental contract, a player should accumulate 10 or more points in the contract year
 Points will be allocated in following manner
 Test matches – 3 points
 ODI – 1 point
 T20 – 1 point
Payment to the squad/Reserve players
 Players who are in the squad but not in the Playing XI will get paid a 25% of the match fee of a Playing XI
player for all three formats
Match fee
Test match fee
 Has been increased from $7000
to $7500 per match
 ODI match fee remains at $4000
 T20 match fee remains at $3000
ICC T20 World Cup payments
The board will pay $1,650,000 if the team wins the World Cup. This is in addition to the prize money, match fees
and the per-diems
Participation fee – $300000
No payments for wins in league stages
Qualifying to the semi-finals – $250,000
Winning a semi-final – $350,000
Winning the World Cup – $750,000
Series win bonus
Winning a series against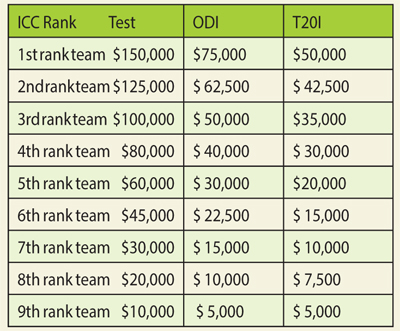 Seniority payment has been scrapped. However seniority has given 5 marks under the leadership when categorizing players