Appreciations
View(s):

A big man with a big heart, he gave his all

Jeff Schucroft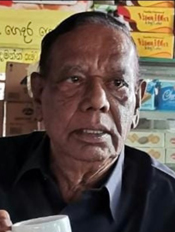 Jeff Schucroft, who recently passed away, was a gentleman to his fingertips and touched my life at three different times.
Firstly his father and my father were colleagues at the Colombo Port and our families lived in Modera (Colombo 15).
When I was a teenager and a member of "Milinda Caldera's group" I used to see him at the Young Rangers Sports Club, which was run by a rough diamond Serasinghe Podimahatthaya. As I am seriously into cars, Jeff arriving in his MGA Twin-cam is engraved into my memory. There were three lovely cars which used to be parked outside the club, Anderson Algama's Zephyr coupe, Ossie Corea's Sunbeam Alpine and Jeff's MGA. Among these cars, my father's Mercedes looked very ordinary.
At the age of 17 I left for the U.K. and lost touch with Jeff. However, I followed his sporting career in which he twice became Mr. Ceylon and Mr Asia runner-up amongst many other accolades. Later on he contributed to the sport via taking a leadership role in the SLBBFF.
After many years I met him at my Uncle Victor's place and we became close friends. Jeff was not only big in physique, he was big in stature and big at heart. Even though he was a devout Catholic, his charity went far beyond the church. Recently I got a call from him on the way back from his wife's village near Kandy. He went on to tell me that he got up at 4 a.m. to see the Buddhist monk in the village temple to donate money to construct some building or other. When I asked why didn't he transfer the money, he replied that he wanted to do it properly. He wanted to worship him and hand over the cheque personally. That's Jeff, he never did things by halves; from body building to charitable work, he gave his all.
I miss you Jeff, but am comforted to know that you are now in the hands of your Maker.
Harith Kulasinghe
---
It was a privilege to have been trained under this 'surgeon for all seasons'
Prof. Chelvarayan Barr Kumarakulasinghe
The demise in Australia  of Prof. Chelvarayan Barr Kumarakulasinghe on May 13, saddened all of us who were his 'Golayas' and friends. 'Barr- Kum' to all of us, was 'a man for all seasons'.
' Time' to him was not staccato'd by mundane events such as eating schedules; he would hold forth on his erudite discussions with medical students. His meandering mind waded from the nuances of surgery, through social policy, to music and whatnot. His students enjoyed the ride, even with aching bellies. I remember once his wife ringing me, his Golaya, in the operating theatre (OT) in the wee hours of the morning trying to find the whereabouts of Barr Kum. Informing her that he had left the OT around 8 p.m. I stepped out of the OT to find him. As I went out to the compound I heard the characteristic laugh, almost a guffaw, from outside, where  Barr-Kum and the anaesthetist Dr Kumar de Silva were in Barr's car enjoying a joke and munching into a 'thosai meal' bought at Muslim Hotel!
Concerned about the downtrodden he would go to lengths to help. His patients enjoyed his kindness and competence. An insightful diagnostician with a sound decision-making ability, a surgical craftsman with immense natural ability, I was privileged to be trained by him in the late '60s.
That was a time when the Peradeniya Medical Faculty and Kandy were teeming with talent. The names of  Senaka Bibile, Valentine Basnayake, T. Vargunam, Brian Seneviratne and Mark Amerasinghe come readily to mind. A piano is shifted into the Physiology Dept: Barr's wife Nirmalini, a keyboard artiste in her own right, joined them to make music, the night air made melodious with their endeavours.
Academia was Barr Kum's forte. Curiosity, innovation a natural gift. The youngest Professor of Surgery to grace this land; his talents so special to this country, pruned by the fell stroke of a mindless rabble, in the '83 communal riots. His mother's house in Mount Lavinia was set on fire, just because her close relation was the Leader of the Federal Party, Mr. Chelvanayagam. The country lost many consultants who were gifted, as many emigrated – Barr Kum and family left for Australia.
May his memory be etched indelibly in the annals of the surgical history of this land.
Dr Channa Ratnatunga
---
Her life was a blessing to those she called near and dear
 Rita Perera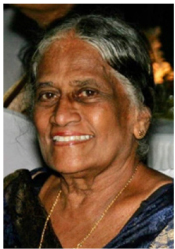 It is with deep sorrow that we mourn the passing away of our dear Aunty Rita.
As I visited her recently, I recalled the fond memories I had of her. She had led a good life, written two books, engaged in social work projects and brought much joy to her family and friends. As her niece, I thanked God for her life and as I prayed beside her, a sweet smile transformed her face – I was grateful to God for giving me an aunt like her.
Aunty Rita was the aunt we could all depend on to have fun and laughter. The livewire at every family gathering, her laugh was contagious and we all could sit for hours just listening to her stories.
Having left to London in the 1960s with Uncle Bonnie, she guided Hiran, Suren and Nalin to develop into fine young gentlemen. Once her parenting duties were over, she returned to Sri Lanka and enjoyed life among her family and friends.
A descendant of the late E. W. Perera, famously known as the 'Lion of Kotte', Aunty Rita was very proud of her Sinhalese heritage. She believed it was her duty to pass on that love and patriotism to her children, nephews and nieces and thus, she authored the book 'E.W. Perera – Portrait of a True Patriot of Sri Lanka' to ensure that his story would not be forgotten.
Aunty Rita's love for her country prompted her to start FONCA – an association that assists underprivileged children. She served the community passionately and worked tirelessly in organizing outings and programmes for these children. It is so encouraging to see Nalin and Ayesha continue her work.
'Coalescing with Omega', a perception of what happens after death through the eyes of a Buddhist, Hindu, Muslim, Christian and an Aborigine was a thought provoking book that she wrote, that was published by Vijitha Yapa.
Aunty Rita could converse with anyone- be it a child or an intellectual.
Her life was a blessing to those she called near and dear and we will miss her dearly.
Nirma Tranchell
---
 Who could ever forget his master strokes
Suranjith Mendis
Suranjith Mendis, former Prince of Wales' College Moratuwa 1959 Big Match winning Captain and skipper of the school's Senior Volleyball Team, popularly known as "Sura" among his cricket fans and colleagues is no more. He died at the age of 81 years after a prolonged illness.
He was a devout Methodist who hailed from Puwakaramba, Moratuwa and his entire education was at this prestigious school. Three of his four younger brothers Nihal, Hemal (Snr.), and Ajith also represented Prince of Wales' at cricket. He, Priyalal Suranjith, played for the Under 12, 14, 16, Second Eleven and First XI cricket teams with distinction and went on to captain the First XI in the 1958/59 season.
His counterpart at the Big Match was Sirimal Fernando of St Sebastian's and it was only the fifth occasion that the Cambrians beat their arch-rivals in the 69-year-old history of this Big Match. Also he became the second Cambrian to score a century in the Big Match series with a magnificent knock of 105 runs in 1959 at the Sebs ground, the first centurion being Jagath de Soysa.
During this period the Big Match was played on matting wickets over two days and commenced at 12 noon.  In this particular year of 1959, the Big Match ended at 2.30 p.m. on Day Two giving victory to the Cambrians who had gone into the match as the underdogs, proving yet again that cricket is a game of glorious uncertainties. Sura, an opening batsman was a fine left hand bat with an array of strokes and a "master" on the matting wicket.
Sura holds a very rare record – as a schoolboy he scored a century (107 runs) for Moratuwa Sports Club against the formidable Moors Sports Club, Colombo in their own den in the Sara Trophy final round match in February 1959. He pulverized the strong Moors bowling attack to all corners of the ground and when he reached his scintillating century, his opening partner, another Cambrian, D. D. Mahindapala had not crossed the double figure mark. His century was of no avail though, as the game ended in a draw.
He was a member of the Daily News Team of the same club when they won the Trophy in 1955 and got promoted to the Sara Trophy. Whilst at school he played against the visiting Indian Schools team in 1958 captained by Milkah Singh when the strong Moratuwa Schools team met them at the De Soysa Park, Moratuwa. I had the honour of playing alongside him for the same club in a later year.
In addition to cricket he captained the College Volleyball team in 1958 and among the members of the team were former Navy Commander Clancy Fernando. L. D. Haripala, Ceylon Cap C. P. Attanayake, G. S. Abesiriwardene, Walter Senanayake to mention a few.
After an unblemished educational and sports career he joined the then Ceylon Transport Board and represented them in "A" Division Cricket, going on to play for the Nationalized Services Cricket team. His burial took place at the General Cemetery, Rawathawatte after a church service at Methodist Church, Koralawella, Moratuwa.
May the turf lie lightly on this cricketing friend.
A friend and cricket lover
---
Striving to make a better world, that was his legacy
Dr Kandiah Ratnakumar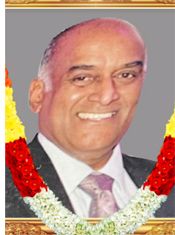 Kandiah Ratnakumar hailed from the village of Chulipuram, Jaffna. One of four siblings, he was born on April 15, 1951. He entered the Medical Faculty, Peradeniya from Jaffna Hindu College qualifying as a doctor in 1975. He left for the UK for postgraduate training with his wife after completing the compulsory period service, having worked closely with that great son of Sri Lanka, the late Dr Lucky Dissanayake, from who he learnt the basics in surgical skills.
He assumed the post of Consultant Orthopaedic Surgeon at Oldchurch (later named Queens)  Hospital in 1991 where we worked as colleagues. Specialising in knee surgery he not only touched the hearts of patients and staff but also was a friend, mentor and advisor to many within the community, including some of the leading orthopaedic consultants serving in Sri Lanka. His school mate and colleague Dr. Kumaran recalls him as quiet, studious and helpful. Another grief stricken contemporary Dr. Chandrasiri Abrew, retired vascular surgeon reflects on the times spent with the hospitable Ratna as a surgical trainee in the UK.
A man of few words except in his close circles, Ratna was always good company with a radiant smile. Although I knew him at University it was at Oldchurch Hospital that we developed closer ties as colleagues and he and Saro became my family friends.
A childhood companion Dr. Ananthamoorthy, retired senior lecturer in Dentistry at the University of Ceylon Peradeniya, now settled in Chulipuram recalls "Ratna and myself were schoolmates, growing up together at Pannagam Meihandan Vidyalayam where we learnt our alphabet of our mother tongue together.  Both of us moved to Victoria College Chulipuram. While I stayed on at Victoria College, Ratna moved to Jaffna Hindu College from where he entered the Faculty of Medicine, Peradeniya. Ratna would always make it a point to visit me and my wife whenever he visited Jaffna. Ratna never forgot his roots. He would often visit his relatives and old friends in Sri Lanka and was very charitable."
Although the couple planned to serve their motherland on completion of their postgraduate training in the UK,  the events of July 1983 precluded their return home. Having worked in Canada for a few years they moved back to the UK.
I vividly recall how I would barge in to his house in Gants Hill without any notice -  it was in the nature of the man to entertain friends at the drop of a hat, perhaps using the opportunity to share a glass of wine! Saro, too, in her typical friendly manner would tolerate such intrusions without any fuss. His usage of  colloquial Tamil with a distinct accent, unique to himself and the surreal sense of humour he displayed were a delight.
Ratna was married to Saro Vinasithamby, whom he courted as a fellow medical student and they both took up posts in different parts of Sri Lanka pursuing their chosen careers in surgery and anaesthesia respectively. Saro retired after a long stint as Consultant Anaesthetist in South London.
Towards retirement Ratna developed a passion for golf. One of his plans for retirement was to return to Sri Lanka, the land he loved
He became unwell in the early part of January developing shortness of breath needing hospitalisation at Whipps Cross Hospital where he lost his fight against COVID-19 on January 26.
His generosity was not confined to friends and relatives but extended beyond. He supported several organisations but never sought position, opting often to help behind the scenes. In life he was an example of endurance, resilience and humility.
Saro gave him strength and purpose; joy and friendship; and stood by him always in those last hardest days.
We cannot know what God's plan is for us. What we can do is to live our lives as best as we can with purpose and with love and with joy. We can use each day to show those who are closest to us how much we care about them and treat others with the kindness and respect that we wish ourselves, and we can strive at all costs to make a better world, so that our fleeting presence has a lasting impact on the lives of others.
This is how Ratnakumar lived. This is his legacy.
May his soul rest in peace. Om Shanthi.
Dr S. Ariyanayagam
---