Pandal makers see little light although Govt. assures relief
By Sandun Jayawardana
View(s):
Danuka Rukmal De Silva first started working on pandals at his father's workshop when he was 12 years old. "It is more than just a business for us, but a form of art and an expression of culture," said Mr De Silva, now 43. Most pandals were built for the Vesak season. There were times when he built five pandals in different parts of the country in a year. Later it was three, having handed over the responsibility of two to his friends. But neither Mr De Silva nor most other pandal makers have exhibited a pandal in three years.
The first blow came immediately after the Easter Sunday terror attacks. The security situation in the country did not permit them to put up pandals for Vesak or Poson. "We were in the middle of work ing on pandals for the 2020 season when the COVID-19 outbreak hit. There weren't any pandals last year and the third wave now means there won't be any this year either," Mr De Silva says regretfully.
The problem for most pandal makers was that generally, their clients only provided an advance to start the project. Often, the clients are traders' organizations made up of traders who collect money among themselves in a particular market or area. The pandal makers must then put in the rest of the money to finance the making of the pandal. They are only paid once the pandal has been exhibited. Only a few are able to finance a pandal with their own money, with most taking out loans, safe in the knowledge that they will be able to pay those back once they are paid in full.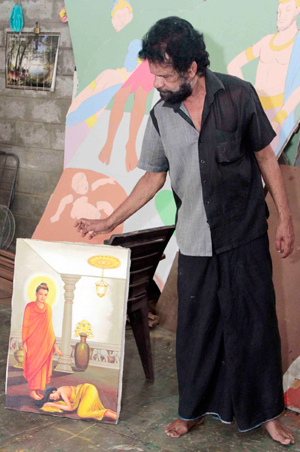 That all changed after 2019. The clients did not pay the full amount since no pandal was finished and exhibited, but the pandal makers had already taken out the loans. Mr De Silva himself was Rs 3.75 million in debt. He was eventually able to pay back all his loans through money earned from other businesses in electrical wiring. "We still got some money in 2019 as eventually, the security situation improved for events such as carnivals to be held. But with COVID, even those events have been cancelled. I may have paid back my loans, but I now have no means to go forward since all my revenue-making avenues have been shut."
Pushpananda Denipitiya (68), an artist who has done the artwork for pandals since 1977, had been working on six pandals when the Easter attacks struck. "There has never been a time like this. I have done pandals every year up to 2019. This three-year interruption has been catastrophic." His Piliyandala workshop contains frames for pandals that he had been working on and haven't been able to exhibit for the past three years.
Mr Denipitiya, who says he has drawn for some 200-250 pandals in his time, said he still earns enough to survive by drawing murals for Buddhist temples, but despairs over an uncertain future. "Since there have been no pandals for three years and due to economic difficulties, some traders' organisations have now stopped financing pandals in their areas. Even if we are allowed to exhibit pandals next year, I think he numbers would be minimal," he opined.
"For many of us, this is a profession that we have been engaged in for generations, " said Chaminda Attanayake (45), from Kottawa. He has two school-going daughters aged 18 and 13. "The eldest is sitting for her A/Level exam this year and her tuition fees alone cost about Rs 35, 000 a month. It is becoming more and more difficult for us."
Mr Attanayake mainly does lighting for pandals as well as for peraheras, carnivals and other events. None of these are happening due to pandemic restrictions. "We were hoping that this year would be different. We had even put in the first few frames of the pandal on the grounds of the Kelaniya Raja Maha Viharaya when this latest wave hit," he said.
If the situation continues, many pandal makers will be forced to give up their trade altogether, said Susantha Jayakody, President of the All Island Pandal Makers' Association. "Let's say a pandal costs Rs 1.8 million to put up. A client only provides about Rs 400, 000 – 500, 000 as an advance to start us off. We put in the rest of the money. If a person does more than one pandal, you can imagine how much money they have to spend themselves."
There are just over 40 pandal makers in the country, but each has dozens of workers under him, Mr Jayakody noted. "Most of them work as carpenters and masons. Given the situation, it is unlikely they will come back to work on pandals."
Both the previous Government and the present one made promises to provide relief, but they are all broken promises, Mr Jayakody charged. "In 2019, we met then Finance Minister Mangala Samaraweera, who promised us relief, but nothing came out of the meeting. Prime Minister Mahinda Rajapaksa also invited us to a meeting back when he was the Leader of the Opposition, and assured us relief when a Government of theirs came to power. But he has forgotten all about those assurances after becoming PM. We met ministers in this government too and they also have only offered us empty words."
Mr Jayakody said pandal makers understood they cannot exhibit pandals in the current pandemic situation. "In terms of relief, what we have asked for is a low interest loan amounting to a maximum of Rs 1 million. Not everyone should be paid that amount. The Government can decide on the amount to be given to each pandal maker based on the work they have taken on," he explained.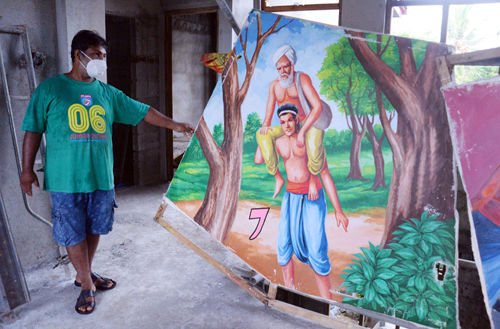 The Government is keen on providing relief to all artists and technicians affected by the pandemic, State Minister of National Heritage, Performing Arts and Rural Arts Promotion Vidura Wickramanayaka told the Sunday Times. "Many performing artists, technicians and painters have been affected by this situation, not just one group. Some have taken out loans including vehicle and housing loans which they are unable to pay back. Some have fallen behind on paying the lease of their vehicles and had them seized. We also understand that there are entire families who are dependent on these industries. We are currently in the process of discussing the matter with Prime Minister Mahinda Rajapaksa, who is our subject Minister," he explained.
Mr Wickramanayaka said his Ministry had held fruitful discussions with the Health Minister and Director General of Health Services in March on allowing public Vesak festivities, including the exhibition of pandals in parts of the country where COVID numbers were low. "They were agreeable to our proposal but unfortunately, the latest wave put paid to any possibility of that".
One solution that was being looked into by the Government as a relief measure was initiating a new loan scheme for affected artists and technicians, including pandal makers, the State Minister revealed. The loan would amount to Rs 1 million but will be disbursed on a staggered basis. "For example, they will first get about Rs 100, 000 to 150, 000 with a time frame being given to pay it back. The second tranche of the loan will be given afterwards."
He insisted that the Government had not given up on plans to provide relief to all artists, including pandal makers. "No plans have been scrapped. We understand the situation and are doing our best to provide relief as early as possible," he added.