Biomedical student with a passion for scouting wins Baden Powell Award
By Ruqyyaha Deane
View(s):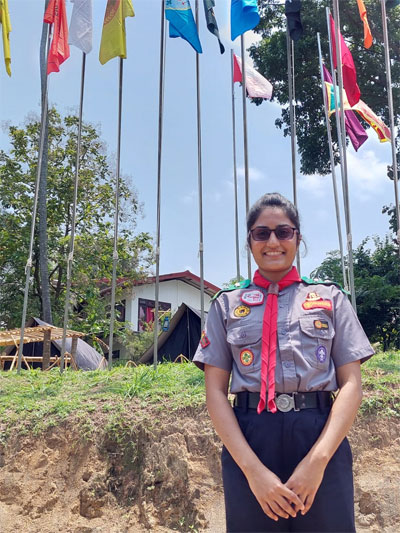 Twenty-two-year-old Randi Hathnagoda began her journey as a Girl Guide when she was in Grade 4  at Maliyadeva Balika Vidyalaya, Kurunegala. Always having a passion to volunteer and serve the community, after leaving school, Randi went on to become a Rover Scout which is a programme that brings a scouting experience to adults.
As a 3rd year Biomedical Sciences undergraduate at CINEC campus with dreams of becoming  a biomedical scientist who could do her bit for the world, Randi recently was awarded the prestigious 'Baden Powell Award' which is the highest Rover Scout award.
"The Baden Powell award is given to a Rover Scout who achieves all four professional 'stars' which are the Rambler Star, Scoutcraft Star, Project Star and the Leadership Star. We do different projects and dedicate our time to Scouting to achieve these stars," she says adding that the experiences and memories she gets from Scouting are priceless and unforgettable.
It was at a ceremony on April 25 that she was awarded the Baden Powell Award by Sri Lanka's Chief Scout Commissioner and Kotelawala Defence University Vice Chancellor,  Major General Milinda Peiris, at the 34th National Rover Moot held at the Pallekele Scout Training Centre, Kandy. It was a proud and humbling moment for Randi.
The Rover Scout programme targets personal development and giving back to the community meaningfully, also spending more time outdoors. "If a girl or a boy is a ball of clay, Scouting and Girl Guiding helps to mould the clay ball into a creative shape. Those activities help a person with self-discipline and I believe every young person should benefit from them. They can build self-confidence, vision, integrity, courage, dedication, enthusiasm and other leadership qualities and skills," Randi says adding that her two younger siblings, a brother and sister are a Senior Scout and Girl Guide respectively.
For anyone who may be inspired by her journey, Randi's advice would be to fearlessly take up every challenge, seeing it as an opportunity, forget life's failures and obstacles and push one's self ahead for the future. Being dedicated, confident and truthful will definitely groom one's  future and path in life, she believes.
Randi is grateful to all those who supported her – from her family and loved ones; to her father's friend Captain Rohith Fernando; the Commissioners at the National Scout Headquarters;the Crew mistress of the 'Ethugalpura Pioneers' Girls' District Rover Crew' of Kurunegala, Mrs. G.W. Ariyamala; her Girl Guiding mistresses, Mrs. Rudrani Gunasekara, Mrs. Chandani Elkaduwa and Mrs. Semini Herath of Maliyadeva, Kurunegala; her fellow Rovers and officials of the CINEC campus.