PIM Alumni launches member portal to build Sri Lanka's strongest postgraduate professional network
View(s):

Sri Lanka's pioneering higher education alumni organisation, the Postgraduate Institute of Management (PIM) Alumni Association (PIMA), positioned as the country's leading network of top industry professionals, recently launched a digital member platform to build, nurture and develop its member network.

Comprising of over 3,500 postgraduate qualified PIM graduate members, the PIMA network is an engaging fraternity renowned for hosting and conducting many activities in any given calendar year, from workshops, seminars and knowledge sharing sessions to its members. Recognising the importance of maintaining an integrated platform to support the building of a strong, connected and engaged postgraduate professional network in the country, the launch of the platform has led the association towards a new chapter in its journey.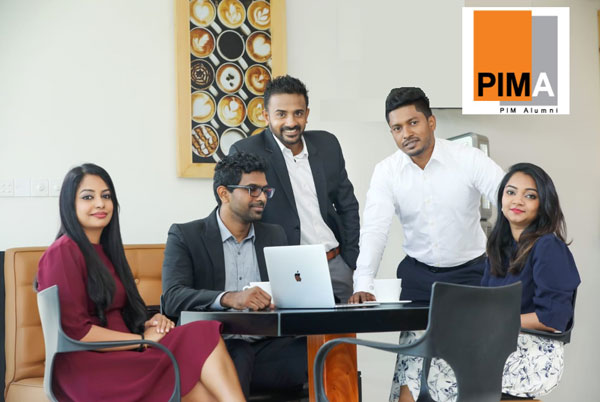 "The strength, success and the sustainability  of any alumni organisation depend on the number of members, brand value of member profiles, achievements of their members' and performance of the organisations led by alumni members. For PIMA, we have achieved great heights in all these aspects," says President Denzil Perera – Business and Brand Consultant, Board Member The National Design Center and Board Member (Director Marketing) at Sanasa General Insurance.
He notes: "PIMA has enjoyed a strong positioning as Sri Lanka's most active alumni association. We are driven by the vision to transform ourselves into a community of thought leaders that shape the nation's socio-economic fabric and uplift the level of professionalism in Sri Lanka's corporate sphere. For this endeavour, having an engaged and continuously connected membership is key, and we believe that the new platform will drive engagement to enhanced heights."
The new initiative launched by PIMA to develop a digitalised collaborative platform through its newly developed member portal is not only a timely initiative but also a stepping-stone for the association in providing more comprehensive digital experiences to its members for their professional development and for the sharing of members' contributions to the corporate sector with fellow PIMA alumni.
The digital portal is designed to bring an array of benefits for registered members, including transparency in all of PIMA's planning initiatives and activities. Registered members will be able to view the PIMA event calendar and be aware of frequent communications, notifications and updates from the association. The platform will also contribute to PIM and PIMA in recognising significant achievements of members and provide more opportunities for their development.
"It is our objective to also use the platform to start discussion forums on important and timely topics, as well as to rope in special interest groups (SIG) to contribute towards new knowledge creation – a feat that will be beneficial not only for our members but for the wider society, which includes those studying for postgraduate professional qualifications – Shiranthi Theverapperuma – Vice President PIMA, shared .
The portal will also include a directory of members and their contact details, as well as comprehensive profiles of individuals to recognise their careers and success stories – Ramesh Dassanayaka – Secretary PIMA stated.
The new portal is open to all PIM graduated members, to sign up, engage and contribute to the association  "Despite many challenges and restrictions we've encountered due to the pandemic, the onset of COVID-19 has been an accelerator of digital adoption, and to our PIMA membership, it has provided an excellent opportunity to tighten our bonds, be more actively involved and contribute at a greater scale towards the betterment of our association and the Sri Lankan society as a whole," Denzil adds.
Members can register on the newly launched member
portal by simply visiting
https://pimaportal.com
and entering their
MBA registration number.