A commander is only as good as….
View(s):

In military parlance, a General Staff consists of a group of officers who assist the commander by formulating and disseminating the commander's policies, transmitting his orders, and overseeing their implementation. These staff officers are tasked with providing the commander with accurate and timely information as well as situational appreciations on which the commander can base his decisions. It is significant that staff officers do not themselves command – their role is to exercise control on behalf of their commander.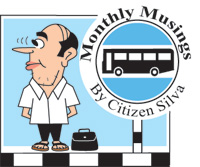 Such a General Staff is organised along functional lines, having separate Cells or Sections for subjects such as administration, operations, logistics and intelligence.
I suppose a Commander and his General Staff are analogous to a President and his Cabinet — with one major exception. A military commander provides himself with a staff made up of trained military officers – men and women who have had years of training and experience to do their job, whether it is in administration, logistics, personnel management, intelligence or security. They have been trained to "problem solve under duress".
When a political leader has to select his cabinet, however, he has to select from a short list of politicians — folk who have been successful in motivating an electorate of gullible voters to elect them into office, but who may have had neither training nor experience in managing an administrative or logistical organisation.
In appointing functionaries like ministers, deputy ministers and state ministers, the criterion for selection is not the appointee's capability for the subject which he or she is given to manage. It is to what political faction he or she belongs to, from what religion, ethnicity, caste or family he or she comes — and whether he or she brings to the table the ability to bring in votes when the next election comes round. In a military staff, there are nine cells –for example, G2 looks after intelligence and security, G4 looks after logistics, G9 handles Civilian and Military Co-operation (known as CIMIC). These numbers do not denote priority or who is more important than whom. G1 for example is not senior to G2 or G3. The numbers are just to denote different "Cells".
The great Chinese statesman Zhou En Lai once described the Chinese Nationalist leader Generalissimo Chiang Kai Shek as "not a bad man – but he drifts between factions and is surrounded by stupid men who do not give him good advice".
Reading Zhou En Lai's words, I could not help musing that our own president — strong leader and efficient military man though he may be, has surrounded himself during this COVID pandemic with subordinates not like those one would expect to find in a professional and trained General Staff, but with men and women like Chiang Kai Shek's  "stupid men".
Those entrusted with providing the President with information and analysis about our economy, so he can make the correct policy decisions, have been using innovative accounting techniques to doctor the figures. To make the 2020 deficit appear lower, these economic advisers deftly use expenditure figures from 2019 to make the 2020 estimates appear lower. Who is fooling whom?
Who can forget Health Minister Pavithra Wanniarachchi posing with our first COVID patient (who came here, like the virus, from China) and then planting a kiss on her forehead? What better photo opportunity than that? Instead of entrusting experienced diplomats and logisticians to obtain a plentiful supply of vaccines from overseas, instead of seeking advice from our knowledgeable medical epidemiologists and virologists, the president's Politician in Charge of Health encouraged a quack called Dhammika to market a magic potion to cure COVID and was even happy to taste a swig of this impotent potion (again in front of the cameras).
These antics were in addition to her pouring an enchanted pot of 'holy water' into the river to bring about a cure for COVID!
When I think of the President's Man in Charge of Tourism — a man with neither academic nor military capability whose education ceased at the rural Orara High school in Australia — and his much publicised "travel bubble" with India, I shudder.
At a time when our northern neighbour is reeking with COVID, this man glibly advised the President that we should bring COVID-carrying Indians to Sri Lanka to sustain our tourist industry. People like him seem to value the tourist rupee higher than the lives of our own people.
It was the American General Douglas MacArthur who made that famous observation about leadership: "A general is just as good or just as bad as the troops under his command make him."
In other words, A Commander is only as good as the Staff Officers under his command.
And in these days of COVID, when the government is not governing but just muddling through, I have to ask – is the commander still willing to be guided and be beholden to incompetent subordinates?