Mathilda 'relieved' as CAS reinstates Olympic slot for Sri Lanka in equestrian
Horse racing
View(s):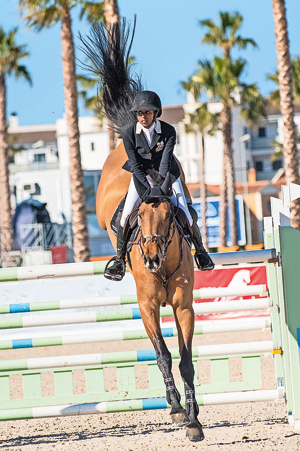 The postponement of the 2020 Olympics by a year because of the pandemic has turned out to be a blessing in disguise for Sri Lanka providing athletes an opportunity to achieve direct qualification. Show-jumper Mathilda Karlsson and gymnast Milka Gehani de Silva have qualified for the upcoming Tokyo Olympics while US-based athlete Ushan Thiwanka Perera is on the brink of achieving the qualifying standard in the men's high jump.
It was after a year-long legal wrangle with the world equestrian federation (FEI) following an appeal to the Lausanne-based Court of Arbitration for Sport (CAS) that Karlsson's Olympic slot was reinstated last month after her world came crashing down in February 2020.
Sri Lankan-born Swedish qualified to represent the country of her birth in equestrian at the beginning of last year when she grabbed one of the 15 individual show jumpers' slots for the Tokyo Olympic Games after competing in three events in Villeneuve-Loubet, France in December 2019, where she finished 2nd, 4th and 4th respectively.
This helped her to jump into second place in the South East Asia Oceania region by increasing her world ranking points from 150 in November to 345 points in December following the Villeneuve-Loubet event, which helped her climb from seventh in the region's rankings.
But in February 2020, the FEI decided to retrospectively remove six competitions from three jumping events held in Villeneuve-Loubet in December 2019, as well as a further six competitions from three events at the same venue in January 2020, where the points earned by Karlsson from December was not taken into account. This resulted in Sri Lanka being disqualified from the 15 individual show jumpers' slot for Tokyo.
Karlsson was forced to seek redress with CAS with the help of the Sri Lanka Equestrian Association (SLEA) after the FEI Tribunal dismissed her appeal, although the FEI admitted that it was their mistake as they approved these events earlier but had done so "mistakenly".
Following the hearing, the CAS Panel in a landmark decision upheld the appeal by Karlsson and the SLEA ruling that all competitive results obtained by Karlsson at the CSI2* events in Villeneuve-Loubet, France, between December 13, 2019 and January 26, 2020, including any points earned, should be counted for the Longines Ranking and the Olympic Ranking be reinstated.
As a consequence of the CAS decision, Karlsson is back again ranked number two in the Olympic Group for South East Asia, Oceania, with her horse Chopin VA, and has earned Sri Lanka an individual quota slot for the Olympic Games.
Karlsson and SLEA were represented by Luc Schelstraete and Piotr Wawrzyniak of Schelstraete Law Firm from the Netherlands, who in a statement commented on the decision: "It is a landmark decision for the equestrian sports as this CAS decision illustrates that the FEI's discretionary powers are limited and that the FEI needs to observe utmost care in approving equestrian events where ranking points are to be earned. All this for the benefit of the riders."
"I am so happy (to qualify) with the bumpy road. I am so happy to have it done now. I am so looking forward to representing Sri Lanka in the Olympics," said a relieved Karlsson.
"Olympics is a very important event for everyone. Everyone is fighting really hard to get the spot. I knew that I did not do anything wrong. Everyone tried to do everything they can to get this spot. I think Hong Kong was pretty sure they would have it when I dropped in the rankings in November but I gained points that I needed in February. They took a chance I guess to try to find a reason why I shouldn't go."
The CAS also reconfirms that Mathilda as an athlete bears no fault or guilt in the matter.
"It took a long time to get through the system and to finally win this case but I knew the whole time that I was right and I would get through. I had a little bit of time against me because of postponements. It worked to my advantage because this took over a year to get through. I am so relieved that it is finally over and I will be participating in the Olympics," said Mathilda expressing her gratitude to the President of SLEA, Suranjith Premadasa for his support.
Artistic gymnast Milka Gehani has become the second Sri Lankan to qualify for the 2020 Tokyo Olympics after qualifying through the Asian quota. The 18-year-old became eligible to compete from the zone after the 9th Senior Asian Championships, which was scheduled to take place from May 29 to June 1 in Hangzhou, China, but cancelled due to the COVID-19 pandemic. She was the first reserve from Asia ahead of Indian gymnast Pranati Nayak.
Ushan Perera could become the first athlete to gain direct qualification in Tokyo after setting a South Asian record and renewing his Sri Lanka record by raising the bar to 2.30 metres at the 2021 Lone Star Conference Outdoor Track and Field Meet in Texas.
World Athletics has set a qualifying standard of 2.33m for the Tokyo Olympics. While 12 athletes will be selected from qualifying standards, 20 other athletes reaching top world rankings will be eligible for the Olympics.