Injury dashes Hiruni's Olympic hopes
By Allaam Ousman
US-based Sri Lankan long distance champion will not give up on her Olympic dream
View(s):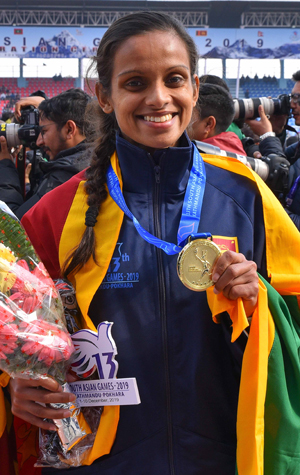 Before the pandemic caused a postponement of the 2020 Tokyo Olympics by a year, US-based long-distance runner Hiruni Wijayaratne was the only athlete who seemed close to achieving the qualifying standard in the women's marathon from Sri Lanka and perhaps even deserved a wild card entry. But injury has dashed Sri Lanka's hopes of Hiruni creating history in Tokyo this year.
"I am not going to qualify for the Olympics this time. I tried my very best but the extremely difficult standards by the World Athletics organisation made it very hard for athletes from small countries like Sri Lanka to qualify," stated Hiruni in an interview with the Sunday Times talking of her pain of agonizingly missing out on Olympic qualification for the second time in her career.
In an emotional post on Facebook titled 'Good, but not good enough', the 30-year-old Sri Lankan star described how she strived and came close to achieving Olympian heights. She has officially given up on her chances of making it to Tokyo but has not given up on her Olympic dreams.
"I worked so hard to reach the pinnacle of the sport and the Olympic Games, I broke my body, mind, and spirit in the process. Reality hurts. I'm exhausted. But I can't let the dream go. The only option is to keep trying. I may never realise the 'dream', but I know that I've learned an astonishing amount about myself during the journey," stated Hiruni, who won the long-distance double of 5,000 and 10,000 metres at the 2019 National Athletic Championships in Sri Lanka and went on to create history at the Kathmandu South Asian Games becoming the first Sri Lanka woman to win a gold medal in the marathon.
The Olympics wasn't even a dream for her in the summer of 2012 when she was working for Nike, barely making the varsity team at Kentucky.
"In 2014, I worked for ESPN, while watching what would've been my final SEC championship take place on my home track. I wasn't good enough to stand on the start line. But I dared to dream of finding my limits on my own," she stated.
In 2015 she ran the Olympic Marathon standard two months outside the window to qualify but then finished 11th in the 2016 gold label Ottawa marathon where only the top 10 made it to the Olympics.
"I simply couldn't break 2:45 during the qualifying window. I allowed myself to dream of the Olympic Games," stated Hiruni, who achieved a personal best of 2:34.10 to win a silver medal at the Düsseldorf Marathon in April 2019 to rekindle her Olympic dreams.
Winner of the Eugene Marathon in 2017 clocking 2:43.31, she became the first Sri Lankan woman to the 2019 IAAF World Championship marathon held in Qatar. She also represented Sri Lanka at the 2018 Asian Games in Jakarta, Indonesia in the 10,000m.
Between 2017 and 2020 she broke every Sri Lankan National record from the 5000 to marathon.
"I won races, set continental records, set soil records, and qualified for three world championships. I lowered my marathon PB by nine minutes, while completing six marathons inside the old Olympic standard. Still, it wasn't good enough," stated Hiruni in her Facebook post.
But her indomitable Sri Lankan fighting spirit prevails as she vows to return in the future.
"I will never give up. But I do know how reality works. It's just not possible to run the Olympic standard in the next two weeks," said Hiruni, spurning any hopes of taking part in the Olympics through a wild card entry with the Olympic window closing on May 31 for the marathon.
"So I will have to keep trying for future years. Not for me (wild card) because the marathon rankings are very competitive and there are other people ranked ahead. I also would not want to go as a wild card," she said.
Although she welcomed the postponement of the Tokyo Olympics by saying at the time that "my (Olympic) dreams are not cancelled, they are simply delayed", her hopes have been dashed by injury as well.
"Yes. And I broke my foot in three places in training. So, I can't compete at the moment. Bones take 6-8 weeks to recover," stated Hiruni who set a new Sri Lanka record of 16 minutes 17.51 seconds at the 18th annual Music City Distance Carnival (MCDC) in Nashville, Tennessee, USA in August last year to finish 15th eclipsing her previous best of 16:41.58 set in June 2019, also in the USA.