All hail KJP – the new ODI skipper
cricket
View(s):
Going through many ups and downs during his sparkling, yet modest cricket career, Kusal Janith Perera is known by many followers of the sport, as the reincarnation of the legend Sanath Jayasuriya. Sri Lankan cricket fans rejoiced when Perera, not only took over the reins of Jayasuriya as opener, but emulated the former skipper just as he would treat the loose ball towards the rope, sometimes over it, with similar aggressiveness.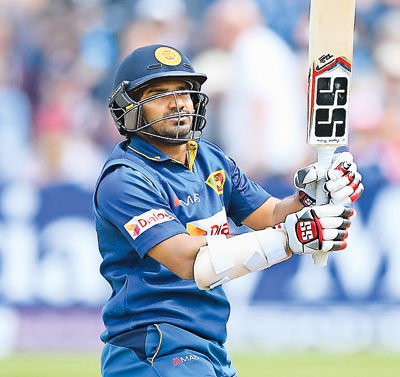 Jayasuriya made his international debut in 1989 and was appointed captain in 1999. Rather similarly, Perera made his international debut in 2013 and took over the Sri Lanka ODI side as skipper for the upcoming tour to Bangladesh later this month.
Both southpaws share a similar journey in cricket, but compared to Jayasuriya, one of the greatest batting allrounders produced in Sri Lanka, Perera is still moving on at a pedestrian pace. But the knocks he has produced during his eight-year international career are memorable, because Perera adopts that aggressive approach in any format he comes to bat in.
In terms of the captaincy, Perera is far less privileged than Jayasuriya, who led a strong lineup which included Aravinda de Silva, Hashan Tillakaratne, Roshan Mahanama, Mahela Jayawardene, Muttiah Muralitharan and Chaminda Vaas to name a few. But Perera does not enjoy that luxury.
When he leads a team of fresh legs to Bangladesh on Sunday, with less international experience, Perera will not even have the on-field expertise of seniors and former skippers Angelo Mathews, Dimuth Karunaratne, Dinesh Chandimal or Thisara Perera.
But Perera has a new approach and mantra to the young side – "be aggressive" – a formula he believes brought luck to his international career.
"We must be fearless and aggressive to win matches," he said, during a zoom meeting with the journalists a day following his appointment as ODI captain.
"You should not be anxious about losing or worry about your place in the side or that you won't be able to give 100 percent. My way is, be aggressive and fearless, and I'm going to tell my team to do the same and give it everything," added Perera, who has a penchant for pinch-hitting.
Perera follows the same instinct of aggressiveness even when he bats in the nets. The former Royal College opener, who switched from being a right-hander to emulate his idol Jayasuriya, accurately follows his role model's style ever since he was a child. Even today, at 30, and as the 24th Sri Lankan ODI skipper, Perera does not wish to change his stance.
"If we play without fear, even at practices, we will be able to carry that same momentum in a match. If we play with fear, we will fall even further. That's what I explained to my players in our first meeting and that's the culture I'm hoping to build. In the end I need to lead a team of players that have a lot of confidence. My hopes as the captain are big for the upcoming Bangladesh series," Perera said confidently.
Though he was elevated to the position of captain last week, Perera has been experiencing a turbulent ride during his international career. He has hit many memorable knocks, including an unbeaten 153 off 200 deliveries against South Africa in the first Test at Durban in 2019 to help Sri Lanka snatch an unlikely victory, by adding 78 runs for the last wicket with Vishwa Fernando in the fourth innings of the match. The innings was named as the second-best Test innings of the decade by Wisden in 2019. Perera also broke Kumar Sangakkara's record to become the fastest Sri Lankan to reach 1,000 runs in Twenty20s in his 34th innings.
Yet, his tally in Tests, ODIs and T20s stand as 1,014, 2,825 and 1,344 respectively off 19, 101 and 46 outings each. In ODIs and T20s he averages at 31.04 and 28.40 with five hundreds and 14 half centuries in ODIs and 13 T20 50s. Yet, Perera takes captaincy as a blessing in disguise for his batting.
"The selectors made it clear that I usually reach my 50s or 60s and easily get out without reaching the century, to which I admit. If I score a century, the chances of winning the match is high and that's what I'm focusing on right now. I may not be able to get a century in every game, but if I get a good start, I will make sure to transform it to a 100. The selectors expect me to take that responsibility, and I'm willing to take that," Perera asserted.
To reach the helm of being appointed a captain towards the next ICC Cricket World Cup is an overwhelming accomplishment, in particular for an international cricketer who was provisionally suspended by the ICC in December 2015 for failing a dope test. Perera may have been history, if Sri Lanka Cricket, headed by Thilanga Sumathipala, did not fight the case to clear his name.
During the process, Perera had strong support from Sri Lanka Cricket, but also had to spend a substantial amount of his own money in fighting the WADA-approved lab's findings. This included a trip to England for a polygraph test — a hair analysis and a separate urine test, as well as substantial coordination with his main legal team, based in the United Kingdom. Eventually the Qatar-based lab's findings were judged "unsustainable for scientific and technical reasons" by an independent expert hired by the ICC.
Even the five-month layoff, which came in the form of a provisional suspension, did not deter Perera from doing his usual show in the middle with the bat. He aspires to continue that same aggressiveness and fearlessness as the leader of a young Sri Lanka ODI team and be on par with his idol Jayasuriya, always.