Appreciations
View(s):

A letter to a girl about the gardens that await

Christo Rodrigo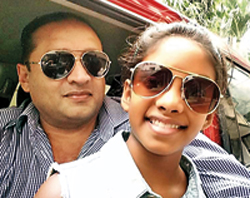 Dear Trinella,
Although I know your name, I have never had the pleasure of meeting you.
I know that no words can comfort you. Knowing that makes it that much harder to write, however, you will one day learn that sometimes people do things even when they feel futile, because there is nothing else that they can do.
This is about your father. I want to share with you memories of your father from a long time ago, in another country and in a different life.
I first met Christo 30 years ago in London through my lifelong friends Rajiv Perera and Dharshana Wathudura. My first impressions of him are also my last. Throughout the time I knew him, Christo was a man who just could not hide his smile, even when there was nothing to smile about. He always seemed happy and infected those around him with happiness.
Christo was a handsome guy and he knew it. He always took pains to be immaculately dressed. Always. Even when there was no dress code, even when it was not required to appear 'smart.' I will always remember his two-door red sports car. That car and a well-dressed Christo with his sunglasses is a picture that will remain fresh in my mind forever. He loved to drive fast and make people nervous. He loved cars and knew almost everything about them. Somehow, your father never aged. He always behaved like a mischievous schoolboy. That is another impression which I am sure all his friends share with me.
The expression and the words, I feel, got stamped  in the hearts and minds of those who met him. This is why, although I have not seen him in many years, I write to you. He was a decent man and a good friend. Too decent and too good to forget. Too decent and too good not to be moved, to be shaken by his sudden departure.
It was almost three decades ago that I shared a house in the little North London suburb of Enfield Lock with Christo and two of our friends. Christo was a good human being who was always willing to give a helping hand to anyone. He always treated older people with respect and love. He loved listening to music, especially golden oldies as well as country and western classics. Christo spoke about his parents and siblings with great pride and fondness. In later years, I am certain he would have spoken of you and your mother Nishani with equal or greater pride and affection.
Love and affection — these he had in abundance to give. And give, he did. He could never say 'no' to anyone. All his friends in London knew that they could count on him at any time. It was to Christo that we turned in a crisis whether big or small. If someone's life was collapsing, he would drop everything and help pick them back up. From the biggest favour to the smallest, even if someone was unable to attend to an errand as trivial as picking up someone from the airport, your father was there. He would never refuse. In fact, he enjoyed helping people.
He enjoyed being with people. He loved to entertain. He was not overly ambitious. He had simple wants. He was also proud — he never asked for favours even though granting favours was almost second nature to him. I doubt that he ever had an enemy. The ideas of hatred or bitterness seemed almost alien to him. At Enfield Lock, we used to stay up until very late at night and have a good laugh. You may have noticed, your father had a unique gait, or way of walking. Some of us used to imitate his walk and tease him. He took it in good spirits. We had fun, he was happy that his friends were happy, even at his expense. An honest, decent and kind person who was full of life. That's the Christo we can never forget.
Christo was an extraordinary man, Trinella. He was full of energy and positive vibes. He was a devout Catholic and a proud Sri Lankan. He was a proud Josephian and most importantly, a proud father. This I know because my wife has often seen him with you at Ladies' College, when he dropped you and picked you up from school. Anyone who saw him with you at school could see how proud he was to be seen as your father.
Where did Christo go? None of us can answer that question, but I can say this, from what I know of him. He stays with you and will stay, always. The way he lived, the way he loved, the things he said — these will remain. They will be all the strength you need, now and later. He will be, in this way, in your heart and by your side, especially when you need him most. You are blessed Trinella to have such a special heart, soul and presence in your life. It's all the love anyone would ever need.
But know this – everyone whose lives Christo touched: your mother, your grandparents, your relatives and his friends, now share a common purpose. They will come together, to offer whatever support or encouragement you may need, now and always.
Uncle Krishantha
---
A true renunciant though a layman
Hemasiri Perera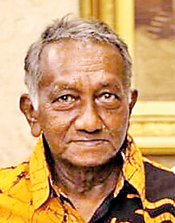 Hemasiri Perera is among the few people with extraordinary qualities I have met in my life. He was a practising Buddhist and I would call him a true renunciant though a layman.
I came to know Mr. Perera in Winnipeg, Canada where he migrated with his loving wife Prema to spend their retirement with their daughter Nirosha.
He was a student of Henegama Central College, in the Gampaha District and was the first from this school to enter University. His mathematics teacher in school, now living in Winnipeg, Mylvaganam Subramaniam remembers him as a hosteller, a hardworking and well-dressed student. We conducted a Zoom meeting with Mr. Perera on his birthday on March 13, 2021 and Mr. and Mrs Subramaniam too joined to wish him.
In 1964, he graduated from the University of Peradeniya. As a student he was at Jayathilaka Hall.  During his university days he was an outstanding table tennis player. He was a versatile character with multidisciplinary knowledge but as he was following subjects related to a statistics degree, his batchmates called him Stat Perera.  After completing his degree Mr. Perera worked as an Assistant Lecturer at the University of Vidyalankara. For a short time, he was an Economic Advisor to the Lanka Steel Corporation.
Until his retirement, he worked as Director of the Coconut Research Institute, Lunuwila and at the Coconut Development Authority, Colombo. He was a consultant to the United Nations Development Programme (UNDP) and several other UN agencies as well as quite a few countries on behalf of the Government of Sri Lanka.
He was the author of two Sinhala books – Gami Andarayak (Rural Anecdote) and Udella, Ma Ena Thuru Bala Sitee (Mammoty, Waiting for Me). In the latter he illustrated the historical and current conditions in countries such as the Netherlands, France, England, Indonesia, India and Pacific Islands. While in Sri Lanka recently, he was busy with trying to publish his third Sinhala book about new management skills.
He has also published seven books in English on the coconut industry in Sri Lanka drawn from his experience gained from his decades within the coconut sector looking at aspects of economics, desiccated coconut, coconut cultivation in Hambantota District, domestic marketing, productivity and high yielding varieties. These publications and his extensive knowledge made us identify him as a walking encyclopedia.
The Sri Lankan Association of Manitoba (SLAM) utilised his extensive knowledge to script and train performers in a drama and folklore performance highlighting Sri Lankan heritage. Mr. Perera's talents were in evidence at the grand annual event held during the Sinhala and Tamil New Year celebrations. Sometimes he joined in singing folk songs as well. His capabilities helped us to relive our good old memories of home and showcase our rich culture among Canadian communities. Subsequently, he joined the Sri Lankan 55+ Seniors Group and in 2018 was elected as a Board Member. He was re-elected to the Board in 2020.
He also joined the South Side Seniors – the seniors group of the Trinity United Church and was very popular among non-Sri Lankan members too. When the co-chair of the Church Seniors Group came to know the sad news of his passing on April 7, they conducted a remembrance service for him.
Mr. Perera who had been in Sri Lanka for more than one year to attend to some domestic matters, fell ill at this time and was looked after with utmost care by his second son Priyantha. His eldest son Channa is working in Singapore for more than three decades and is closely associated with Ven. (Dr.) Omalpe Sobitha Nayaka Thera, Chief Incumbent of the Bodhiraja Viharaya in Singapore. Ven. Sobitha Thera in fact visited to bless him and conducted a Pansukulaya (Buddhist funeral service) as well.
Senaka Samarasinghe
---
He left us with a rich legacy of positive experiences 
 Dr Neville Fernando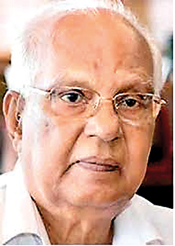 "In the end it's not the years in your life that counts, it's the life in your years"  Abraham Lincoln
It is with gratitude that I write these few lines in remembrance of Dr Neville Fernando who passed away on February 4 this year, one month short of his 90th birthday, leaving a rich legacy of positive experiences with all those who came to know him.
My association with Dr Fernando goes back to 2003 when he invited me to join Asha Central Hospital at Horton Place, Colombo 7. It was he who turned Asha Central into a most sought after private hospital in Colombo. He devoted his entire time and effort to develop it into a fully-fledged multi-specialty private hospital. He was not a mere manager or team leader to the hundreds of medical and non-medical staff but a father figure, loved by everyone from the housekeeping assistant to the operating surgeon.
He struggled against unacceptable transgressions of some of the values that his principled mind accepted as inimical: trust and honouring one's word. Greed and duplicity were anathema to him. His humanity extended not only to all the employees of the hospital but to all patients who sought medical attention. People liked him for his sincerity and enthusiasm. He was generous to the core. His charismatic smile and the ability to attract people around him made him a truly inspirational leader.
Managing a large scale multi-specialty hospital was a huge burden on his shoulders but with his unique management style, he overcame all the obstacles.
In 2008 Dr Neville Fernando designed and built the Central Hospital at Norris Canal Road, Colombo 10, creating a benchmark in the private health care industry in the country. Due to his passion for education and to provide higher educational opportunities for younger generations, he embarked on his vision creating SAITM (South Asian Institute of Technology and Medicine) in 2009 and NFTH (Dr Neville Fernando Teaching Hospital) in 2011 in Malabe, while selling the Central Hospital to the Asiri Group of Hospitals to become the present Asiri Central Hospital.
Designing and building SAITM gave him immense pride. He pumped all his wealth, time, sweat, and effort into this massive institution that has produced hundreds of doctors, engineers and IT professionals. The theme of SAITM, 'Education with Character' clearly reminds us of his vision.
Embarking on a hospital project and setting it up at the age of 80 was unbelievable to many. He never calculated any returns on investment. This extraordinary and stubbornly principled man had only one vision which was to create a space for private medical education in Sri Lanka. I am eternally grateful to him for selecting me and giving me the opportunity to lead the hospital from its very inception. His advice helped me immensely to improve my knowledge and develop my skills in managing a hospital. He was a stern disciplinarian who taught me the correct way of doing anything.
Dr Fernando wanted his hospital to be a model and benchmark in health care. He never believed in shortcuts, instead guided me and my team to do the correct thing at all times. The medical equipment bought was the best of the range and the most technologically advanced from world renowned manufacturers. I still remember the pride he had when he inspected the operating theatre complex and intensive care units, attending to every detail.
He would generously waive the hospital charges of many patients who had financial difficulties, sometimes making the situation difficult for the finance team. Hundreds of surgeries and hemodialysis sessions were offered free of charge to deserving patients. He felt the pulse of the people, be it the patients or the hospital staff.
It is indeed very sad that he is no more with us and the only consolation we have is that due to some good karma, we had the good fortune to associate closely with him. I will always remember the good times I had with him. Most of all I appreciate his good qualities and the high principles he stood for at all times.
Throughout his journey his loving and devoted wife Swarnamalee was a pillar of strength. His loving children Naomal, Sharmalee, Devaka and Krishantha supported him at all times.
Dear Sir, I wish you the Supreme Bliss of Nirvana in the shortest possible time.
Dr Lakshan Fernando
---
You were a true inspiration to us all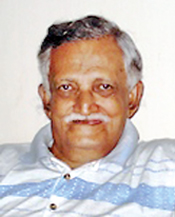 BASIL HENDRY LEONARD COORAY
Although it will almost be five years since your demise on May 20, 2016, we still cannot come to terms with the fact that you are no more with us.
We cannot forget your kind-hearted qualities. You were such a gentle person to your children and family. You were faithful and dedicated to your relations. Everybody had a good word for you.
You were a true inspiration to us all, a rare gentleman in all your deeds and thoughts. You truly practised what you preached. You are remembered with pride and veneration.
May you rest in peace with God till we meet again.
All your loved ones
---