Our nightingales who hold up the lamp of hope to many COVID patients, amidst their own hardships
By Nadia Fazlulhaq
View(s):
"We are exhausted to the maximum, the condition of patients being admitted to the hospital is taking a deadly turn. The death rate is increasing and causing mental distress among nurses. I continue to console many nurses who weep when they fail to save the life of a person whom they have looked after for weeks."
These were the heart-rending words of D.W.Chintha, the Chief Nursing Officer of the Homagama Base Hospital, as the world marked Nurses Day on May 12, in deep appreciation of the sacrifices they continue to make as frontline workers in the battle against the pandemic.
Chintha heads a team of 14 nursing managers and over 250 nurses at the hospital and has a nursing experience of three decades. For her, the pandemic, especially the recent wave, has been a challenging one.
"Our hospital is a multi-disciplinary one which means we conduct surgery on COVID patients — there is a labour room for expecting mothers infected with the virus, where cesareans are conducted — and at present this is the only hospital that performs dialysis on COVID-infected patients with kidney ailments. We work closely with the patients, therefore the risk is high as exposure is high. We have a special bonding with the patients too," she said.
She added that more and more patients were being admitted to the Homagama hospital from COVID intermediate care centres, thereby increasing the workload.
"We witness the real face of COVID-19. We see patients suffer from mild to severe symptoms, and see people dying from COVID. Knowing that this same fate could befall a family member or friend makes us anxious. Some nurses are extremely worried about going home. At other times there is great joy when they see a patient who they have been treating recovering from the deadly virus," she said.
She said despite being exposed to more than 7,000 patients since the beginning of the COVID outbreak last year, up to now none of the nurses had tested positive at the hospital.
"This shows that if one follows health guidelines and adheres to infection control measures when it comes to patient care, we can prevent contracting the virus. The public should act more responsibly or else the health staff will be further burdened by this pandemic.
"Most nurses are on 24-hour duty and wear personal protective gear for several hours at a stretch. It is extremely difficult on hot and humid days. When we saw crowds flocking to buy clothes, police arresting persons who failed to wear masks and parties and gatherings on TV, we just wished that these people could see the suffering of some of the COVID patients that we witness daily act," she said.
Expressing similar views was Geethani Udugama-Korala, the Matron/ Chief Nurse at the Infectious Diseases Hospital (IDH). "People should act with more responsibility," she stressed.
Four out of about 150 IDH nurses have contracted the virus and are being treated at the hospital.
"All pregnant nurses have been sent on maternity leave, after the government decided not to expose pregnant mothers to the virus. Until last week, most expecting nurses were working tirelessly to treat patients. There have been many instances where nurses go through agony when a patient dies and we are like a family here supporting each other as the mental wellbeing of nurses is very important," she said.
It is extremely nerve-wracking for nurses who are mothers of young children or have elderly parents back at home.
A nurse who works at a leading government hospital said, "I have sent my two children to our village home with my husband. I do long shifts and work for a week or two continuously, then take an antigen test before going home to see them. I do not call them frequently as they cry asking for 'amma'. I miss them but I won't put their health at risk."
Many nurses took to social media, posting their experiences, grief and the grim reality of the pandemic.
Following the death of a 33-year-old man from COVID at the Teldeniya Hospital, a nurse posted the incident  on her social media page: "His condition became worse and his breathing became difficult. After three days being on the ventilator and all our desperate attempts to save him he left the world. All who were on duty cried at that time and we are haunted by his continuous pleas asking whether he can go home to see his young son and wife."
National Hospital Training Coordinator and Head Nurse Pushpa Ramyani de Soysa said the country was facing a severe shortage of nurses and the present pandemic situation has resulted in nurses being over worked.
"The country has about 37,000 nurses but the requirement is about 55,000-60,000. There is a need to get experienced, recently retired nurses and matrons to handle the growing number of cases, not only COVID patients but also patients with other illnesses," she said.
The Government Nursing Officers Association charged that some COVID centres with about 300-400 patients had only about four to five nurses.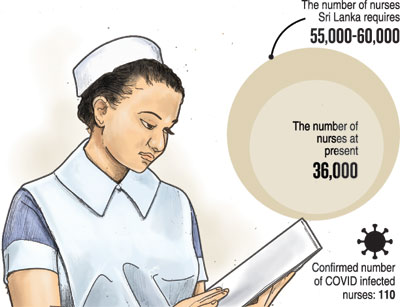 Its president Saman Ratnapriya said," In 2000 it was projected that the country needed 44,000 nurses. Twenty one years later we are still at 37,000. Nurses are not only over-worked but their nutrition is not looked into. Some are working long hours, they need rest. Nurses say there is a difficulty in obtaining leave and some hospital management refuse to send them on quarantine after being exposed to a COVID patient."
About 110 nurses have so far contracted the virus and among them were several pregnant nurses, he said, adding that "we have requested from the Health Ministry for a separate COVID treatment/ quarantine centre for frontline health workers."