'That's what Friends are for'
By Sanath Weerasuriya
View(s):
That's what Friends are for', a virtual musical concert featuring some of the big names in the Western Music segment of Sri Lanka will be aired at 8.00am -Sri Lanka time on Sunday, 16th May, 2021.
Organised by the 'Western Musicians Association of Sri Lanka(WMA), 'That's what Friends are for' will feature Sunil and Piyal Perera of Gypsies, Rukshan Perera, Judy de Silva, Fabion Paul of Crossroads (WMA President), Radhika Rajavelu (ex-Gypsies), Chandani Hettiarchchi, Tyronne Peiris of Cosmic Rays, Clifford Richards, Damian Wickramatillake (ex Purple Rain and Wild Fire) and Rajitha Rupasinghe of Misty. The band Mirage led by the Donald Peiris will be the featured band in attendance along with the singing stars.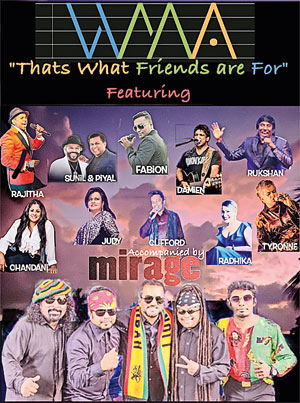 The Western Musicians Association (WMA) is the musician's organization looking into the welfare and the administrative body of the Western musicians of Sri Lanka.
'WMA is a responsible body working on all administrative work, promotional activities, implementing minimum standards, promoting a code of conduct for musicians, helping and promoting students of Western Music and looking into the welfare of the member musicians. They represent all Sri Lankan Western musicians with the objective of advancing the interests of Western musicians' said Rajitha Rupasinghe of Misty fame, who is the Vice President of the WMA.
'That's what Friends are for' is organized in view of raising funds for the members of the WMA who are badly affected due to the ongoing pandemic.
Rajitha Rupasinghe speaking on the motive behind the event stated that with the ongoing conditions and due to the Covid 19 pandemic the member musicians are undergoing a critical situation. 'In the recent past, musicians have been going through some tough times in Sri Lanka especially from the Easter bomb attack that took place in April 2019 and now due to the ongoing global pandemic situation since March 2020. This hurts our fellow brothers and sisters and their family and loved ones. Now, as the situation continues to grow with the recent third wave going around, sadly a few of our members identified as Covid-positive and we have to urgently look into their needs. To carry on their livelihood is an uphill task now,  and the WMA has organised this virtual event to help the cause' he added.
WMA was inducted in 2016, and throughout these years, the Association has been assisting the members in whichever way they were able.
'We plan to get a substantial amount of funds to support this cause from our fans and friends overseas, who have expressed their interest in helping us out' said Rupasinghe.
The virtual Concert 'That's what Friends are for' is targeting our friends and fans, fellow musicians scattered around the globe. Especially in the USA, Canada, Australia, UK, New Zealand, European countries, Middle East, Malaysia, Singapore and Far East. Sri Lankans too can enjoy the show during this time by logging in to WMA web site www.wmasrilanka.com